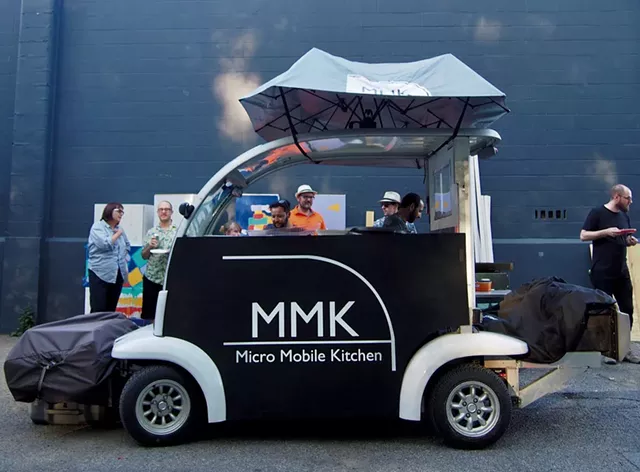 Courtesy Of Christine Hill
Micro Mobile Kitchen
A Burlington man has combined his two interests — transportation technology and Persian food — to create Micro Mobile Kitchen, a new food business that serves Iranian kebabs from an electric-powered vehicle.
Daryoush Khamnei is the engineer and cook behind MMK. He converted an apparatus about the size of a golf cart — classified as a Neighborhood Electric Vehicle — into a small food truck. Working at the Generator maker space in Burlington and in his brother's garage, Khamnei welded and modified the rig to carry four sinks, 35 gallons of running water, a countertop and a grill.
Sourcing much of his food locally, he cooks seasoned ground beef and ground chicken on a stainless steel skewer, as well as grilled tomatoes and saffron rice. He rotates a vegan dish on his menu, such as green beans with tomato and rice, and offers saffron-maple rice pudding for dessert.
Khamnei, 33, grew up in Tehran, where his father was a commercial airline pilot. He moved to Burlington for his last year of high school and graduated from Burlington High School in 2003, then earned an engineering degree at Rutgers University.
MMK represents an innovative technology in the food-truck industry, Khamnei said.
"There's nothing like this around us," he said. "I would like to understand where I can be [with the cart] and bring people together right now."
Standard food carts the size of MMK are transported to their destinations by truck and trailer; by contrast, Khamnei drives his rig. In addition, his efficient vehicle — which has a 30-mile range — is considerably smaller than the gasoline-powered box trucks that are typically converted into mobile eateries.
"I wanted to have a modern-design food truck, and this is what I found out [about]," he said. "No one else is doing it. I would like to get into building more of these."
Khamnei said he already has a few orders for such vehicles from Houston. Meanwhile, you can order Iranian kebabs at MMK. The rig is popping up at catered events and private parties in Chittenden County, as well as the Winooski Farmers Market and Burlington's Leddy Beach. Check micromobilekitchen.com.