Ralph Eames Photography
The Michelle Sarah Band
It's easy to start a band. But the challenges of taking it public mean most quickly fade away. Others settle into a comfortable routine of low-key gigs and steady rolling. And then there are bands that, blessed by a combination of talent and personal drive, endure and even grow. With a series of Vermont shows lined up and a first record nearly ready for release, the Michelle Sarah Band are hoping to craft a recipe for funk and soul that will take them to the next level, musically and professionally.
Sarah, the band's lyric writer and lead singer, has sought that recipe for decades. Born in Toronto, she and her twin brother moved to Guyana at age 9 with their parents, who traveled the world doing missionary work. Sarah was laser-focused on singing before she hit her teens, when the family moved to the Philadelphia area. At 16, she was working in a Philly restaurant when she asked the leader of a local cover band if she could sit in.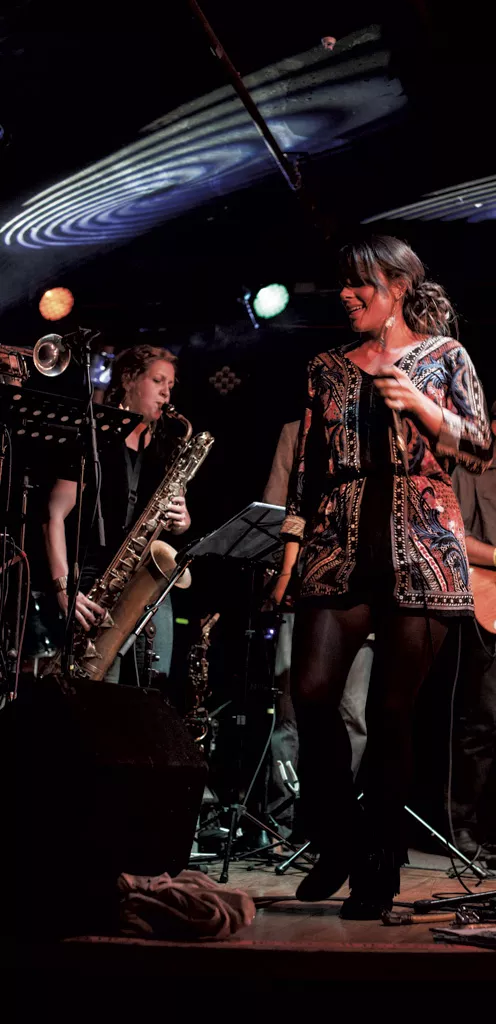 Courtesy of Ralph Eames Photography
"I sang Alicia Keys' 'Fallin','" Sarah recalled. "And when I got done, they said, 'Don't go anywhere!'" The band's bass player, Bennie Sims, ran a local studio. Sims took Sarah under his wing, produced her first demo, gave her work as a studio backup singer and helped her polish her vocal technique.
Kismet — and karaoke — landed Sarah her next big break.
"I got a [marketing] job traveling with the 'American Idol' tour for [game maker] Guitar Hero," Sarah said. "They had a karaoke machine in the lobby of the venues. My job was to convince people to sing. Of course, nobody wanted to, so I'd sing to fill in the gaps. One of the 'Idol' singers heard me, and I got a job doing backup on the tour."
That worked for about a year — until Sarah realized she'd have to choose between working for someone else and starting her own band. She returned to Philly, took a job bartending and rolled out the first incarnation of the Michelle Sarah Band. The target was the sweet spot where funk meets soul, a place that Sarah had lived in musically since childhood.
Unfortunately, the Philly band came with some organizational stumbling blocks that prevented it from realizing its full potential.
"We had three core players and a lot of hired guns," Sarah said. "Because of that, it never locked in the way I wanted it to lock in. I wanted us to write together. I wanted us to grow together. I wanted it to be a recipe for longevity."
When her rhythm section quit, Sarah decided to throw in the towel on the Philly project and head to Vermont. Here, a second dose of kismet birthed the current version of the Michelle Sarah Band.
One afternoon three years ago, Sarah was bartending at Sugarbush Resort's Pine Tree Pub, which her boyfriend, Eli Winthrop, owned. When that night's band suddenly canceled, Winthrop made a phone call, and drummer PJ Davidian delivered a hastily assembled trio, including Ira Friedman on keys and John Ryan on bass. Sarah sat in on vocals, and things just clicked. Today the band is still riding the groove, with former viperHouse drummer Phil Carr replacing Davidian on drums and the addition of Seth Eames on guitar.
Recently, as the feature act at Radio Bean's Thursday night "Soul Sessions," the band showed why it's attracting attention not only from fans but from professional management groups, as well.
On the Bean's tiny stage, Sarah led the band through a simmering set of original funk and soul, along with a couple of well-rendered covers. Ryan's understated bass grooves and Carr's tight, occasionally explosive kit attack laid down a solid rhythm bed. Keyboardist Friedman stepped out frequently, unleashing shimmery banks of keyboard swells and scatty melodic runs before locking the groove down for another verse. At the core was Sarah, showcasing a bring-the-party stage presence and an impressive combination of powerful pipes and tasteful phrasing honed over years of practice.
"As a singer, you constantly work toward being able to belt it out," Sarah said later. "But when you reach that point and you have the power to wow an audience, the next step is learning how to harness that and do so tastefully. That powerhouse vibe, that stank-face UNghhh! That feeling is what I love about funk music."
Sarah also is committed to writing lyrics that have something to say, in part because of her gender. "We are in a music industry that is owned by males; there are not many females that are all up in it," she explained. "I think I have something to offer in that zone. Our writing is one of our strengths. It's not just making people shake their asses — there's a message to it."
That writing will be showcased on the Michelle Sarah Band's first album. The 10-song record was tracked at Bennett Shapiro's Lovetown Recording in Middlesex. Just after the Radio Bean show, Sarah headed to New York to record backup vocals at Boom Camp Studios, owned by old Philly friend and collaborator Bennie Sims. The record will include two tunes from Sarah's Philly days, seven tunes cowritten by Friedman and Sarah, and one cowritten by Ryan and Sarah. The band plans a late-spring release and a fall tour to support it.
Looking to the future, one of Sarah's musical goals is stronger collaboration and bringing Ryan more into the songwriting space, a goal he shares.
"What's interesting now," Ryan said, "is where we gonna go? We kinda have that retro thing going on, but I know we are also interested in more contemporary sounds, and our writing has started to move in that direction a bit more."
With a solid group of players, a tour-ready front woman and a bag full of tunes, the Michelle Sarah Band can likely move in any direction they choose.