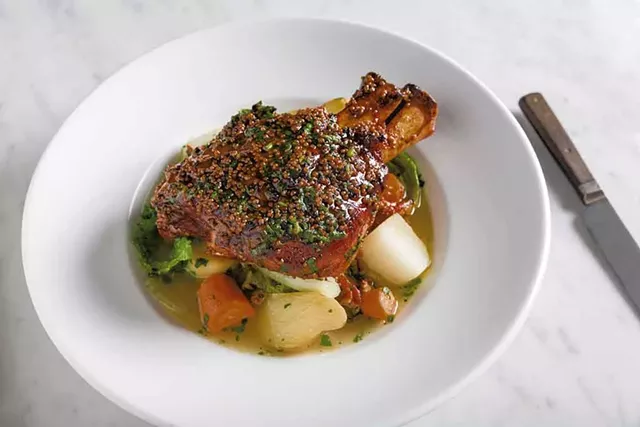 Courtesy Of Michael's On The Hill
Pork shank pot-au-feu at Michael's on the Hill
Michael and Laura Kloeti, married restaurateurs who opened Michael's on the Hill in June 2002, are selling their restaurant at 4182 Route 100 in Waterbury Center.
The Kloetis, who met in a restaurant kitchen in Michael's native Switzerland, said they are in no rush to sell their business. Michael's on the Hill, which serves European cuisine prepared with local and seasonal ingredients, is open and will remain in business while it is on the market, the Kloetis said.
The couple are co-owners of the restaurant, where he is the chef and she is the general manager. They have no plans for life after they leave the restaurant — they just want to do something new, Laura said.
"We want to make sure the restaurant goes into the right hands, and we don't know where this will lead us," she said. "We love Michael's on the Hill, and we love what we do. But we're ready for a new chapter in our lives."
On the market are the business and associated kitchen equipment and dining room furnishings, the 1820 farmhouse and attached bar that house the 82-seat restaurant, and 4.2 acres of land. The asking price is $1.4 million, Laura said. The building has housed a restaurant for about 40 years; Villa Tragara preceded Michael's there.
The Kloetis put their restaurant on the market knowing it could take time to sell; they're committed to running it in the meantime. "If it takes a year, it takes a year," Laura said. "We still love what we do. We love our staff; we love our clients; we're still booking events."
Will the restaurant keep the name Michael's? Laura confided that it almost wasn't called that at all. Back when the Kloetis opened the restaurant, Michael wanted to name it Laura's. "I wouldn't let him," Laura said. "I told him I couldn't handle the pressure."