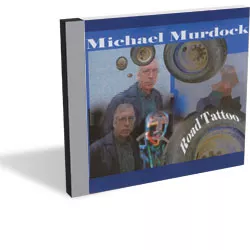 (Roadboy Music, CD)
Why do we make music? That's a whopper of a question, and if you ask 20 different musicians, you'll probably get 20 different answers. For some folks, it's a chance to express some innate part of their personality that would otherwise never be given voice. For others, it's a serious career path, a shot at stardom or at least the chance to make a living without the soul-crushing boredom of a day job. Others view music as a higher calling, the opportunity to change the world through song … or something. For still others, it's cuz chicks dig guys in bands — and vice versa. But sometimes, music is made for no other reason than "just because."
Central Vermont-based songwriter Michael Murdock is best known as a founding member of local country-blues outfit the Heckhounds. At this point, the 59-year-old acoustic guitarist and songwriter is unlikely to become a rock star and quit his day job. And fawning groupies may not await him backstage after gigs. Murdock plays music to play music, period. His latest solo effort, Road Tattoo, is a lovingly crafted testament to that notion.
From start to finish, Murdock takes obvious cues from Mark Knopfler. Both his muted vocal delivery and songwriting style recall the famed Dire Straits front man, especially on cuts such as "Everybody Listens When Buster Keaton Sings the Blues" and "Tell My Mom and Dad I Said Goodbye."
In other moments, Murdock reveals an affinity for the long legacy of great rock songwriters who mined rootsy blues and R & B for inspiration. The most notable touchstones here are Bruce Springsteen and Van Morrison. On both "Might Be Going Back" and the following number, "White Lines and Whiskey," Murdock pays subtle homage to the Boss. The bouncy "Your Love Hit Me" evokes Moondance-era Van the Man. But the results here feel less like hero worship than an honest extension of a lifetime of listening — and maybe the chance to pal around with some talented friends. Among others, noted local musicians Dan Haley, Colin McCaffrey, and Michael and David Middleman make sparkling contributions throughout.
Murdock printed a mere 50 copies of Road Tattoo. So chances are good that you'll never hear it, and that's unfortunate. It is roundly excellent. But in another way, there's beauty in the idea that Murdock gave his music life for no other reason than to set it free.
Road Tattoo is available at … well, it's probably not available any longer. But I'm happy to loan you my copy.