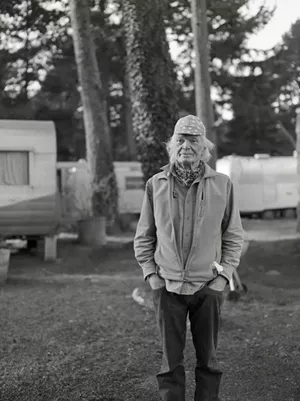 Most articles you'll read on folk singer Michael Hurley typically begin by pointing out that you probably have no idea who Michael Hurley is. It's a fair assumption, generally. Hurley, 73, is not a household name. He never became as famous as did many of his contemporaries in the Greenwich Village and Cambridge folk scenes in the early 1960s. But then, he never quite wrote songs like those cats, either.
Hurley, who spent nearly two decades living in Vermont, writes the kind of shabbily mystical music that you don't really seek out. Rather, it tends to find you. Often comical, sweet and surreal, his songs are populated by characters almost as curious as the man himself, such as talking pork chops, eternally damned pigs and werewolves.
What else might you expect from a man prone to calling himself "Snock"? — or "Doc Snock," "Snockman" or "Elwood Snock," depending on his mood.
Hurley has never had much use for fame, preferring instead to roam and ramble, write songs, draw comics and make records. But every now and then he pops up in the mainstream. He recently toured with Son Volt. "Hog of the Forsaken" was used on the soundtrack for the HBO series "Deadwood." Freak-folk auteur Devendra Banhart released a 2007 Hurley album on his Gnomonsong imprint. Cat Power included a cover of Hurley's "Werewolf" on her 2003 record You Are Free. (In his excellent April 9, 2015, piece on Hurley for the Boston Globe, critic Ty Burr wrote that "Werewolf," sung from the vantage point of a homicidal lycanthrope, "may be the loneliest song I've ever heard." So Hurley has melancholy side, too.)
Recently, Seven Days spoke with Hurley by phone before a gig in New York City. He'll return to Vermont on Saturday, April 25, for a show at the Meeting House in East Fairfield.
SEVEN DAYS: I know you probably get asked this a lot. But I have to know where the nickname Snock came from.
MICHAEL HURLEY: It's just a nickname. It's like when you knock claves together or break a clam shell. Snock.
SD: So you just liked the sound of it?
MH: Yep. That's all it is.
SD: You spent a good amount of time living in Vermont. When was that?
MH: It was mostly from the late 1960s to the late 1980s. I was all over the state, or the northern two-thirds of the state, anyway. From the Canadian border down to Chelsea and over to Bradford. I had many, many different situations.
SD: What brought you here?
MH: I had migrated to Boston already from Pennsylvania. Some of my friends and my brother were going to Vermont. It seemed like the place to go if you were in Boston.
SD: I've always thought so.
MH: I got up there, and there were all of these mountains and many, many miles of dirt roads. I said, "Man, this is the place for me." And it's still like that, fortunately.
SD: What did you end up doing here?
MH: I worked as a carpenter, mostly. I worked at a Howard Johnson's on the Barre-Montpelier Road. That was actually my first job. After a while I was in a band, Automatic Slim & the Fat Boys. That was the first band I was ever in. I didn't have an amplifier or mic cords or any of that stuff. So I had to learn about all that and other band work stuff.
SD: What kind of music did you play?
MH: Oh, mostly original stuff. Rock and roll. I liked country music a little more than those guys did, so I kinda forced them to play it. But we specialized in original songs. And we mostly played in ski-lodge-type bars.
SD: You've reached a point in your career where younger artists now cite you as an influence. How do you feel about that?
MH: Um, I feel good about it. People tell me I've helped them through hard times, or to carry on in the same vein. That feels good.
SD: Devendra Banhart is probably the best known of the artists you've influenced...
MH: I don't think I influenced him. I think he was what he is before he knew of me. But he's a friend of mine now. We're associates.
SD: Who are some newer acts you're into?
MH: I get this question often, but then I can never think of anyone until the interview is over. Um, Laura Veirs. And, uh ... someone contemporary like ... er ... so and so! [Laughs]
SD: Oh, I hear they're good!
MH: See what I mean? My memory is blanking out on me.
SD: Let's switch gears. You're making a new record with a band in Oregon.
MH: That's an interesting group. We kind of go in descending steps. I'm the oldest. Dave [Reisch] is the next oldest. I think he's almost 60. The next-oldest guy is almost 50. And then the next-oldest guy is almost 30. I'm missing a step in there somewhere. So watch out for that step, if you know what I mean.
SD: I'm not sure I do...
MH: I think I need to hire a drummer that's almost 40. That's what I need.
SD: My grandfather played drums and he's in his eighties, if you wanna go a step higher.
MH: Oh, yeah? That would be ideal.
SD: You move around a lot, but you seem to have settled in Oregon. Will you stay out West for a while?
MH: I've got a hankering to bug out of there. But it's going to take a while. I've got some living to do yet out there. But I'd like to leave eventually. I've spent all my life just going to the next higher area.
SD: Do you have a personal favorite among your own records?
MH: Parsnip Snips. When I was making the recordings that it consists of, I never dreamed it would be on an album that was pressed up and commercially marketed. They were just recordings for the sake of making recordings, and they were recorded over several years on reel-to-reel. This was done in the '60s. But then, in 1995, the idea came up to check them out and see if there was an album there. And that's Parsnip Snips. It wasn't intended to be an album, which gives it more of a real feel, you know?