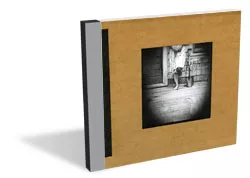 (Ahdisk, CD, digital download)
Summer's long days are soon to leave us. You can see it in the fallen crab apples and failing light; September is next to surrender. It's a bittersweet adieu, ideal for wistful reflection if you've got the right soundtrack. So pour the last of the lemonade, find a shady porch and spin Michael Chorney's lonesome Dispensation of the Ordinary. The not-quite-native Vermonter chaperones his band, Dollar General, through a folksy narrative that's as sweet as a lake sunset. Fronting vocals for the first time, Chorney's dusky lyrics hint at a melancholy that long lay hidden behind his saxophone. Gone are the hot viperHouse jams of Chorney's youth. Instead, he trades baritone blows for placid guitar lines, dropping a quiet, impressive set of originals far afield from his former funk.
Backed by drummer Geza Carr (Anaïs Mitchell) and veteran bassist Robinson Morse (Vorcza), Dollar General are less thrifty than their name suggests. Rounding out the bones are pedal-steel player Asa Brosius and classical violinist Caleb Elder — confederates who reflect their bandleader's eclectic pedigree. An accomplished player, composer and producer, Chorney's curriculum vitae has legs. He moonlights in folk opera and chairs music for Dance at Middlebury College. Some say he invented melody. With Ordinary, the triple threat proves that not only is there plenty left in the tank, but the tank is hitched to an entirely different vehicle.
From its languid opening, "Bewildered" bends like a willow tree, swinging easily around Brosius' slide guitar. A plaintive whistle rings out as trumpet, bass and brushed snare fold into the mix, each new texture drawing the ear. And though Chorney's vocals come in a hush, they find graceful purchase under this canopy of sound. The ponderous ballad "Carry Water" rolls along absently, while its dreamy companion piece "Non Nun" conjures the subtle, six-string work of Bill Frisell. With "Raft," Chorney waxes Americana, channeling Amos Lee alongside breezy chords. Horns surface, midway, scoring the track's epic crescendo: "We will all feel better when the morning comes! We will all take shelter in each other's arms!" It's a groundswell moment, when a winning chorus peaks over Elder's viola.
Just as the album's slow crawl sedates, percussive numbers such as "Wake Me" and the electrifying "Run to My Jesus" jump-start the tempo. Carr struts and shuffles around the kit, while Brosius rips through dirty Delta blues licks. Best of all, Chorney's unmistakable timbre recalls a soulful Tom Waits. These whiskey-soaked cuts are right in the band's wheelhouse. And yet it may just be Dollar General's closer that trumps the bunch. With its upbeat rhythm and clean harmonics, "Guitar" gives Dispensation of the Ordinary a sanguine finish, catching the same late-season nostalgia that hangs in the air after Labor Day.
Dispensation of the Ordinary by Michael Chorney and Dollar General is available at michaelchorney.com.