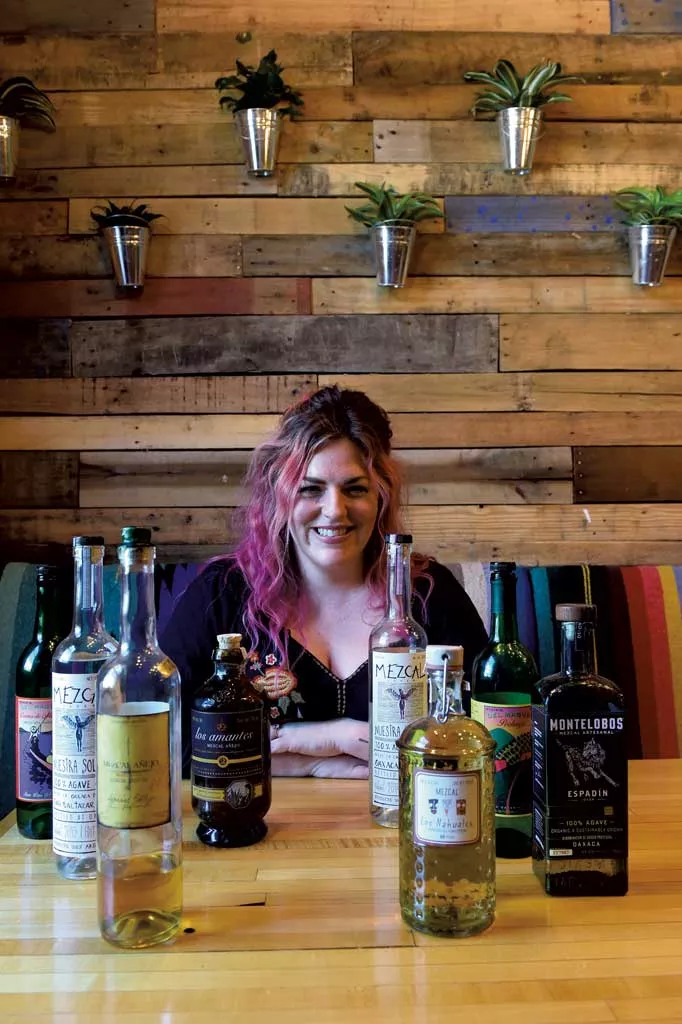 Jeb Wallace-brodeur
Megan Maher with mezcal at Tres Amigos
Megan Maher takes a sip of clear liquor from a plastic condiment cup. "I don't know if it's in my head, but it tastes a little like chicken," she declares.
We're tasting mezcal, and Maher's comment isn't as strange as it sounds. Del Maguey Pechuga, the spirit we've just imbibed, is distilled from agave, wild plums and apples. The last step in the process is stringing a raw chicken breast over the distillation tank. The result is a savory herbal liquor with soft notes of clay and the distinctive smoky flavor for which mezcal is known.
Eight bottles of mezcal, ranging from diamond clear to golden caramel, line the wooden tabletop at Tres Amigos in Stowe. The Pechuga is atypical. The rest derive their unique flavors not from poultry but from different types of agave, various woods used in the smoking process and the very earth in which the agave hearts are smoked.
At most Vermont restaurants, eight bottles of the Mexican liquor would be notable. Maher can boast 21 varieties at her place of work.
Tres Amigos was opened in the old Rusty Nail (now Rusty Nail Stage) last year by the same team that owns the Bench, also in Stowe, and the Reservoir Restaurant & Taproom in Waterbury. General manager Maher, 32, started out at the Reservoir and transitioned to Tres Amigos when it opened. She's been building out the tequila and mezcal menu ever since.
"Right now, Vermont only has one or two regular orders of mezcal," she says. That means there are only two mezcals you can (almost) always find in state liquor stores: bartender favorite Del Maguey Vida de San Luis del Rio (commonly known as Vida) and Monte Alban, a gimmicky liquor complete with a "worm" (insect larva).
Everything else is special order — bars have to petition the Vermont Department of Liquor Control to find a bottle and bring it into the state. For that reason, most bars have a mezcal menu with about four bottles.
Most of them want more. Mezcal is tequila's lesser-known but increasingly appreciated relative. It's been a thing in Mexico for centuries but is just starting to catch on in the United States, where mezcal bars have sprouted up in New York City and Los Angeles. Montréal hosts the inimitable Clandestino, which offers more than 100 different mezcals.
Tonia Pryce, the DLC's liquor purchasing coordinator, says that, even in Vermont, "the amount of mezcal being asked for is higher." From fiscal year 2016 to FY 2018, she says, the number of mezcal varieties the DLC made available for sale increased from 16 to 33, and retail sales increased from $56,414 to $124,656. She also confirms that Vida is the state's highest seller: More than 2,000 bottles sold in FY 2018.
The DLC doesn't have a problem meeting demand, she asserts, but area bartenders beg to differ.
"I sent [DLC] a list of the mezcals we were looking for, and [they] could only get one," says Sara Travis, owner of deMena's in Montpelier.
How does Maher have so many? Persistence. Armed with online research, she had a huge list of mezcals she wanted to carry when Tres Amigos opened. Her orders "ended up getting rejected," she says. "I kept pushing and kept ordering the same thing over and over and over. Eventually it kind of worked, because I got more and more stuff."
Her current inventory includes seven bottles that aren't listed on the menu, due to the inconsistency of deliveries.
Maher's mezcals cover the age range. Bottles listed as joven are young, and spicy, smoky and sharp in flavor. Reposado denotes mezcal aged two to 12 months, and añejo indicates liquor that has aged in barrels for at least a year. The longer they're aged, the more complex the flavor.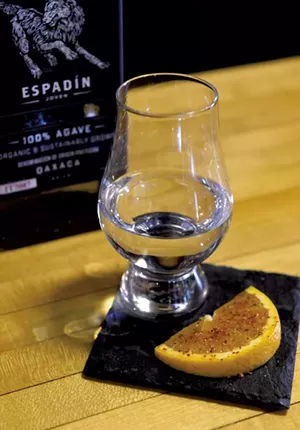 Jeb Wallace-brodeur
Mezcal
But that's not the only variable. While tequila must be made with 100 percent pure blue agave, mezcal can contain any of 30-plus varietals. Mexico is home to more than 200 known species of the agave plant. The type and maturity of the agave, the wood used to smoke the agave hearts, the earth they're cooked in, the type of still and aging barrel, and the elevation all influence the product.
To appreciate that flavor complexity, most connoisseurs drink mezcal neat — no ice. It is often served with orange wedges and a smoked or spicy salt, such as Tajín, to cut through the sweetness and smoke.
Which other flavors should mezcal novices consider? "Smoke is most predominant in the younger ones," Maher says. But she also advises looking out for tropical fruit, citrus and tobacco notes. Some mezcals have a caramel or butterscotch taste; others bring to mind coffee and herbs. Some even have a turpentine aroma.
The añejo from Ilegal Mezcal, a brand that Maher says is gaining popularity in the U.S., is aged for 13 months in American and French oak and in old bourbon barrels. After cleansing our palates with a bite of orange, we take a sip. It's sweet and rich with notes of maple — a home run in Vermont — and citrus. Eucalyptus wood used in the smoking process keeps the mezcal from being overly cloying.
While mezcal's variety can make it difficult to pair in cocktails — and pricey, as some bottles run upwards of $200 — the Del Maguey Vida is an economical showstopper. Maher suggests substituting it for whiskey in classic cocktails such as a Manhattan or an Old Fashioned. It can also take the place of gin in a Negroni for a sublimely smoky concoction.
Maher says her favorite on the Tres Amigos menu is the Del Maguey Crema de Mezcal San Luis Del Rio. A blend of unfermented agave syrup and mezcal, it's sweet, full and creamy, as its name implies. She likes to enjoy one after work. The slogan on the bottle: "For women only, and a few strong men."
Can't get to Stowe? Fear not. Tres Amigos has the biggest list but is not the only bar that stocks mezcal. Check out the selections at El Cortijo Taqueria y Cantina and El Gato Cantina in Burlington and deMena's in Montpelier.
The runner-up for the biggest selection is likely El Toro in Morrisville, which carries eight bottles, or "whatever we can get," according to a bartender who prefers to speak anonymously. "People are definitely looking for it," he says.
The spirit might be catching on slowly in Vermont, but its fans are devoted. Why? Consider this Mexican proverb: Para todo mal, mezcal; y para todo bien, tambien. "For everything bad, mezcal, and for everything good, the same."
Mezcal Cocktail Recipes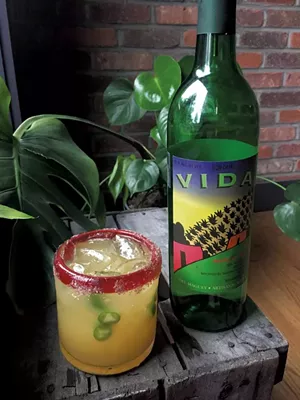 Courtesy Of Megan Maher
Smoke on the Water cocktail
Smoke on the Water (courtesy of Megan Maher)
This cocktail's taste matches its name. The pineapple and lime juice recall classic beachside cocktails, but the maple and Vida mezcal punch it up with spicy, rich smoke. "I don't think people know what they're getting," Maher says of the concoction. "They see pineapple and maple and think, Ooh, I'm going to get this super-sweet cocktail, but it's really smoky and herbal and peppery, too." Prepare to be surprised.
Ingredients:
1 teaspoon Serrano peppers (or other hot pepper)
2 ounces Del Maguey Vida mezcal
1 ounce Grand Marnier
1 ounce pineapple juice
½ ounce fresh lime juice
½ ounce maple syrup
Smoked salt or Tajín for rim
Muddle peppers in a shaker. Add ice and remaining ingredients, minus the salt or Tajín. Shake vigorously until well mixed. Rim a rocks glass with Tajín or smoked salt; if you're having trouble getting it to stick, dip it in simple or maple syrup instead of water, then into the salt. Pour cocktail mixture into the rocks glass.
Mezcal Negroni
For mezcal novices who love boozy drinks, this simple cocktail is a great place to start. The Negroni is a classic Italian cocktail that also has recently become more popular. It combines equal parts Campari, sweet vermouth and gin with an orange peel garnish. In a Mezcal Negroni, the agave-based spirit stands in for gin, its smoke combining with the herbal and citrus notes of Campari for a distinctive taste.
Ingredients:
1 ounce Campari
1 ounce sweet vermouth
1 ounce Del Maguey Vida mezcal
Orange peel
1 large ice cube (optional)
Pour everything except the orange peel into a cocktail shaker. Add ice and shake until chilled. Martini lovers should strain into a martini glass or coupe and garnish with a sliver of orange peel. (A carrot peeler works great for getting the right thickness.) For a mellower taste, strain into a rocks glass and add one large ice cube. Garnish the same.