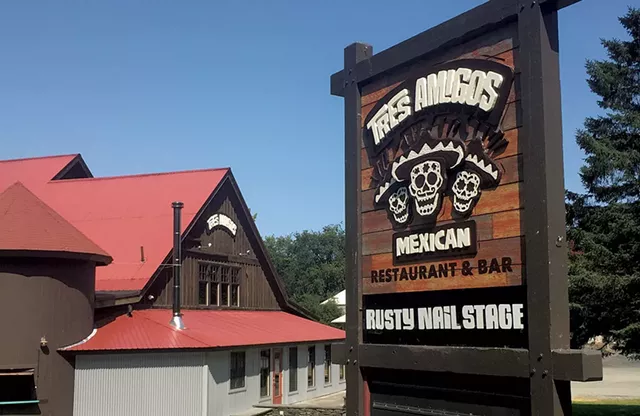 Mexican food returned to Stowe with the September 8 opening of Tres Amigos at the Rusty Nail Stage at 1190 Mountain Road.
The restaurant is the third eatery owned by business partners Mark Frier and Chad Fry, who also own the Reservoir Restaurant & Taproom in Waterbury and the Bench in Stowe.
Tres Amigos offers a full variety of Mexican fare, including tacos ($4 to $5) and appetizers such as empanadas, ceviche tostados and nachos ($8 to $12). Entrées include a half chicken with hibiscus glaze served with Swiss chard, goat cheese and blue corn bread ($16); and New York strip steak with ancho coffee rub, lime butter, sweet potato puree, peppers and onions ($20).
At the bar, the 24-tap beer selection features primarily local brews. The tequila menu is extensive and varied, with two-ounce pours in flavors ranging from spicy to fruity, woody to sweet.
Tres Amigos chef Paul Moran was opening chef at the Bench and also worked with Frier and Fry at the Reservoir. Meg Maher, who started as a server at the Reservoir, is the new restaurant's general manager.
At Tres Amigos, Frier and Fry will run both the restaurant and the music venue, a Stowe institution. The Rusty Nail, with a stage and 300-person capacity, is expected to reopen Halloween weekend, said Frier.
In recent years, several Mexican restaurants have closed in Stowe, including Cactus Café, Frida's Taqueria and Grill, and Bender's Burritos. Tres Amigos opens daily at 4 p.m.