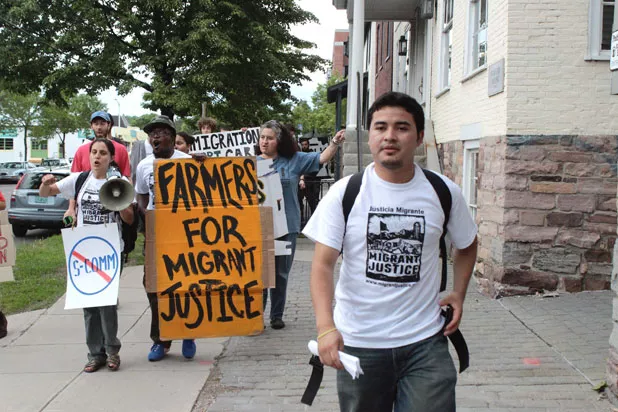 Demonstrators marched on the Obama reelection headquarters in Burlington last week to protest a newly activated federal program aimed at cracking down on illegal immigrants in Vermont. Leading the charge was a young man from Mexico shouting through a bullhorn.
With a translator's help, the former farmworker railed against Secure Communities, or S-Comm, the Obama administration's program that he says is responsible for deporting thousands of undocumented immigrants whose cheap labor is propping up struggling farms in Vermont and across America. Next to him was a giant sign that read, "Immigration Report Card for Barack Obama" and gave the president Fs on all counts.
"We don't want the fields to be left without anybody working them, so nobody can have any milk, cheese, vegetables and ice cream," the young Mexican man intoned. "What do we want: Do we want this program Secure Communities, or do we want milk?"
"Leche!" the boisterous crowd yelled back.
The young Mexican introduced himself to the crowd, but many of the activists and reporters in attendance already knew him well.
"My name is Danilo Lopez," he said. "You may have seen me in the newspaper."
Lopez has been popping up in the news a lot lately. Over the past year, the 22-year-old undocumented immigrant — one of an estimated 2000 Latinos laboring invisibly on Vermont's farms — has become a prominent spokesman for the farmworker cause. Lopez's journey from obscurity to standout activism is one of happenstance and determination. In short order, he and his allies have racked up several significant policy changes for migrant farmworkers.
In December 2009, Lopez was working on a Charlotte dairy farm and taking English-language courses through the Vermont Migrant Education Program when he received bad news. A fellow migrant farmworker, José Obeth Santis Cruz, had been killed in a Vermont farming accident. Lopez took it on himself to collect money from the migrant community to help pay the cost of returning the young man's body to his family in Chiapas, Mexico.
That accident launched the Burlington-based immigrant advocacy group Migrant Justice/Justicia Migrante, formerly called the Vermont Migrant Farmworker Solidarity Project. Founded by activists Brendan O'Neill and Natalia Fajardo, Migrant Justice has quickly grown into an organized and effective advocacy group — thanks in no small part to Lopez, who has emerged as a natural leader and an effective spokesman.
Lopez's outspokenness — and a highly publicized brush with the law — has made him something of a cause célèbre among migrant farmworkers. He has earned invitations to testify at the Statehouse and to speak before numerous college classes and agriculture organizations. Friends who know him describe Lopez as intelligent, eloquent, self-effacing, shy and extremely hardworking.
But at least one party looks upon him less favorably: the feds. Lopez is currently facing deportation after being arrested by the U.S. Border Patrol following a traffic stop in Middlesex last September. After a hearing at federal immigration court in Boston last month, Lopez secured a reprieve that will allow him to stay several months longer while his lawyer appeals a part of the case.
His freedom to stay in the U.S. now depends on a prosecuting attorney from U.S. Customs and Immigration Enforcement (ICE) granting Lopez "prosecutorial discretion" — a little-used form of leniency enacted by the Obama administration last August to clear a massive backlog of deportation cases. Before his last court hearing, Lopez asked for letters of support to bolster his case and received 35 within a few days. Letters came from state senators Philip Baruth (D-Chittenden) and Sara Kittell (D-Franklin); professors from Middlebury College and the University of Vermont; an interfaith religious leader; and dozens of friends. One even drew a parallel between Lopez and a famous 20th-century farmworker organizer.
"Danilo closely resembles Cesar Chavez," wrote Daniel B. Cohen, a 66-year-old educator who teaches English to migrant farmworkers in the Northeast Kingdom, in his letter. "He teaches people; he inspires people; he makes them aware of their own worth and dignity; and he does this without a trace of anger or negativity."
"He has become so well known for his community involvement that people he's never met sometimes stop him on the street with words of congratulation or encouragement," wrote Aaron Lackowski, a volunteer with Migrant Justice, on behalf of Lopez. "I recently joked with Danilo and some fellow volunteers that he could easily win 5 percent of the vote in the next Burlington mayoral race were he to run."
But whether all those letters will persuade the ICE attorney remains to be seen. Robert Appel, executive director of the Vermont Human Rights Commission, says prosecutorial discretion is "rarely invoked" in cases such as Lopez's.
"It would be extraordinary if prosecutorial discretion is applied and he's allowed to remain," Appel says, and adds that it's "more likely than not" that Lopez will be deported.
Like that of many migrant workers, Danilo Lopez's journey from Mexico to Vermont is at once familiar and remarkable. At 17, he set out alone from his hometown of Tapachula in the state of Chiapas for what was supposed to be a 14-day trip to Arizona. Lopez's grandfather was a farmer who raised peanuts, coffee, corn and bananas before falling prices and mounting debt forced him to sell the farm and move to the city. Lopez left his parents and two younger sisters to seek work in the U.S., specifically in Wisconsin.
It took just four days for Lopez and his hired "coyote" to reach the borderlands, but then, Lopez says, they wandered for eight days in the desert. Once on the Arizona side, Lopez continues, he was kidnapped and held for ransom in a house crowded with other Mexican border crossers. His captors — Lopez refers to them as the "mafia" but never learned their identities — demanded $9000 for his release. It took Lopez almost two months to secure the funds from his family, who paid the kidnappers an extra $500 to drive Lopez safely to Florida, where Danilo had relatives.
He spent a year in Tampa — working up to 18 hours a day picking tomatoes, cleaning stadiums and assembling Jacuzzis to pay back the ransom money — before his girlfriend's uncle persuaded him to head north to Vermont.
"He told me Vermont is really green; it's a beautiful place," Lopez says through a translator during an interview at the Migrant Justice office, where he now spends most of his days. "The work is really hard, but that's OK."
He landed on a dairy farm in Charlotte, where he drove tractors, did other nonmilking work and sent most of his money back home to his family. Lopez did that for nine months, until he was injured on the job: He got too close to a bull, and the massive animal tossed him through the air "like I was Superman," he says.
"I couldn't breathe," recalls Lopez. "Instinctively, I jumped over a fence and fell into a big pile of manure." He went 48 hours without medical treatment because he couldn't get a ride to the hospital.
Lopez's next job, on a horse farm, afforded him more time to pursue activism with Migrant Justice. He collected signatures from scores of undocumented farmworkers calling on Gov. Peter Shumlin to oppose S-Comm, which links local police departments to ICE immigration databases with the aim of identifying deportable aliens. Last August, Lopez and another farmworker hand-delivered the petitions to the governor on the capitol steps before a rally and press conference.
"I knew there was a risk" in speaking out publicly, Lopez says, "but I don't like to be hidden."
Just weeks later, on September 13, Lopez and another undocumented Mexican farmworker were detained by the feds after state police stopped a car in which they were passengers for speeding on I-89. Under questioning from the trooper, Lopez and Antonio-Meza Sandoval admitted they had crossed into the U.S. illegally. At the Middlesex police barracks, U.S. Border Patrol agents rumbled into the dirt parking lot in SUVs and took custody of the immigrants. This sparked a confrontation with supporters, several of whom were handcuffed and forcibly carted away for trying to block the agents' exit route.
That high-profile event put Lopez into deportation proceedings, but it also prompted Shumlin to order state police not to ask potential illegal immigrants for papers unless they were suspected of a crime — a policy change that places Vermont among the most immigrant-friendly states in America.
Migrant Justice's next victory came at the Statehouse this past session, when Lopez and other migrant workers helped win passage of a bill that puts Vermont on course to issue driver's licenses to immigrants, regardless of their status. A committee will study the idea and report back to lawmakers in January about how — not whether — to grant Vermont IDs to immigrants.
"The minute you talk about migrant workers and driver's licenses in a post-9/11 environment, a lot of people's faces get this mask on them that has a lot to do with fear," says state Sen. Baruth, who was an architect of the immigrant ID bill on the Senate Agriculture Committee. "But when Danilo would speak, you would see that mask start to fall away. [Legislators] would say, 'He's a farmer, every bit as much as my constituents are farmers.'"
With a soft-spoken demeanor and boyish face, Lopez hardly looks the part of a radical. And that, people who know him say, is what makes him an effective advocate.
"He comports himself very well in situations that could be stressful," says Appel of the Human Rights Commission. "He's not in any way a hothead and doesn't use extreme rhetoric. He's just very down-to-earth and is able to bring people together on the issues."
Lopez is slowly learning English, but most of his work is still conducted in Spanish — educating migrant farmworkers about their rights, writing newsletters and producing videos documenting the migrant experience in Vermont. In the process, Lopez and Migrant Justice are giving more immigrant workers the courage to speak out.
"He is helping a lot of our compañeros come out of the shadows," says David Santiago Bautista, a Mexican employed on an Addison County dairy farm; Bautista accompanied Lopez to the Statehouse to testify on the driver's license bill. Speaking through a translator, Bautista says Danilo's case shows that any farmworker is at risk of deportation. "But now that we've got Migrant Justice, we're not afraid anymore," he adds.
Lopez says he's not afraid, either — nor is he naïve. He knows the odds of being deported. If ICE sends him packing, Lopez says he'll return to Mexico and, he hopes, enroll in a university. He'll also continue to organize farmworkers, he says — on the other side of the border — and perhaps even establish a Mexican branch of Migrant Justice.