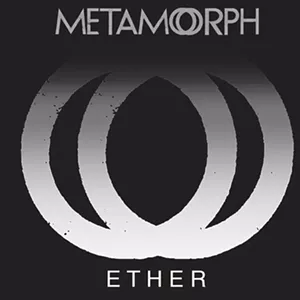 (Self-released, CD, digital download)
Each corner of the back cover for E T H E R, the latest album from Montpelier-based tantric-techno duo Metamorph, is adorned with a symbol: a yin-yang, an ankh, a Sanskrit om and a pentacle. Each has ties to disparate geographical regions and historical periods, but all are related to mysticism and spiritual connection. As such, E T H E R is undoubtedly a concept album. Unfortunately, Metamorph cram in so many metaphysical references that their agenda is muddled, their music alienating. That is, unless the mantra Hare Krishna excites you as much as it seems to excite them.
Stylistically, the Vermont-based duo pulls influence from all over the genre-sphere: glitch, '90s techno and breakbeat, Hindu Bhajan, Aboriginal folk music, goth-industrial, and trance, to name a few. Singer-songwriter and flutist Margot Day jockeys between viscid whisper-singing and ascendant operatics. Her range and passion are impressive, but her songs' mechanics have an elementary quality, both structurally and lyrically.
Beatsmith and guitarist Kurtis Knight crafts rhythms that sound suspiciously similar to loops that come prepackaged with Apple's GarageBand recording software.
"Dragonfly Kiss" is a club banger about sexual pleasure — presumably the kind derived from cunnilingus. Knight's gravelly guitar sizzles underneath chintzy beats and Day's randy vocals. She coos, "Kissed by a dragonfly / In our sweet spot / You can make my panties drop." Sandwiched between references to lotus flowers and eclipsed moons, her sexual frankness feels out of place.
A fuzzy bass line, rain stick and tabla beat open "Daisy Logic," a slow-burning song that plays with an age-old deliberation: He loves me; he loves me not. However, the song spurns relatability with gratuitous mentions of mythical creatures (gargoyles, griffins, dragons) and other mumbo jumbo (ether trails, seers).
"Winds of Durga" and "CATTALK" — the album's opener and closer, respectively — are essentially the same song. Both are composed largely of mantras, including the aforementioned Hare Krishna ("CATTALK") and Jaya Ganesha Pahimam ("Winds of Durga"). Day's exceptional flute skills are showcased prominently in both.
With its acid-house beat, "Work My Body" drifts between chilled-out and dance vibes. Lyrically, it's another mishmash of vaguely mystic, cartoonish imagery. There's also a strange contradiction: "Our bodies are a temple / An altar / A rave / Home for depraved." Does depravity have a place in a reverent setting?
Hypothetically, a person who's deeply interested in Eastern philosophy, religion and yogi culture might get a kick out of this album. Beyond that, I doubt many listeners will be able to disregard its low production values and hackneyed aesthetics.
E T H E R is available at margotday.bandcamp.com.