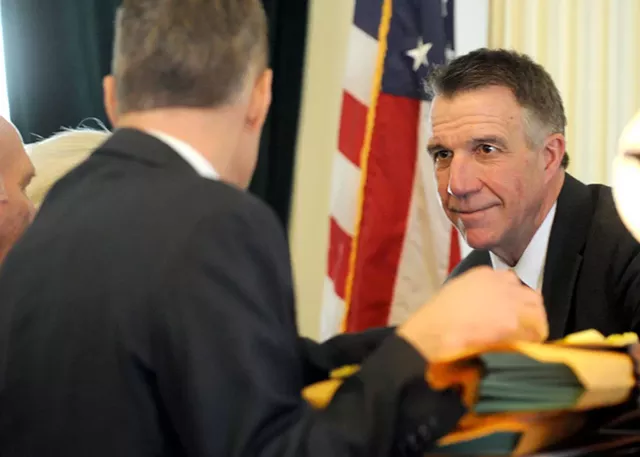 Jeb Wallace-Brodeur
Gov. Phil Scott
Last week, Gov. Phil Scott tried to reemphasize his long-held "no new taxes and fees" position. But in the end, he appeared to drastically expand his stance while appearing to have an incomplete grasp of the facts.
Scott sent a letter to state lawmakers on March 20 listing 13 "bills containing new or higher taxes, fees or expenses I cannot support." The list represented a substantial broadening of his previous position. First of all, he added "expenses," which would literally apply to every single piece of legislation. And second, some of his 13 bills do not actually include new taxes or fees.
Take S.260, a bill that would create a pathway toward a funding mechanism for a federally mandated waterways cleanup. The legislation doesn't raise any new revenue. This fact was apparently news to Scott when he spoke to reporters at a press conference last Thursday — which began just as the Senate was approving S.260 by a unanimous vote.
"If it includes a tax or fee, I will oppose it," he said of the bill.
When told that it doesn't include either, he said, "I'm not familiar exactly with the details of the bill, but if it includes a tax or fee, then I would be opposed."
So he's "not familiar" with one of the most important bills of the session?
Scott was then asked if he'd be OK with language setting up a study of possible revenue sources. "Possibly, but again, I'd like to see the details. [S.260] has been highlighted by my staff as one that has a tax or fee in it."
Which would appear to imply that Scott didn't write his own letter, or even read it.
The reporters tried again, noting that Scott himself has indicated the need for a long-term funding mechanism. More waffling ensued. Finally, VTDigger.org's Anne Galloway pinned him down.
"Do you support the design of a fee or not?" she asked.
"Well, it depends on what the design is," Scott replied.
"We just told you what the bill says," Galloway said. "Do you support the study?"
"Well, no," Scott concluded. "Obviously I have it in the letter, so I don't support the study."
Wait, wait. He's against the bills in his letter because they're in the letter? A fine example of circular reasoning.
Let's leave aside the meanderings and take him at his eventual word. He opposes S.260, even though it would only pave the way for a potential tax or fee hike in 2019 — when Scott might not even be governor. But even that is a misinterpretation, according to Sen. Chris Bray (D-Addison), chair of the Senate Natural Resources Committee and primary author of the legislation.
"I've referred to S.260 as a precautionary plan B," he said. "If we can't find the money elsewhere, we would have a mechanism to raise revenue." The money, he added, doesn't have to come from higher taxes: "S.260 also allows for revenue to be raised through budget cuts elsewhere."
The only mandate in his bill is that the state spend at least as much on waterways cleanup in 2020 and beyond as it will in fiscal year 2019. "Maintenance of effort," Bray called it.
That's a far cry from Scott's characterization.
In his letter, the governor also raises a separation-of-powers objection to S.260. When asked for an explanation, spokesperson Rebecca Kelley wrote that the bill "encroaches on the authority of the executive branch by giving a legislative committee planning and implementation functions." In truth, this committee would be exactly like every other special panel. It would craft a plan but would have no implementation authority.
The rest of Scott's list of objectionable bills is a mixed bag. To start with, it doesn't include one of the measures seemingly most likely to trigger a veto: the House-passed paid family leave bill, which awaits action in the Senate. Now, the governor says that it's "not a full list," but the omission is notable. Especially since some of the bills he highlighted would create truly minuscule levies. There are measures to impose fees on digital-age industries such as data brokers, Uber and Airbnb, just like their 20th-century competitors. Another bill would temporarily increase a telephone surcharge to beef up a laughably small state fund for rural wireless service.
And even as Scott balks at those small measures, his own budget proposal includes at least two new fees. One would lay the groundwork for a new tax on charging electric vehicles; the other would extend a fee currently imposed on large solar arrays of 150 kilowatts or more to arrays larger than 50 kilowatts.
The governor's letter also names three bills that gained unanimous approval in the Senate. Somebody should tell Republican senators they're undercutting their leader.
Between the inconsistencies in the letter and the shifting rationales at his press conference, lawmakers must be wondering exactly what this governor will or won't sign.
Scott intended to clarify his position. In the end, he did the exact opposite.
The Limits of Lawmaking
On Friday, March 16, Quaker activist and author George Lakey spoke to the legislature's Climate Solutions Caucus. The 80-year-old Lakey has been a nonviolent protester since the Ban the Bomb days of the 1950s. His message to a roomful of lawmakers: There are severe limits to the power of their offices.
"It doesn't work like your civics textbooks," he said, adding that elected officials should "project to voters a realistic set of expectations on what you can do and emphasize the responsibility of people to exert power through nonviolent action."
His audience was largely receptive. "People look to us to solve problems by passing this bill or that bill," said Rep. James Masland (D-Thetford). "It doesn't work that way."
They're right. Lawmaking is designed to be a slow, deliberate, incremental process. Nothing gets done quickly or cleanly.
"The usual message is, 'Go to your elected official to solve your problems,'" said Lakey. "The media reinforces that with its intensive coverage of the political process."
He's got a point. We cluster around the Statehouse as if that were the wellspring of political power. But the real source of power lies in the consent of the governed.
One week later, that truth was made manifest. The House gave preliminary approval to a suite of gun measures that would have been unthinkable only a few weeks earlier. But a grassroots movement arose, giving lawmakers room to act and a Republican governor license to change his position.
The following morning, at least 2,000 people gathered on the Statehouse lawn to celebrate the progress they'd made and press for even more.
I found Sen. Dick McCormack (D-Windsor), one of the old salts of the Statehouse, leaning against the building's granite wall and gazing out at the crowd. Turns out, he's the perfect exemplar of Lakey's assertion.
"I, for one, have personally favored various forms of gun control for years," he said. "And I've thought, I don't know if the people want this. It's a fight I don't need. What has changed is the public outcry."
He continued, "What I'm hearing from the public right now is that they really want this. And there are people who don't. They're telling me they're going to get me voted out of office. Maybe they will. You do the right thing."
But only if you have the wind at your back.
Media Notes
Eighteen months after the Mitchell family sold its financially troubled daily newspapers, the Rutland Herald and Barre-Montpelier Times Argus, the properties are once again poised to changed hands. The deal was announced last Thursday.
The prospective buyer is the Sample News Group, a Pennsylvania-based firm that publishes 75 small-town dailies, weeklies and shoppers. The deal is effectively a swap; current owners Reade Brower of Maine and Chip Harris of New Hampshire are acquiring Sample's papers in Maine, including dailies in Brunswick and Biddeford, in exchange for the Herald and Times Argus. (The trade also gives Brower a tighter grip on Maine's newspaper business; according to his own Portland Press Herald, he will soon own six of the state's seven dailies, as well as a string of weekly papers.)
"From a strategic vantage point, the geography just works better," Brower said. "We've had a mutual relationship, and this just sort of made sense."
Nice for them, but it does feel like two of Vermont's most influential dailies have become mere pawns in somebody else's game.
The new owners will take control on Friday, according to Rob Mitchell, general manager of the Herald and editor in chief of both papers. He chose his words carefully when describing how things might change. "Sample seems to have a little bit different approach to ownership," he said. "Reade focused on Maine. Sample may have more of a hands-on approach."
To judge from a scan of Sample properties' websites, the papers' original content is focused entirely on their home communities. That doesn't bode well for the Vermont Press Bureau, which for decades provided Statehouse coverage to the Herald and the Times Argus. It's been unstaffed since Neal Goswami took a position with WCAX-TV last October.
It'd be nice to offer more on the new owner's plans, but Sample president George "Scoop" Sample failed to return requests for comment.
Last week also brought change in leadership at Vermont Public Radio. For the first time in 25 years, the broadcaster has gone outside its walls to hire a new chief executive. Scott Finn, currently executive director and CEO of West Virginia Public Broadcasting, will take the top job at VPR on May 7. He replaces Robin Turnau, who is stepping aside after nine years as president and CEO and a total of 29 years at VPR.
Peggy Williams, chair of the VPR board of directors, has nothing but praise for the new guy. "He comes with broad and deep experience in public media," she said. "He has a journalistic mind-set; he's a strategic thinker, down-to-earth — an engaging personality."
Finn seconds the emotion. "VPR is a spectacular organization with amazing staff and supporters," he said.
Ain't love grand?
The 46-year-old Finn, whose roots are in journalism, says his first priority is a listening tour. "Take out my reporter's notebook and talk to all sorts of people," he said. "It's important to pay attention to your audience and also important to reach out to those who don't listen."
VPR has legions of supporters who love the station. It also has critics who view it as a top-heavy organization that just conducted an $8 million expansion of its headquarters, while investing fewer resources in news than it could have. Finn is sure to get an earful from all sides.