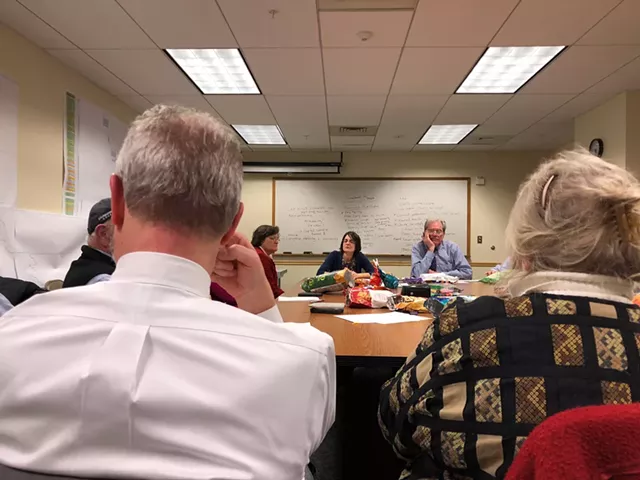 Alicia Freese
Senate Democrats meeting in the basement of a state office building.
Vermont's Senate Democrats got a bit of unwanted publicity last week over a "secret" meeting they held out of public view. It didn't stay secret for long, thanks to reporting from Seven Days' Alicia Freese, who crashed the party with colleague Taylor Dobbs and documented it.
The meeting's purpose: the search for a political narrative to counter the simple sloganeering of Republican Gov. Phil Scott.
It didn't go well. In fact, more than anything, it illustrated the Democrats' problem.
There was widespread agreement that Scott's approach to governance is often lacking in substance. On issue after issue, senators said, the governor deals in catchphrases and leaves the tough choices on the legislature's doorstep. "He did a really good job of putting us in a box," Sen. Dick Sears (D-Bennington) told his fellow Dems.
Some even tacitly acknowledged Scott's likely reelection. "This is year two of how many years?" wondered Sen. Chris Bray (D-Addison). "An average governor serves six. So what are we thinking about now, so we're not in the same place for four more years?"
There were plenty of messaging ideas, but they were all over the map.
Sen. Chris Pearson (P/D-Chittenden) wanted to directly confront what he called "broken promises and affordability bullshit." (He later apologized for the profanity in a Facebook video and offered "malarkey" as a more polite substitute.)*
Sen. Michael Sirotkin (D-Chittenden) advocated passing bills that would trigger gubernatorial vetoes. "Take it to the goal line, and if he vetoes it, we bring it back next year," Sirotkin said. "He's different from where we stand on a lot of these issues, but we don't rise to the challenge."
The caucus' moderate members were more cautious. Sen. Bobby Starr (D-Essex/Orleans) praised Scott's affordability mantra and warned against Sirotkin's approach. "Do you think that's going to win us a lot of friends next November?" he said. "We've got to be smart about this stuff."
There are inherent difficulties in a legislative body trying to message against any executive. "The governor is one individual with one very loud microphone," noted Rep. Dylan Giambatista (D-Essex Junction) in a Statehouse interview. He was Shap Smith's aide when Smith was House speaker, so he understands the realities of managing a caucus. "The legislature has 180 different voices ... It's much easier to speak with one voice than with many."
True enough. But still, Senate Democrats seem particularly ineffectual. Take Senate President Pro Tempore Tim Ashe's brief offensive over the "6-3-1" catchphrase Scott uses to describe Vermont's demographics problem. The pro tem had a decent point to make: The 6, supposedly the number of workers Vermont loses every day, is based on carefully selected data. But Team Scott counterattacked in the halls of the Statehouse and on social media, accusing Ashe of denying the state's real workforce issues. Ashe insisted that wasn't what he meant, but within days he was trying to put the issue behind him.
Finally, there's an instinctive caution among many legislative Democrats. Bray, who chairs the Senate Natural Resources and Energy Committee, noted in caucus that while the Scott administration has failed to propose a funding source for a federally mandated waterways cleanup, "We just took testimony from [the Environmental Protection Agency], and we're behind on three deliverables from our contract with the federal government on clean water."

Sounded like a prelude to action. But three days later, Bray's committee jumped right back inside the box. It was considering a bill to establish an independent Clean Water Authority to oversee the massive cleanup effort. Instead, the panel carefully removed the teeth from the bill, eliminating the Clean Water Authority and calling for ... wait for it ... yet another study on the studied-to-death question of how to pay for the cleanup.
No wonder they can't get a handle on messaging. They don't even know what the message is.
Fee and Not-Fee
There's a little surprise tucked inside the Scott administration's 18-page transportation bill. It's a feature that may have gone unannounced because it violates the governor's "no new taxes or fees" pledge: a new fee for charging electric vehicles.
Well, technically the bill doesn't establish the fee, but it proposes that the Public Utility Commission do so as the best way to keep the state's gas tax-fueled transportation fund from going broke in future years. And if the bill passes as written, that recommendation would carry the imprimatur of governor and legislature.
"Virtually all analysts agree that the transportation sector will electrify," Dan Dutcher, senior environmental policy analyst for the Agency of Transportation, told the House Transportation Committee last week. "The question is not if, but when."
The proposed fee is 4 cents per kilowatt hour, a level that would adequately fund the highway system but be "barely noticeable" to drivers, Dutcher said, because the cost of recharging an electric vehicle would still be cheaper than buying gas.
(Roughly speaking, an electric vehicle needs 30 kwH to travel 100 miles. So the fee is a bit more than a penny per mile.)
But still, it's a new fee. And the governor constantly touts his opposition to any new tax or fee. When asked to resolve this apparent contradiction, Scott spokesperson Rebecca Kelley broke out a rhetorical tap dance.
"This bill does not include new fees, nor would these provisions mean new revenue directly back to the State," she wrote in an email. "It ... asks the PUC to contemplate a comparable electricity rate that could allow for a revenue-neutral replacement to the current tax on gas."
Now there's a neat rationalization. The fee is, indeed, meant to replace lost gas-tax funds, not generate new money. But it's a new revenue mechanism just like the education tax reform plan proposed by the House Ways and Means Committee, which would cut property tax rates by almost half and establish an education income tax. It's designed to be revenue neutral and increase transparency, just like the per-kwH fee. But heavens no, the governor won't consider the education plan because, well, No New Taxes or Fees.
The plan makes perfect sense. We'll have to fund the highway system somehow.
But still, it does seem at odds with the governor's sacred principle. Which kind of demonstrates the real-world complications of governing by sacred principle.
The Buzzards Descend
Ever heard of the "right to repair"? It's a growing movement, aimed at countering the ever-increasing difficulty of repairing all kinds of consumer equipment. Manufacturers claim that their schematics, diagnostics and even replacement parts are proprietary — not to be shared with anyone other than authorized shops.
Advocates of right-to-repair say a lot of this is industry trickery, aimed at boosting profit margins by limiting consumer choice and encouraging replacement instead of repair.
Right-to-repair bills have been introduced in 17 states including Vermont, where S.180, introduced by Sen. Pearson, is under consideration by the Senate Economic Development Committee.
And, boy, did hearings on the bill last week attract an all-star cast of industry lobbyists. Not only the usual Montpelier suspects, but the Big Boys from Boston and Washington, D.C., speaking on behalf of America's corporations. One after another they described the economic catastrophe the bill would trigger — and sometimes they darkly hinted at actual mayhem.
Tom Tremble of the Advanced Medical Technology Association said his clients' products should be exempt because of the "life and death" consequences of a bad repair job — as though a hospital would call Bud's Bait Shop and MRI Repair to fix its high-tech scanner with, I suppose, chewing gum and duct tape.
Tim Wentz of the Northeast Equipment Dealers Association, argued that gas-powered vehicles like farm tractors should be kept out of the bill because "when customers modify code, bad things happen." Like maybe driverless tractors roaming the landscape?
The Computer Technology Industry Association's Kevin Callahan warned of potential security breaches when access codes fall into the hands of "criminals and bad actors."
This onslaught of prospective catastrophe was particularly shameless, since there's a real-world example of a state enacting right-to-repair legislation without the sky falling even one little bit.
In 2013, the Massachusetts legislature adopted a right-to-repair bill specifically targeting the automotive industry. Seeing the writing on the wall, automakers quickly negotiated a settlement binding them to meet the law's requirements — nationwide — by the 2018 model year.
And yet, somehow, they stayed in business and life went on.
Even so, the lobbyists had an impact. Sen. Sirotkin, the committee chair, made it clear that he was looking for a way to significantly narrow the scope of the bill — perhaps applying it only to smartphones.
This is the same brave heart who, at last week's "secret" caucus, proposed passing a bunch of bills and forcing gubernatorial vetoes. But, as far as S.180 was concerned, Sirotkin pronounced himself "an incrementalist."
When push comes to shove, aren't we all?
Media Note
Comings and goings aplenty on the media scene these days. Mike Smith, host of WDEV's "Open Mike" call-in show, announced last week that his last day on-air will be February 19. The following day he starts a new job, as interim president and CEO of Vermont Information Technology Leaders. Vermont Public Radio hired former "Vermont Edition" producer Sarah Ashworth, now an editor at Minnesota Public Radio, as its news director. And WCAX-TV reporter Tyler Dumont is heading to KPTV-TV in Portland, Ore.
New faces, new places in the VTDigger.org newsroom. Reporter Xander Landen, formerly of the Keene Sentinel, has hopped on the business and economy beat. Reporter Mike Faher, who had been Digger's southeast Vermont reporter, is now covering health care. Jim Welch, formerly of the Burlington Free Press and USA Today, will serve as projects editor. Ellen Bartlett joins the crew as a part-time news editor; she began her journalism career at the Free Press and WCAX-TV and has also worked for the Boston Globe, Miami Herald and Dallas Times-Herald. And finally, Colin Meyn replaces the departed Ruth Hare as news editor. (Hare just accepted a position with the Montpelier-based Regulatory Assistance Project.) Meyn comes to Digger from, of all places, Cambodia, where he was an editor and reporter for the English-language Cambodia Daily and Phnom Penh Post.
Disclosure: Tim Ashe is the domestic partner of Seven Days publisher and coeditor Paula Routly. Find our conflict-of-interest policy here: sevendaysvt.com/disclosure.
*Correction, February 14, 2018: An earlier version of this story misstated the location where Sen. Pearson recorded his Facebook video.