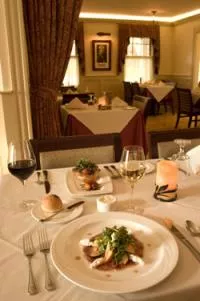 Jericho has two great Restaurant Week options, both in the same building. VTRW veteran Caroline's Fine Dining is joined this year by its adjacent bakery and cafe, the Village Cup.
Don't expect fare like Mom used to make. Dishes on the Village Cup's $25 menu include tea-smoked salmon, mahi mahi in blood-orange-beurre-blanc and spring ratatouille with basil foam. They're available with local beer pairings, too!
For $35 at the more formal Caroline's, items include cheese-and-chestnut-crusted filet mignon with chocolate and banana beignets for dessert.
Click here to see the full menu and learn more about the Village Cup.
To learn more about Caroline's Fine Dining or to see the full menu, click here.