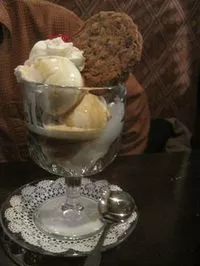 Amid all the culinary experimentation, sometimes we crave what's comforting. In and out of Burlington, there are great Restaurant Week menus that provide just that — with a twist.
Sweetwaters, right on Burlington's Church Street, has you covered all day long. $10 lunch specials include a local-beef burger with white-truffle-Parmesan frites. Start your three-course, $25 dinner with housemade charcuterie or Long-Trail-braised mussels. Local ingredients populate the entrées, too, such as a Boyden Farm bistro steak or salmon with Nitty Gritty Grain Co. polenta fries.
The dinner at Trader Duke's is also $25 and locally focused. Start with a spinach-and-pear salad or a Vermont goat-cheese-and-garlic tartlet. Those looking for a taste of the coast can move on to a lobster roll. For simple decadence, try beef stuffed with bacon and veggies or a portobello mushroom Napoleon. For dessert, try the homebaked peach cobbler.
To see the full menu or to learn more about Sweetwaters, click here.
To see the full menu or to learn more about Trader Duke's, click here.