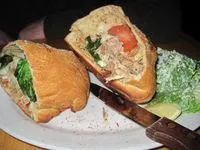 There's more to Williston than big box stores. Two locally owned restaurants are participating in Vermont Restaurant Week this year, an ideal destination outside the hustle and bustle of Burlington.
Mexicali's $25 dinner menu includes a glass of Dreaming Tree Wine or a pint of Wolaver's stout with every meal. From there, fresh, flavorful veggies are the focus. Choices include tamales made with spinach and Cabot habanero cheddar cheese, or a burrito packed with roasted summer squash and zucchini. The $10 lunch menu allows you to choose anything from two out of the dinner menu's three courses.
For $35, the folks at Monty's Old Brick Tavern are allowing guests to choose any appetizer, entrée or dessert from the regular menu or the specials board. We recommend saving room for the eggroll of the day and chicken-and-dumplings spiced up with chunks of chorizo.
To see the full menu or to learn more about Mexicali Grill & Cantina, click here.
To see the full menu or to learn more about Monty's Old Brick Tavern, click here.