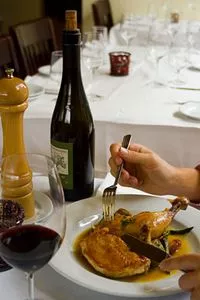 Craving Italian? During Vermont Restaurant Week, you'll have plenty of choices, including two very different spots in the Burlington area.
The $25, three-course menu at Junior's Italian in Colchester will transport you to the tip of the boot via New York. A garden salad and freshly baked, cheesy focaccia starts the meal. It's followed by a choice of scallops alla vodka, steak pizzaiola or salmon in Dijon cream that would make Tony Soprano salivate. The full-service bakery is sharing creations including tiramisu and Italian-style mousses.
In downtown Burlington, L'Amante's menu hits geographical (and gustatory) points all over Italy. The rest is a secret — chef Kevin Cleary is waiting until the very last minute to decide what he'll be serving during Restaurant Week. All we know is that the three-course, $35 menu will be fresh, seasonal — and delicious.
To see the full menu or to make a reservation at Junior's Italian, click here.
To see a sample menu or to make a reservation at L'Amante, click here.