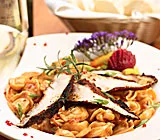 Where and when can you get shepherd's pie, beef stroganoff and chocolate porter cake, all made from local ingredients for $25 or less? That would be Two Brothers Tavern during Vermont Restaurant Week.
Middlebury's bastion of elevated pub food has a $15 menu and a bill of fare for $25, both available for lunch or dinner.
A lively night spot, there are plenty of reasons to grab a three-course prix-fixe meal, including karaoke on April 28 and May 1 and a May 2 trivia night.
To see both full menus or to learn more about Two Brothers Tavern, click here.