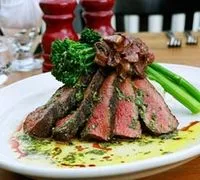 Chilled spring pea soup with lavender crème fraiche. Could there be a better way to taste spring? Maybe angelica-rhubarb or raspberry-rosewater sorbet would fit the bill.
They're all on the three-course, $25 Vermont Restaurant Week menu at the Bearded Frog in Shelburne. Between springy appetizers and desserts, there are hearty entrées, including Southwest vegetarian lasagna, chicken in basil-lemon-thyme pesto and a pork ribeye stuffed with mustard greens and bacon.
Click here to learn more about the Bearded Frog or to see the full menu.