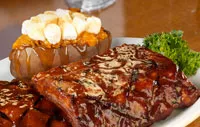 Ready for some fall-off-the-bone ribs? They've got 'em at Texas Roadhouse. What you may not know is that much of the produce served at the Williston restaurant isn't from Texas -- it's local.
Get it in side dishes with your ribs-and-barbecue chicken, filet mignon or twelve-ounce ribeye, all available on the three-course, $25 menu.
To see the full menu or to learn more about Texas Roadhouse, click here.