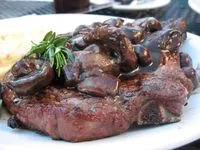 Does housemade ravioli filled with braised short ribs sound good to you? We thought so. You're in luck. It's the appetizer on the three-course, $35 menu at the Scuffer Steak & Ale House.
Surprised? Under new ownership, this is not your father's Scuffer. The entrée on the menu is grilled sockeye salmon with couscous and dessert is a flourless chocolate torte in a crunchy caramel cup.
To learn more about the Scuffer Steak & Ale House or to see the full menu, click here.