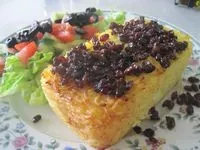 From Paris to Tehran, Vermont Restaurant Week takes you around the world in 8 days. We're excited to have three Persian menus, all from Farah's Place in Burlington, for $15, $25 and $35 per couple.
That's right, even the $15 deal feeds two people with three courses including salad, the Persian rice dish tahchin and baklava with an elegant Middle-Eastern-style tea service. The $35 meal gets fancy with slow-cooked lamb shanks. And the $25 dinner is perfect for vegetarians with a mix of appetizers and falafel sandwiches.
Click here to see the full menu or to learn more about Farah's Place.