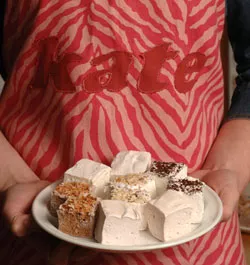 Kate Seaver has always loved sweets. After realizing that the 8-to-5 grind wasn't for her, her mind turned to marshmallows. "My successful friends asked me what I really wanted to do, and I just kept coming back to candy," she says.
After quitting her regular job in December, Seaver took some time to travel; in February, she did a soft launch of her artisanal marshmallow biz, Candy Kate's.
Right now, Seaver is offering the hefty pillows in a handful of flavors: rose, lemon meringue, toasted almond, "oh honey" and "sophisticated cinnamon." A mixed five-pack goes for $6.50 if you pick up the goods, or $8.50 with shipping. She's selling the treats at the biweekly Flynn Avenue farmers market, and hopes to wholesale them to restaurants in the near future. "I'm actually on my way to meet with a chef," Seaver notes. "Stores would probably be a natural next step."
She's working on new flavors, including a tricky maple version, and contemplating adding a couple new lines of sweets. "I hope to perfect marshmallows and move on to other goods, such as licorice or gummies," Seaver says. Sweet.