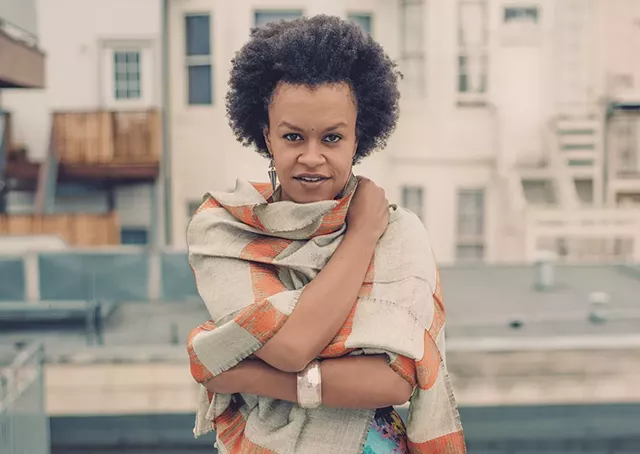 Courtesy Of John Nilsen
Meklit
"It is possible that the human auditory system actually evolved to hear music, because it is so much more complex than it needs to be for language alone," said Ethiopian American musician Meklit Hadero during her 2015 talk at a TED Fellows retreat. A senior TED Fellow, she was paraphrasing a theory from California neuroscientist and musician Charles Limb. "And if that's true," she continued, "it means that we're hardwired for music, that we can find it anywhere."
Professionally known simply as Meklit, the Ethiopia-born artist has a career that goes far beyond cutting albums and touring. Now based in San Francisco, she's a cofounder of the Nile Project, a multifaceted organization focused on East African society. It seeks ways to use music to answer questions related to cultural identity, resource sharing and the trajectory of human existence.
In her musical identity, Meklit creates a vibrant sound that draws from jazz, pop and pan-global styles. Her latest album, When the People Move the Music Moves Too, features collaborations with the Preservation Hall Jazz Band and acclaimed singer-songwriter Andrew Bird. The album's Grammy Award-winning producer, Dan Wilson, made those connections.
Meklit will perform on Thursday, July 12, at ArtsRiot in Burlington. Seven Days caught up with her by phone.
SEVEN DAYS: In your TED Talk, you said you like to start writing music with a bass line. How much of your work starts that way?
MEKLIT: Bass lines are generally what I hear first, [and] I think I finally understand why. I think it's because it's the exact intersection of rhythm and melody. The melody is more in the heart and eyes, kind of. And rhythm is a little bit lower. I think of composing as a mix of discipline and mystery.
The mystery is that the melodies come from somewhere — and who knows where? [I make] little snippets of melodies and sing them into my phone and create these banks of hundreds of melodies. The discipline part is going into my studio. [I] kind of just listen back to them and go, "What's moving me today?" And then I'll take one and go, "Maybe these two go together." Then I'll start shaping them [into a song].
SD: How has being a TED Fellow impacted your life?
M: The TED organization has been a giant impact on my life in all kinds of ways — of course, in the ways that you can imagine: all the training that they give you in telling your story and communicating about what you do. [And] the TED Fellows program gave me a life coach, who's just the best thing ever and really helps with what I would call clarity, direction and focus [of] my entire career.
SD: Some people might have negative associations with life coaches, since they're often lampooned in the media. What is that relationship like?
M: First of all, I want to say that my life coach is very uniquely suited to me. She's a musician — a multi-instrumentalist — and has worked with programs bringing musicians all over the world together to collaborate. So she really understands what I do. She's been a marketing director for multiple festivals, then came to organizational-change work. She has a range of skills that are relevant to what I do in a very direct way. [She's] not just anybody.
For me, one of the big challenges as an artist is that I don't just do work in the music industry, and I don't just do work in the arts and culture field. I go back and forth. And there aren't typically people who have those skill sets who can guide and support me on both of those avenues.
SD: Can you briefly summarize what the Nile Project does?
M: The Nile Project looks at the intersection of culture and ecology. We see them as a continuum [with] a very deep and important relationship. It started out [as] a musical wish [and a] question: Why do we have to be in diaspora to learn about each other's music? On the continent, we share an ecology. Shouldn't we know more about each other?
And then what we really came to understand is that there's a long history of conflict over water. Water is our connector, but anything that connects us can also have the potential to divide us. There are a lot of challenges of how we share the water of the Nile, and they go back to colonial treaties starting from 1898 [and] moving through the whole 20th century.
But what we understood was that music has the power to model the type of cross-cultural collaboration we wanted to see around resource sharing. It's expanded into education programs throughout East Africa, and fellowship programs bringing together students from the Nile basin countries to collaborate together in questions of resource sharing. How does an engineering student engage in a pan-Nile dialogue? How does a psychology student do that?
We also saw that musicians have an ability to slip under these barriers that people put up. Sometimes the groove just moves you, and you don't need to understand it with your intellect. You can do that later.
SD: What's something that people might not know about the music scene in Addis Ababa?
M: It's bangin'.
SD: Ha! Can you elaborate a bit?
M: Most people [familiar with Ethiopian music] have heard of the Éthiopiques series — classic recordings from the late '60s and early '70s. But what happened after that was that the communist [party] took over, and they imposed curfews. Because of those curfews, the live music scene just shut down. Through the '90s, there was basically no nightlife. So, when the government changed in the '90s, that started to very slowly bounce back.
What it's been is a resurgence of live music — but it also feels like an expressive ability that's also returned. So it's more than just that the curfew's been lifted. It's like, "Hey, we're back."
SD: What was it like to collaborate with Andrew Bird?
M: I'll be honest: That was kind of a starstruck moment for me. Andrew Bird is so multitalented.
I wasn't actually in the studio. We did it remotely [via] FaceTime. They'd ask me questions. For example, the song "I Want to Sing for Them All" — [in which] he did those incredible improvisations — that song is in an Ethiopian scale called Bati major. I'd talk about the scale, and he'd be like, "OK, what about this note?" And I'd be like, "Well, you can use that note in the improvisation, but you can't use it in the verses." And he'd be like, "OK, OK."
Andrew Bird is very stoic. He blew me away and gave me the chills. We did so many versions of those [songs], and they were all good. We were like, "How do we choose?"