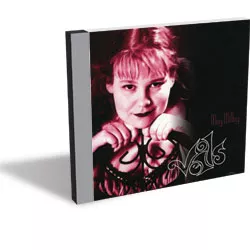 (Self-released, CD)
The term "singer-songwriter" has never been especially helpful, but in the case of Burlington's Meg Willey, it's plain misleading. Yes, Willey sings — and generally rather well, at that. And, yes, she also writes songs. But instead of citing the usual suspects such as Bob Dylan or Joan Baez as inspiration, the pianist takes her cues from the likes of Leonard Bernstein, Stephen Sondheim and other greats of American musical theater. On her third full-length album, Veils, Willey continues to resize the dramatic grandeur of the stage and screen to fit the cozier confines of the coffeehouse scene.
The curtain rises on "Finally." In the album's liner notes, unnamed characters are listed next to each song, though the connection between characters and their songs isn't always clear. "Finally" is accompanied by The Exhibitionist. Thematically, the song itself doesn't appear to have much to do with exhibitionism, but it is certainly showy. Willey sets forth a bustling piano line as she sings, with Broadway-esque bravado, "Finally, you will see me. / I am savvy / and you'll want to be just like me." As a lyricist, Willey isn't exactly Oscar Hammerstein. But she usually succeeds in selling her brooding, if occasionally awkward, musings with sheer vocal enthusiasm.
Scene 2 is "The Storm Rolls In (The Actor)." Throughout the record, Willey uses the atmospheric capabilities of her instrument to great effect. Here, her piano harnesses a moody tempest.
"Ignorance Is Bliss (The Patriarch)" is next and marks Willey's strongest overall effort. With unflinching honesty and blunt wordplay, she addresses microtragedies of suburban family life: a philandering husband, a reluctant high school sports star, a desperate housewife. In moments throughout the record, Willey has a tendency to over-sing, and consequently not sustain her breath support to the ends of phrases — all of which leads to scattered pitch. But not here. Willey's vocal performance is measured and nuanced.
A trio of songs collectively titled "The Queen of the Damned Suite (The Bard)" highlights Willey's commendable ambition. An homage to Anne Rice — The Bard, presumably — and her famed Vampire Chronicles, the trilogy is most notable for what it lacks: vocals. Here Willey showcases her elegant talents as a composer. She proves equally adept at evoking emotion using only her piano as she is armed with words and elastic pipes.
It is unlikely that those without a taste for, say, West Side Story or Sweeney Todd will demand an encore for Veils. Still, Meg Willey proves a gutsy artist and delivers a singularly charming collection of songs. Take a bow, Meg.
Catch Meg Willey this Friday at Radio Bean.