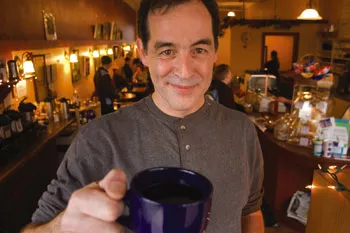 Matthew Thorsen
John Melanson
Oddly, the coffeehouse scene was slow to arrive in Middlebury. It wasn't until 18 months ago that Addison County's hippest town got an equivalent of Muddy Waters or Capitol Grounds. But Carol's Hungry Mind Café would have opened earlier if not for a tragedy; the café's namesake died in the middle of renovations.
Partners John Melanson and Gina Tindall have since succeeded in creating the requisite mellow vibe in a former New Age curio shop on the Middlebury Green. Middlebury College littérateur Jay Parini, who is also an a.m. fixture at nearby Steve's Park Diner, can be found most mornings sipping coffee and pecking at his laptop at a rear-corner table with a view of the Otter Creek. He notes approvingly that Carol's Hungry Mind has "the atmosphere of a European café."
Not only does the café serve the smoothest espresso-based beverages in Vermont's top cow county; it has become the schmoozing spot Middlebury long lacked. Cappuccinos and lattes can also be had at the nearby Otter Creek Bakery, but its cramped confines aren't conducive to the "conversation and community" that the Hungry Mind advertises - and delivers.
"It fills a real need," Cornwall resident and attorney Larry Novins said as he sat beneath one of the paintings offered for sale on the café's amber-colored walls. "I hope they make it."
Easier said than done. For all its allure, Carol's Hungry Mind has so far proven a money-losing proposition. Despite its prime location in Middlebury's Battell Block, the historic village lacks the foot traffic that accounts for a sizable share of the sales at a coffee house such as Uncommon Grounds on Church St. in Burlington. "We're more of a destination than a spur-of-the-moment place," Melanson says. "The parking here can be crazy too."
Only on Saturdays, when shoppers, students and the regulars occupy almost all the 40 or so seats, does the business come close to breaking even, Melanson says. Even then, the take at the till hinges on the persuasive power of the partners' gentle nudges to drink up and move on.
"I cringe when I see people turn around and walk out because no tables are available," Melanson says. "It's so frustrating at busy times to see someone sitting with a book and a single cup of coffee for three or four hours."
Melanson, an angular 52-year-old Goshen resident, doesn't mind how long anyone lingers on weekdays. During some mid-morning stretches, only one or two customers may be on hand to keep the barista company.
The upshot for both partners is long hours and low pay. Tindall, a 39-year-old mother of two, tends the espresso machine 50 hours a week, and then she brings home the bookkeeping. Melanson figures he earns less than $10 an hour, and he's about to funnel some of his retirement savings into the operation.
A couple of questions gnaw at him during frequently sleepless nights, Melanson says. One goes: "I could keep this place open for a while, but should I?" And the second, which is more rhetorical, can be taken as a response to the first: "Isn't this the greatest thing that's ever happened to me?"
There's a legacy factor, too. Carol's Hungry Mind Café is named in memory of a third partner, Carol Ross, who died a few weeks before her dream of starting a neighborly coffee house could be realized. A former accountant with the Vermont Community Fund, Ross succumbed to pancreatic cancer at age 52. Her husband had died of the same disease, and at the same age, a few years earlier.
Melanson had met Ross through Match.com in 2003. His own spouse had suffered a fatal heart attack on a skiing trip to the Adirondacks in 2001. Widow and widower built "a strong friendship," says Melanson, a former woodworker who became committed to helping Ross find a site for the coffee house she had wanted to open for 20 years. "I was looking for a change in my life," he recalls. "And this was something I wanted to do with Carol."
Tindall had similar ambitions. Having worked as a preschool teacher in Middlebury for six years, she too was ready for a new challenge and had begun seeking space to start an espresso joint. "I was mostly interested in setting up an alternative to the bar scene," Tindall explains.
She eventually joined forces with Ross and Melanson. Together, they signed a lease early in 2005 to occupy the former Spiral. Renovations were well underway when Ross died 11 days after receiving her diagnosis.
It was Tindall who then persuaded the despondent Melanson to forge ahead with the venture. "It's what Carol would have wanted," she told him.
If the café does close, it won't be because the two owners weren't flexible. They're constantly adding offerings in the form of both food and entertainment.
Baker Juan Benes was recently hired to produce the pastries and muffins formerly purchased from an off-premises supplier. Customers are responding favorably, Melanson says - though he's had to sink thousands of dollars into baking equipment and a ventilating system. The café also serves wine and beer, non-caffeinated soft drinks and sandwiches.
Carol's Hungry Mind has also become one of the area's top venues for live music. Bands or solo artists, some of them locally famous, perform most Friday or Saturday nights in a basement space that's occasionally filled with up to 60 fans of folk, jazz or world music. Left-of-center documentaries are screened there one Monday a month, courtesy of In the Alley Bookshop.
Upstairs, the wall opposite the rotating art shows is reserved for the work of Addison County photographers. All the pieces are for sale. The café takes a mere 10 percent commission.
In a joint promotional venture last weekend, Tindall and Melanson were serving free lattes to anyone who presented a sales receipt from a village shop. "It's one more way of building clientele," Tindall explained. "We're getting people who don't even know what a latte is. The hope is, they'll come back and pay for one in the future."