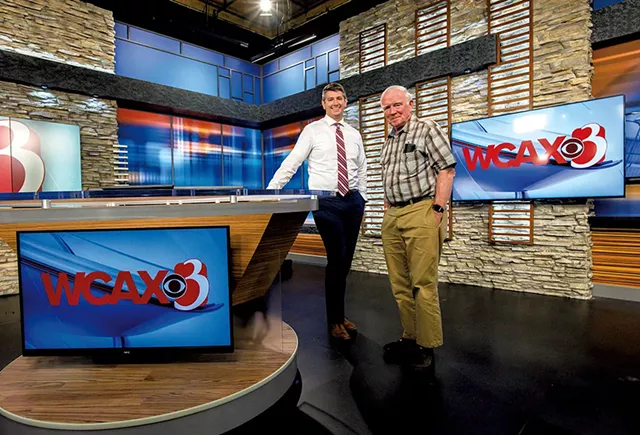 Glenn Russell
Jay Barton and Peter Martin at WCAX-TV
When Jay Barton moved into the corner office at WCAX-TV's South Burlington headquarters, he got rid of the "Howard Johnson orange" carpets that, in his view, "did not feel forward-looking." But he didn't dare repaint the fleet of teal-and-gray vans that for decades have ferried the station's reporters around Vermont.
"The teal makes a certain amount of sense," Barton explained, glancing out his office window at the Channel 3 parking lot. "At this point, because it's so well known, it seems a shame to throw it away."
The 39-year-old Virginia native took over as general manager of Vermont's most-watched television news station in June 2017, a month after its founding family announced it was selling to an Atlanta-based conglomerate. Since then, Barton has been sorting out which parts of Channel 3's storied history are worth preserving — and which must go.
"I've been striving for as much consistency as possible," he said.
Some changes have been as minor as the company logo, which Barton redesigned himself. Others, including new cameras and control room equipment, have made the station more efficient while remaining invisible to viewers. Still more have been life altering for those on the receiving end.
Since Gray Television took over, WCAX has eliminated 23 full- and part-time positions in three rounds of layoffs, according to Barton, reducing the station's full-time-equivalent staff from 94 to 74. The cuts, which included business office, production and engineering jobs, largely spared the newsroom, though three photographers lost their jobs.
It's a familiar story in the legacy news business, which has been plagued in recent years by plummeting advertising revenue, the rise of the internet, competition from social media giants and corporate cost-cutting. According to a University of North Carolina study released last year, the nation has lost 1,800 newspapers since 2004 — and half of the journalists who once worked for them.
Vermont has not been immune. Local owners long ago sold the Burlington Free Press, the Brattleboro Reformer and the Bennington Banner to national interests, which later stripped the three dailies to the bone.
Now, a new wave of ownership change is transforming Vermont's media landscape. Since May 2016, at least 20 news outlets in the state have been sold or are in the process of being sold. They include six of Vermont's 11 daily newspapers and 11 of its roughly four dozen weeklies.
The latest? Gannett, the national chain that bought the Free Press from Vermont's McClure family in 1971, announced Monday that it would be acquired by the parent company of GateHouse Media, which is even more notorious for cost cutting than the current owner.
According to the UNC study, half of the nation's newspapers have changed hands in the past decade, and one-third of them are now controlled by 25 companies. A combined GateHouse and Gannett would control more than 260 daily newspapers and hundreds more weeklies.
Such consolidation worries David Goodman, an independent journalist from Waterbury Center, because it often results in less — and lower-quality — reporting.
"Democracy's in trouble if local media doesn't survive," he said. "Media really is the watchdog of democracy, and if the watchdog goes to sleep or dies, what happens?"
To be sure, print newspapers are no longer the only game in town. VTDigger.org, an online-only nonprofit, has filled a void in statewide and Statehouse reporting, while Front Porch Forum has become a digital message board for many Vermont municipalities.
But Ross Connelly, who published the Hardwick Gazette for more than three decades, wonders whether new media will ever provide the "real local" reporting that community weeklies produce. "How many stories are they going to have about the Hardwick Selectboard?" he asked.
For that matter, who will cover town construction projects, community gatherings and high school sports? Local reporting, when done well, has the power to hold officials accountable and knit communities together.
Not every sale is cause for alarm. In 2016, a group of investors with ties to western Massachusetts bought the Berkshire Eagle and three southern Vermont newspapers — the Reformer, the Banner and the Manchester Journal — from Digital First Media, the national chain that had presided over their decline. The new owners have sought to rebuild the papers.
In some cases, out-of-state buyers might have saved Vermont news outlets from folding entirely. In August 2016, the Rutland Herald and the Barre-Montpelier Times Argus were on the brink of collapse when a Maine newspaper publisher and a New Hampshire printing executive bought the family-owned papers.
"Pick your poison: out of state or none at all," remarked Addison County Independent publisher Angelo Lynn.
Barely 20 months later, the Herald and Times Argus changed hands again — this time to Sample News Group, a small chain based in Pennsylvania. According to the executive editor of both papers, Steve Pappas, the new owners haven't imposed many changes or ordered up any layoffs. "They haven't said no to me yet," he said of Sample. "But I'm not asking for much ... What they have told me is, 'Keep doing what you're doing.'"
Some sellers have insisted on keeping it local. WDEV Radio owner Ken Squier spent years looking for a buyer who would continue broadcasting the Waterbury station's eclectic mix of local news, left- and right-leaning talk shows, sports, and music. In September 2017, he agreed to sell to Steve Cormier, a veteran radio host who was then serving as WDEV's sales director. The transaction has yet to close.
"[Squier] has refused to sell out to the big corporate media titans that normally come in and snap up these properties," said Goodman, who hosts a weekly radio show on WDEV. "He has been fiercely committed to independent media."
At WCAX, Barton is trying to have it both ways. He wants to deploy Gray's considerable resources to modernize the station and make it more profitable. At the same time, he wants to retain its carefully cultivated local sensibility — and its commitment to Vermont news.
Not far from the collection of Back to the Future and Star Wars figurines he keeps in his office, Barton continues to hang a framed photograph of Stuart "Red" Martin, the family patriarch who cofounded WCAX in 1954.
"This was his office," Barton noted. "This is somebody's dream."
Unlike other television conglomerates, he argued, Gray seeks out quality properties and avoids "cookie-cutter" formulas. "We don't want to buy cheap, broken-down stations," he said. "We want to buy well-run stations that are at least No. 2 in their market."
If what they're doing works, he asked, "Why would I second-guess that?"
Selling the Farm
Jeb Wallace-brodeur
Steve Pappas, executive editor of the Rutland Herald and the Barre-Montpelier Times Argus
Bob Miller got his start in the newspaper business at 15 years old, when his parents founded the weekly Shopper at their Bellows Falls kitchen table in 1961. He's been at it ever since — and it's taken a toll.
"When you're the owner, you work around the clock," he said. "Last year I went on vacation for the first time in 18 years. I'm a workaholic."
That vacation inspired Miller, now 73, to sell the Shopper and the Ludlow-based Vermont Journal to Sample Media Group, which had already acquired the Eagle Times of nearby Claremont, N.H., as well as the Herald and the Times Argus. The deal closed in January.
"It was very hard," Miller said. "It's like letting go of a kid."
Vermont's recent spate of media ownership changes has been driven, at least in part, by a generational shift. As is evident at annual gatherings of the Vermont Press Association, many of the state's graying newspaper publishers have been eligible for Social Security for some time.
"There are actuarial realities," joked former WCAX general manager Peter Martin, who was 77 when his family sold the station his father had founded.
In some cases, the next generation isn't interested in carrying on the family legacy. In others, it just doesn't make financial sense.
At WCAX, Martin's nephew, Alex, had been groomed to lead a third generation of ownership. In recent years, however, it had become "increasingly obvious" that "our business model just simply was no longer viable," Martin said.
CBS, which used to pay Channel 3 and other affiliates to air its programs, had begun charging them for the honor. Martin wouldn't say how much, but Barton said it was "something that rhymes with schmillion." As the last freestanding, locally owned CBS affiliate in the country, WCAX had little power to negotiate with cable television providers, equipment vendors and advertisers.
According to Martin, the station was still profitable when he and his three siblings sold to Gray for $29 million, with "sadness and regret and relief." He could, however, see the writing on the wall. "You don't wait to sell until you have to sell," he said, quoting the Sicilian novelist Giuseppe Tomasi di Lampedusa. "Everything needs to change, so everything can stay the same."
Too many Vermont institutions have been run into the ground because those at the helm failed to "look reality in the eye and deal with it," Martin said. "There's some sad stories out there."
The Herald and Times Argus would certainly qualify. In their heyday, the papers employed dozens of reporters, ran the Statehouse-based Vermont Press Bureau and gave the Free Press a run for its money, often beating the larger daily to important stories. By the summer of 2016, following several rounds of layoffs, they were printing just four days a week and could no longer make payroll. After news editor Alan Keays published a front-page story on the company's financial woes, he was fired — and his staff revolted.
Since former Statehouse reporter Robert W. Mitchell bought a stake in the Herald in 1948 and the Times Argus in 1964, three generations had helped run the company. When the family finally sold to the Maine and New Hampshire investors, days after Keays' firing, it was Mitchell's grandson, editor in chief Rob Mitchell, who broke the story in print.
"We have always held these newspapers in trust for the public," he quoted his father, former publisher R. John Mitchell, as saying. "While we've always been a privately held company, we believe they are an asset of the communities they serve and of the state of Vermont."
Though the Mitchells no longer own the joint, Rob continues to work there — now as general manager of the Herald. "It's hard. I think there's a part of me that misses the family ownership," he said. "You know, things didn't turn out the way I thought they would."
Buyer's Market
It's not easy to sell a business in an industry that many believe is dying. So after trying and failing to part with the Hardwick Gazette in a conventional fashion, Connelly came up with a different approach.
The 70-year-old newsman launched an essay contest to identify the next owner. Entrants would pay $175 to explain in 400 words why the paper should be theirs. If 700 people took part, Connelly would hand over the Gazette to one of them.
"They'd be getting the paper lock, stock and barrel for $175," he explained. "No debt service. They could just dive in."
Ray Small, an information technology executive from Stamford, Conn., read about the contest in the New York Times in June 2016. "Two days later I came up here to find out whether it was real or nuts," he said. "Turned out, it was both."
Small submitted an essay, but Connelly ended up canceling the contest because too few people responded. As he returned entry fees, the publisher made clear to essay writers that he still hoped to sell the Gazette. A handful of entrants made offers — and Small bought the paper in February 2017.
Connelly considered the contest a success, since it led him to a buyer. Plus, he said, "It was really fun reading the essays. It gave me the sense that there are a lot of people out there who understand local journalism and are committed to it and see the importance of it in the age of the internet."
That doesn't mean they're lining up to buy newspapers.
In 2015, 32-year-old photographer Tim Calabro bought out the Herald of Randolph's longtime publisher, M. Dickey Drysdale, but such stories are few and far between.
"I don't know if there's a new generation coming in," said Mitchell of the Rutland Herald. "The market is very soft. The people trying to get out are having a hard time getting out."
Lynn, the Addison County Independent publisher, was 26 years old when he bought his first newspaper, a southeastern Kansas weekly called the Yates Center News. At 30, he moved to Vermont and bought the Middlebury-based Independent. Older brother Emerson Lynn had already snapped up the St. Albans Messenger, a Franklin County daily.
"When I bought into these things 40 years ago, you could look at it and say, 'There's a solid investment,'" Angelo said. "That's all changed because you can't see 10 years down the road in the media market today. You can't see five years."
If he were 26 today, he's not sure he would make the same move. "For that much work? Go do something else," he said.
Luckily for Angelo, he won't have to look far for a successor. All three of his daughters, Polly, Christy and Elsie, work with him and his wife, Lisa Gosselin Lynn, overseeing the family publications, which now include the Brandon Reporter, Killington's Mountain Times and VT Ski + Ride.
"We hope to continue to do well enough to make that transition, but that's really up to them," he said of his daughters.
At the Hardwick Gazette, Small is learning what it means to run a small community weekly. "I manage the business. I clean the toilet," he said. "I water the flowers and sometimes complain about that."
As the paper's 11th publisher in 130 years, Small has been careful to avoid changing too much too quickly. He's tweaked its design, added color and done one thing Connelly had proudly refused to do: publish online.
Small hasn't managed to turn a profit and isn't even drawing a salary. "My wife and I are subsidizing the operation," he said. "I knew it would be a tough slog, and it sure as hell has been." Upping the Gazette's price from 75 cents to a dollar helped, but a Trump administration tariff on Canadian paper last year increased his overall costs by 12 percent. The Gazette relies on retail advertising, and in a town as small as Hardwick, he noted, "It's not a target-rich environment."
Still, Small said, he doesn't regret entering Connelly's contest.
"The experience itself has been marvelous," he said. "Part of it is learning the fabric of life up here, none of which I'd been exposed to."
From Away
Milton residents had gotten used to their local weekly, the Milton Independent, punching above its weight. In recent years, its reporters had broken award-winning stories about embezzlement in a youth football program and hazing on a high school football team — the kind of hard-hitting reporting all too rare at papers of its size.
"We were spoiled," said town manager and former state legislator Don Turner.
Last summer, things began to change. Emerson Lynn, who owned the paper, relocated its staff — and that of the Essex Reporter and Colchester Sun, which he co-owned with Angelo — to the Messenger's offices in St. Albans. In December, he announced that all four papers had been sold to Jim O'Rourke, a Chicago investor who had worked for a series of newspaper chains and, earlier in his career, the Burlington Free Press.
"I'm looking forward to being back in Vermont and am encouraged by the strength of the Messenger's brand and the role it plays in Franklin County and in the state," O'Rourke said in a statement issued to his own newspaper. "That's something I want to build upon."
It's unclear whether he's equally committed to the three weeklies.
Soon after taking over, O'Rourke eliminated an editor position that had overseen the three Chittenden County weeklies and tasked Messenger editor Michelle Monroe with running them. "For an operation of our size, he felt there only needed to be one person in charge of the editorial side," said Courtney Lamdin, who held the position that was cut and now writes for Seven Days.
Since then, the weeklies have filled their pages with less reporting and more free content from community members and government officials. Turner now writes a "Dear Don" column for the Independent, while members of the Essex town selectboard and village board of trustees pen a regular column for the Reporter about their ongoing merger.
"I've definitely seen a change in the paper. The content is not as much as it once was," Turner observed. "I think it's harder if you're not based in Milton to understand the day-to-day happenings."
Darren Adams, who chairs the Milton Selectboard, said he's "kind of surprised" that O'Rourke hasn't come to town to introduce himself to the board. "The Milton Independent is our paper of record," he said. "So it would be nice to know the names and faces of the new owners and what their long-term goals and aspirations are."
O'Rourke has also made tweaks at the Messenger. It's been redesigned from a broadsheet to a tabloid and now prints overnight, rather than in the afternoon. Instead of relying on delivery contractors to get the paper to subscribers, the paper is now distributed by mail.
"The Messenger has undergone a lot of changes in the last six months, and I'm hearing mixed reviews about it in the community," said Sen. Corey Parent (R-Franklin), who, like Sen. Randy Brock (R-Franklin), has yet to meet O'Rourke.
Neither the new publisher nor Emerson Lynn, who still writes editorials for the Messenger, would speak to Seven Days about the ownership transition. O'Rourke's company website, however, provides some clues about his objectives. It barely mentions journalism. Rather, it describes his investment strategy: acquiring community newspapers with "revenue size $1MM to $5MM with minimum operating margin of 10%."
He's also willing to "acquire distressed assets at a low valuation," according to the website, "as long as it meets our criteria and net income is accretive in year one."
'The Proof is in the Pudding'
Glenn Russell
Producer Phil Scharf in the WCAX control room
New ownership doesn't always spell trouble, even when a buyer comes from afar.
In 2013, a different Bob Miller, who once served as publisher of Sports Illustrated, and his business partner, Norb Garrett, quietly bought a 49 percent stake in the Stowe Reporter and Waterbury Record. The next year, the New Yorker and Californian acquired a majority position. Stowe resident Biddle Duke, who had published the Reporter for 17 years and restarted the Record in 2007, relinquished day-to-day control of the papers but remained a minority partner.
Over the next four years, the company acquired four more weeklies: the News & Citizen of Morrisville, the Shelburne News, the Citizen of Charlotte and Hinesburg, and the Other Paper of South Burlington.
Rather than cut back coverage, according to publisher Greg Popa, the new owners have expanded it. "We felt that to realize the quality goals that we have, we can't do it with freelancers and part-timers," he said. "So we've hired full-time staff." And though the group has centralized business functions in Stowe, it continues to operate offices in Morristown and South Burlington.
"The dilemma is, if you're really committed to the idea that these papers need to serve the communities they serve, it would be kind of difficult to have all our editorial operations out of Stowe," Popa said.
After purchasing the Chittenden County weeklies in 2017 and 2018, the company put longtime Brandon Reporter editor Lee Kahrs in charge of all three. Tom Kearney, a veteran Vermont journalist and an editor at the Stowe Reporter, was tasked with improving the quality of their work.
"They weren't strong journalistically," Kearney said, referring to the Shelburne, Charlotte and Hinesburg papers, which had been heavy on rewritten press releases and light on original, local reporting. "I looked at them as kind of sleeping giants ... They're really interesting communities: a lot going on, a lot of citizen engagement. But the papers didn't reflect that or tap into it."
Popa, who has lived in Bakersfield for 30 years, sees his company as very much based in Vermont, even though two of its investors live elsewhere. Three other minority partners have strong ties to the state: Duke; his wife, Idoline; and former Other Paper publisher Judy Kearns.
"I think the proof is in the pudding," said Tom Slayton, a former editor of Vermont Life magazine, which ceased publication last summer. "The threat of out-of-state ownership is that people start milking the newspaper or station to get money out of it and cut down on news coverage."
According to the UNC study, fewer than one-third of the nation's 5,829 small weeklies were locally owned by 2018, resulting in far less local coverage. Kearney thinks the cuts national chains have made have been counterproductive.
"I think quality pays off," he said. "I've never understood why newspapers that are getting squeezed would cut the only product they have ... What do you have left? What do you have to sell?"
Barton, the WCAX general manager, is sensitive to the suggestion that's what Gray Television is doing. "If anything, I would love to continue to grow our news — not just our local story count, but our various news programs," he said.
During a tour of the station last month, he showed off investments the new owner had made. In the second-floor control room, where directors and producers orchestrate live broadcasts, all but two pieces of equipment had been replaced since last March.
The upgrades made the layoffs possible, as did the station's decision to replace dedicated photographers with "multimedia journalists," who shoot and edit their own stories — and drive their own teal vans. Gray spent $40,000 automating a remote transmission facility atop Mount Mansfield, which allowed WCAX to lay off three of the four engineers who operated it.
Though former general manager Peter Martin had been loath to cut staff, he said that Gray had done what was necessary. "Most of these were changes we would have made if we could have," the former owner said.
Around the time of the sale, half a dozen well-known reporters departed the station — some for jobs in bigger markets, and others for family reasons. "As far as I know, not a single person left here due to change in ownership," said news director Roger Garrity. Still, the exodus contributed to the sense that something was different at Channel 3, and it left the station with a younger, less experienced newsroom.
Anchor Darren Perron had spent more than half his life at WCAX when he learned that Gray was taking over. "Having worked for a family-owned station, I think there was some apprehension initially that we were going to be told how to cover the news in Vermont," said Perron, who grew up in the Northeast Kingdom. "That just hasn't happened at all."
Since its merger with Raycom Media in January, Gray has become the third largest owner of local TV stations in the nation, with 150 affiliates in 91 media markets. But Barton is quick to differentiate the company from its larger rival, Sinclair Broadcast Group, which has become notorious for forcing its affiliates to run conservative commentary.
"That is not how our company works," the GM said.
Keeping It Local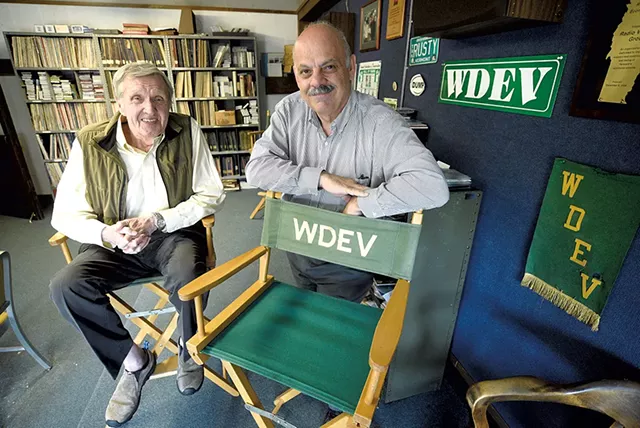 Jeb Wallace-brodeur
Ken Squier and Steve Cormier at WDEV Radio
Propped up in the storefront window of WDEV's downtown Waterbury headquarters is a programing schedule from the mid-1940s. Shortly before "World News Roundup" and "Musical Reveille" it lists a 6:30 a.m. show called "The Trading Post."
Seventy-five years later, "The Trading Post" is still on — in the same time slot.
Each morning, host Dana Jewell takes calls from locals looking to buy, sell or swap goods of every description and condition — much like a Craigslist audiobook. One recent episode featured Carl from Barre, who hoped to buy used rain gutters, metal or plastic, and sell "a cane seat with no cane." When a caller lists a freebie, Jewell rings a bell.
"When I arrived here, people told me to get rid of it. 'It's gone past its expiration date,'" Cormier, the general manager, said of the show. "And I didn't believe it."
Cormier and Squier, the station's owner, take pride in what hasn't changed at WDEV. It still airs close to seven hours of news and talk each weekday, and Squier, at 84, still hosts the iconic "Music to Go to the Dump By" every Saturday morning.
"Strangely enough, we're still in business," Squier said. "We shouldn't be. That's for goddamn sure."
Since his father, Lloyd, cofounded the station in 1931, the family has treated it like a weekly newspaper. "People are curious about what the neighbors are up to," he said. "It's an old Vermont tradition, and we seem to think it works in our favor."
Other news outlets are rediscovering what it means to be local.
After the Herald and Times Argus nearly went under in 2016, editor Pappas pulled back reporters from Bennington and Springfield and refocused the papers on Rutland and Washington counties. When Statehouse reporter Neal Goswami decamped for WCAX the following year, Pappas shuttered the Vermont Press Bureau and divvied up state issues among his seven remaining reporters.
"I don't feel that we have to compete with everybody," he said. "We just have to be the best in the communities that we serve."
David Moats, who won a Pulitzer Prize for editorial writing at the Herald, misses the days when it had a statewide mission. In 1982, when he was hired as a wire editor, "The local desk was lucky to get a story on A1," he recalled. These days, the front page consists almost entirely of local stories.
"The mission of the papers had to change," said Moats, who was laid off from the Herald in February 2018. "It's tough economically, but I think everybody is trying to recalibrate their proper size and their proper mission."
Calling it Quits
Bob Miller sold the southern Vermont Shopper and Journal in January, but he hasn't quite let go. He's still serving as publisher and selling ads.
"I need a couple years to slow down," he said. "I couldn't just go cold turkey." When his new boss asked whether he would ever totally retire, Miller answered, "Probably not."
At WDEV, Squier still shows up most mornings and signs off on every decision, Cormier said. And though Squier announced in 2017 that he would sell WDEV and its sister stations — including Rutland's 101 The One and Morrisville's WLVB — to Cormier, the deal has yet to be inked.
"He just wanted to hold on to the group for now," Cormier explained. "He loves being part of it. It's his home. Who am I to tell Ken Squier not to come in?"
During an interview last month in Squier's office, which used to be occupied by his father, the owner was guarded about what had held up the sale.
"Money," Squier finally answered. "We're like a church," he said elliptically, declining to name the price they'd settled on. "We're trying to find some true believers."
Even after the deal goes through, it's unlikely that Squier will sign off — until he has to. "I thought I'd die with my boots on," he said with a chuckle.
"That's happened in this building, by the way, back in 1982," Cormier interjected, referring to the death by heart attack of WDEV host Craig "Rusty" Parker.
"Died on the air, reading the news in the morning," Squier said. "He was a hell of a guy."
Disclosure: WCAX and Seven Days are media partners.
Going, going, gone
Since May 2016, at least 20 news outlets in the state have been acquired by 11 new owners.
May 2016
Brattleboro Reformer
Bennington Banner
Manchester Journal
December 2016
The Islander (North Hero)
February 2017
May 2017
The Citizen (Charlotte and Hinesburg)
Shelburne News
August 2017
September 2017
March 2018
Rutland Herald
Barre-Montpelier Times Argus
August 2018
The Other Paper (South Burlington)
December 2018
St. Albans Messenger
Milton Independent
Essex Reporter
Colchester Sun
January 2019
WVMT *
The Shopper (Bellows Falls)
Vermont Journal (Ludlow)
August 2019
*Sales announced but not completed.
Correction, August 7, 2019: An earlier version of this story understated the degree to which journalism is mentioned on Jim O'Rourke's website. Due to an editing error, it also inaccurately described Steve Cormier's professional background.