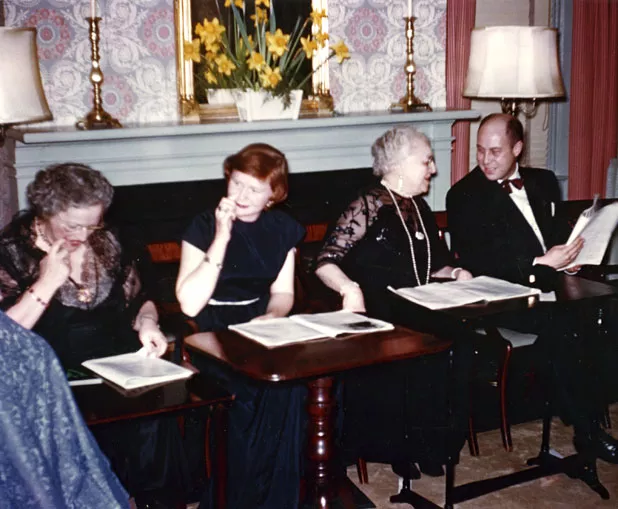 Mrs. Howe, Georgie Brown, Fanny Shaw and John Swan, 1953
In the late 1800s, reading a full play aloud was a civilized way to pass a winter evening. But for a group of families who lived in Burlington's Hill Section at the time — many affiliated with the University of Vermont — it was also a way of life. They would gather in each other's homes every week throughout the coldest months to bring plays to life. They called themselves the Neighbors.
Back then, meetings would last all night and were formal affairs, complete with dinner, drinks, conversation and (in later decades) evening wear. Members would receive a script on their way in — only the hosts knew the night's play in advance — and gather in the parlor to listen to a story unfold.
More than 125 years later, the Neighbors are still going strong — with many of the same traditions. These days, the group meets five or six times a year in the parlor of Burlington's First Unitarian Universalist Society. A snail-mail invitation is sent out before every meeting, the chosen play and the readers still kept a mystery. As recently as five years ago, it was de rigueur for the men to wear tuxedos, the women floor-length gowns. Some still do.
In his tux at the Neighbors' most recent meeting, John Smith, 58, has the elegant, somber look of Abraham Lincoln. The suit belonged to his father, who used to wear it to Neighbors gatherings. Smith can trace his Neighbors lineage even further back: Both of his paternal great-grandparents — one of them C.P. Smith, the Burlington business owner, state legislator and namesake of a local elementary school — were members.
When John Smith was a boy, his parents would invite several other Neighbors to their home for dinner before the meetings. He and his siblings remember peering down from the staircase at "all these people in fancy dress, chortling away," he says.
Smith and Doug Montgomery, another tuxedo-clad Neighbor, are both reading tonight. They clutch their scripts as 30-odd other members mingle and take their seats.
The Neighbors are a dignified — and, yes, older — bunch. Jeanne Keller and Colleen Montgomery, both about 60, are some of the group's spring chickens. So it's not surprising the evening often begins with a brief memorial for members or friends who have recently died. The Neighbors sit for a moment of silence, and then the play begins.
Emily Gennari, who produced the night's first reading, stands up to make the big reveal: "Romulus," a one-act play by Alexandre Dumas. Then, as she introduces the readers, they take their seats before the audience. John Ives will play Frantz Wolf, a "kind, timid and absentminded" philosophy professor; Doug Montgomery will read the appropriately named astronomer Celestus, "a confirmed bachelor and dedicated scientist"; Elizabeth Bassett is his "attractive and personable" sister, Martha; and John Smith will portray the "officious, overbearing" Mayor Babenhausen.
"Typecasting!" someone in the audience shouts, and the whole room erupts in laughter.
Dumas, best known for The Count of Monte Cristo, penned this one-act "after he missed the train from Paris," Gennari offers, noting that the comedy wasn't translated into English until 1971. So maybe it's not his greatest work, but it has some memorable one-liners, such as "Marriage is like a besieged fortress: Those on the outside want to get in; those on the inside want to get out."
The readers are eloquent and animated — some even employing small props — but, for the most part, they remain seated. Most aren't actors; they simply appreciate theater, and, as member Geri Amori puts it, "We enjoy acting out!"
A committee meets twice a year to select plays and assign producers and readers. Even though they're not staged, readings can be a lot of work to produce. Nowadays, Neighbors meetings last only two hours, so plays must be abridged to fit the time-frame. Gennari has adapted Lewis Carroll's Through the Looking Glass, and Keller once spent nearly three weeks paring down Eugene Ionesco's Exit the King. "It's a real challenge," she says of the process, "but you get to know the play really well."
The producer also decides which stage directions to read aloud and which sound effects to include — in "Romulus," Gennari scrunched up her face to let out a near-perfect baby cry.
Costumes are always encouraged. The five women who read during the second half of the recent meeting — a comedy called "Funeral Tea," about a gaggle of English biddies who gossip over tea at funerals — show up in hats, aprons and brooches. They use various accents from the British Isles, with assorted degrees of accuracy.
Cora Fauser, a frequent costume designer for Vermont theatrical productions, is clad in her black funeral finest, including a gold brooch and a velvet headpiece adorned with black bows; she sounds — and kind of looks — like Mrs. Potts from Beauty and the Beast. "There's no pressure to make [the play] sound as if it were staged," she says. "We're never self-conscious."
"What happens here stays here," adds Keller with a smile.
Keller, who joined the Neighbors in 1985, says the group is hoping to attract some young blood, not only to keep it going but so members can vary the kinds of plays they read. "I'd love it if we had the kind of audience who would appreciate The Vagina Monologues," she says.
Colleen Montgomery joined around the same time as Keller. Her husband, Doug, is one of the die-hard tux wearers. "All of his other clothes are black T-shirts and jeans," she says. "It used to be a lot more formal, but that changed in the last five or six years. It was part of the charm of it, but it put some people off."
Fancy clothes weren't always the norm. "Plain living and high thinking and, may I add, plain dressing, were the order of the meetings," wrote Neighbors member Lyman Allen in a 1940 history of the group. "I never saw a dinner coat on any man at a meeting … until well along in our history."
Despite the "casual" dress code, members in the 1890s had a field day with their hair, Allen writes: "The ladies wore on their heads a lot of hair which had not grown there, and the men vied with each other as to a luxuriant growth on their faces."
If Allen's lively written history is any indication, the Neighbors have always attracted witty wordsmiths. "It is not certainly known who were the parents from whose inspired crania sprang full-grown, like Athena, this lusty child," Allen writes of the birth of the Neighbors. He then rattles off a few of its godfathers, describing them with theatrical character descriptions: "Mr. Edward Hungerford, rotund and pompous; Professor Goodrich, with twinkling eyes and hair curling over his coat collar; Professor Torrey, with his finely chiseled features, dignified mien and surprising sallies of humor."
The "club for social readings" was guided by several rules, the first of which stipulated that refreshments should be limited to one course. An ill-fated Shakespeare club, which had formed before the Neighbors with many of the same members, was the inspiration. "I am told that it was wrecked upon the rocks of too elaborate suppers, so that it became impossible for members with moderate salaries, such as the clergy, college professors, etc., to keep up with their more wealthy fellow members," writes Allen.
Members, who had to be 18 or older, paid an annual fee of 25 cents — it's now $15. If members moved away from Burlington, they became nonresident members. "Evidently, a membership in the Neighbors was so precious a thing that it was not lightly to be lost," Allen writes. "'Till death us do part' was our motto."
The next rule was the most controversial: "The marriage of any member of the club to one not a member shall be considered equivalent to a withdrawal from the club." Newlyweds had to be voted in anew. "New York's Four Hundred had nothing on us," writes Allen, referring to the members of Manhattan's high society. "We were a very select club, and we planned to keep ourselves free from 'entangling alliances.'"
At various points, the Neighbors included Vermont governors Philip Hoff and George Aiken. "It was a very elite social club when it started out," says Mary Gutknecht, the current secretary-treasurer, who joined with her husband, Luther — then superintendent of Burlington schools — in 1983. "You had to be invited. When I started as treasurer, there was a list of people who had been thrown out."
Until the Neighbors moved their meetings to Burlington's Klifa Club sometime in the 1930s, they gathered in members' homes. Accordingly, keeping membership to fewer than 60 was a priority. Many Neighbors crammed everyone into the grand parlors of their large Hill Section Victorian houses.
These days — even without the formal gowns, strict membership rules and boozy dinners (the group stopped serving alcohol more than a decade ago out of concern about drunk driving, says Smith) — the Neighbors gathering still feels a little like a secret society.
Maybe it's the allure of the tuxedo on a Monday night. Or simply the way these folks laugh at a perfectly delivered line. They seem to be in on something that most of us aren't: that all you really need to make a memorable night is a crowd of good friends and a great script.
If you're interested in joining the Neighbors, email Mary Gutknecht at mgutk@juno.com.