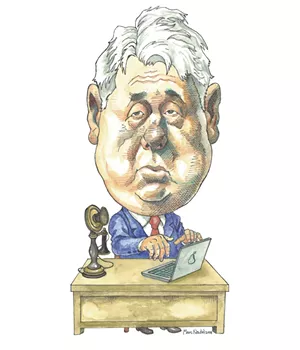 Stephen Barraclough, a bearish figure clad in his usual black sweater, sat in a dim conference room at Burlington Telecom's brick headquarters. He was talking about an impending technological revolution — in a baritone British accent, conjuring up a classic British ritual. Soon, he said, using the internet will be like warming water in a tea kettle. That is, when you put the kettle on, you don't wonder whether your electric stove has enough power to make the water boil. In the not-too-distant future, ultra-fast internet will be as reliable and ubiquitous as electricity.
Barraclough is in his fourth year as BT's "interim" general manager. When he arrived in 2010, the 62-year-old Brit led the operational effort to revive the company, which was bleeding money and ensnared in legal trouble and political controversy.
Four years later, BT is back on its feet. But work for Barraclough, who plans to stick around for several more years, is far from over.
Most people associate Burlington Telecom with big political guns: former Mayor Bob Kiss; Jonathan Leopold, Kiss' chief financial officer who presided over the secret diversion of $16.9 million of taxpayer funds to keep BT afloat; and, more recently, Mayor Miro Weinberger, who's led the resolution of a $33.5 million dispute with Citibank.
Barraclough is the guy behind the scenes, quietly running the company. He works for Dorman & Fawcett, the Quechee-based turnaround firm that Burlington hired in 2009 to run the then-debt-laden entity. The firm's founder, Terry Dorman, led the effort to resolve BT's legal troubles, and other D&F employees have also been very involved. But it's Barraclough whom BT insiders credit with saving the telecom outfit.
City council president Joan Shannon, who serves on the Burlington Telecom Advisory Board (BTAB), called the general manager "the key player in righting the ship." Gary Evans, who led the Minnesota-based Hiawatha Broadband Communications and served as a consultant to BT from 2009 to 2013, said, "To be perfectly crass about it, if anyone in Burlington thinks the company's turnaround is due to them rather than Stephen, it's a bunch of bullshit."
Barraclough is modest about his contribution. He says he created a work environment where people understand that "every penny is important." For example, "Rather than going and buying a part for $50,000, we'll find a reconditioned part on eBay for $4,000," he told the Vermont Public Service Board last summer. BT also cut costs significantly by negotiating better contracts with suppliers.
Barraclough's belt-tightening included firing staff, a task people say he handled gracefully. Approximately 10 positions have been eliminated on Barraclough's watch; BT currently employs roughly two dozen people. "I was quite frankly amazed at — he'll hate me for saying this — the size of his heart as he went about that," said Evans.
These days BT is comfortably in the black, "running like a competitive business venture," as city councilor and BTAB member Karen Paul put it. Paring back did the trick: Expenses declined, and Barraclough now feels confident that BT can cover its operating costs. Meanwhile, the customer base continues to grow. Opening a black binder, he looks up the latest figure: 4,905 individual subscribers, including large entities like Dealer.com and Champlain College. That's up 9 percent from last year.
Other things are looking up for Burlington Telecom, too. The trope of choice among city officials is "a cloud has lifted" — the cloud being the $33.5 million lawsuit Citibank brought against Burlington to recoup the cost of equipment it leased to BT.
In February, Weinberger announced a settlement agreement in which Citibank will receive $10.5 million. In March, the city council voted to supply $6 million of that sum by securing a bridge loan from local ferry magnate Trey Pecor. After three to five years, the city and Pecor will sell BT and share the proceeds. Burlington has to splits its share with Citibank, and Dorman & Fawcett will receive part of Pecor's share.*
"Burlington Telecom being in a financially stable place really changed what was possible to achieve in those negotiations," Weinberger noted in a recent interview with Seven Days.
In November the Public Service Board signed off on the settlement, and also freed BT of its obligation to provide internet access to the entire city, an original and costly condition of its license to operate.
Some question whether it's in the city's best interests to let an outside firm continue to run the show. Steve Goodkind, a Progressive who is challenging Weinberger for mayor in March, thinks it's a conflict of interest to give Dorman & Fawcett — which will help the city find a buyer — a share of the sale proceeds. Greg Guma, a member of the Burlington Telecom Cable Advisory Council, said that after several years he's "more sanguine" about Barraclough as a person but, "I do have a problem with running the enterprise on extended interim management."
Weinberger counters that those behind both bridge loan proposals specifically requested Dorman & Fawcett's continued involvement before agreeing to a deal. According to Paul, Barraclough "treats BT as if he started it himself" and is committed to handing BT off to a like-minded buyer. She recalled him recently telling her, "I didn't invest four years of my life in this to see this sold to the highest bidder."
Barraclough lives in Norwich but generally spends several days a week in Burlington. Originally from the English city of Derby, he is married to a professional chef and has an 18-year-old son and 24-year-old daughter. Though his position is part-time and he works on other Doman & Fawcett projects, BT staff say he's always on call. "I don't think you are going to find a person more passionate about BT than Stephen," said Nicholas Martin, a senior account executive who predates Barraclough at BT. "Whether he is here physically or not, BT is on Stephen's mind 24 hours a day."
Barraclough's work "moves us giant steps forward," said Lauren-Glenn Davitian, executive director of CCTV Center for Media & Democracy, Burlington's public government-access cable station. "But there is more to be done and more questions to be answered." Three big ones: Who will buy BT? Will the buyer preserve it as a public commodity? Will taxpayers recoup any of their $16.9 million from the sale?
"I really don't want to see Burlington Telecom tread water for the next couple of years," said Alan Matson, a member of Keep BT Local, a group in favor of keeping BT public. "I think they have to switch gears," he continued. "They've stabilized, which is exactly what needed to be done, but now I think it's a different challenge. You do need to show that BT can go beyond its existing customer base."
Weinberger also has aspirations for BT: "Over the next three years, we have an opportunity to grow the value of the entity, and, if we achieve that, that will increase the potential repayment of the $17 million that was spent, and it will increase the value of some kind of long-term carried interest the city might have" in BT.
The next several years present Barraclough with a challenge loftier than his BT fiscal rescue mission: Cement the telecom's status as an essential part of the community so that its future buyer will want to keep it that way. "My race is to try and institutionalize as much as I can in the next two years," Barraclough explained.
BT's fiber-to-the-home network allows data to move significantly faster than the traditional copper ones used by most of its competitors. The ability to upload and download a gigabit of data per second makes BT a "powder keg of potential," in Evans' opinion. Other cities with similar fiber networks, such as Chattanooga "Gig City," Tenn., and Kansas City, Kan., are further along in establishing themselves as tech hubs, possibly because they're unfettered by controversy. Barraclough, Weinberger and several city leaders recently made a trip to Chattanooga for inspiration on how to capitalize on the Queen City's connectivity.
Barraclough's goal is to bring Burlington up to speed, which first requires convincing the community that BT is Burlington's ticket to technical revolution.
Before BT, Barraclough consulted in Europe and Hong Kong, and held high-ranking financial posts at General Motors, the United Kingdom's Marks & Spencer, and EMI Music Publishing, a major music company headquartered in New York. A General Motors fellowship at Dartmouth College's Tuck School of Business brought him to New England in the late 1980s, and he settled permanently in Norwich two decades later.
Barraclough had not worked in the telecom biz until he came to Burlington. But now he's fluent in tech-speak and, more importantly, has become a believer in the significance of ultra-speedy internet. "When I came into this business, I didn't know it at all, and for the first two years I was here I continued to believe [BT] was a troubled local triple-play," he said, referring to companies that provide cable, internet and phone service. "It was probably a couple years before I truly understood that it was actually something else, which was one of the most powerful fiber-optic networks ever built."
Some Queen City residents are developing web applications that demonstrate the significance of the gigabit. For example, Bradley Holt and Jason Pelletier, leaders of a group of volunteer programmers known as Code for BTV, have used BT's gigabit network to create open data projects, as well a "civic cloud." The communal online storage center will house apps and enable high-definition video streaming.
And last year Burlington joined U.S. Ignite, an initiative to create web applications that benefit the public and promote economic growth. Barraclough was "one of the key influences in bringing the partnership with U.S. Ignite to Burlington," said Holt, who serves on the advisory board of the local initiative, BTV Ignite. Davitian agreed with him.
Barraclough hopes that BT's role in powering these projects will interest Burlington residents who are still angry about BT's use of unauthorized taxpayer money. "When people talk about their $16.9 million, maybe it gets back to them in a different way — through economic development and through community development."
While fiber proselytizers insist that gigabit connections will become par for the course, it's hard to convince people content with slower megabyte-per-second speeds that they need the upgrade. Barraclough is hoping to bring these people into BT's fold with a distinctly old-fashioned strategy: superior customer service.
He thinks it will distinguish BT from major internet service providers, whose customer-service records are notoriously bad. "If we can't resolve a problem on the phone within a few minutes then, wherever possible, we'll try and roll a truck to a person's home to resolve the problem—even if it's something as simple as changing the batteries in a remote control."
*Correction 12/11/14: When Burlington Telecom is sold, Dorman & Fawcett will receive sale proceeds from Pecor, not from the city, as originally reported.