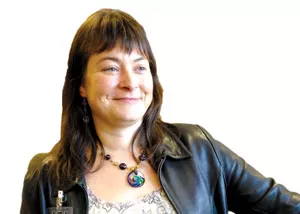 If you passed Heather Kendrew in the hallway, your fleeting impression of her would probably be all wrong. You likely wouldn't think biker chick. You'd probably put her age at younger than her 41 years. And, despite the airport ID tag around her neck, you would never guess that this calm, quiet woman with the warm smile has a hardcore job: She's director of maintenance, engineering and environmental compliance at the Burlington International Airport.
Raised in Essex, Vt., Kendrew attended the University of Vermont — majoring in civil engineering — and interned at the airport while she was in college. Back then, she helped with "whatever came up," she says. Her job now is similar, but with a lot more responsibility. Kendrew, sitting in her newly painted and still undecorated office for a recent interview, explains.
When did you start working at the airport?
In 1998 I started here as a contractor, part time in engineering and environmental services. I helped with reporting and projects. That grew into full-time management of engineering.
What did you do?
I hired other consultants to design projects — for example, taxiways or buildings — then handled management of projects such as the parking garage. Bob [McEwing, director of planning and development] and I worked on the coordination of services. In 2007 I took over maintenance — that's all of the people who take care of the airport, from mowing the grass to plowing the runways. The employees are the heart and soul of the airport; without them you couldn't do anything.
How many people do you oversee now?
Eighteen. I have an assistant director of maintenance, Rick Brown. When he came, he took over the day-to-day schedule, and I could focus on long-range and overall functioning. He's been absolutely wonderful.
Tell me a little about your background. I know you grew up here and went to UVM.
I married my high school sweetheart, Derrick Kendrew. We decided to stay in the area so our children would be close to their grandparents. After I graduated college, I worked for the state of Vermont. I wrote air-pollution-control permits for the Agency of Natural Resources.
You have two kids?
Yes, a daughter, 19, and a son, 13.
So you obviously made your way back to the airport. Can you describe what a day here looks like for you? No. An employee could come in asking about paint color or redesigning the bathrooms; it's looking at papers that have to be applied to the city, or taking calls from other airports on various issues. Every day is different.
There's crossover with other airports?
Yes, there are email communications with other small, regional airports on such issues as water quality or pavement cracking. Occasionally there are conference calls on, say, storm-water runoff. That's a big problem at airports.
What are you excited about at the airport?
There's a new service direct to Atlanta on Delta, a 150-passenger plane.
On the ground, I understand you're a motorcycle rider?
It's my husband's hobby. I was not a motorcycle enthusiast, but it's become something we do in the summer. We had a deal: I wanted a horse and he wanted a Harley.
So you have a horse?
I do. His name is Sergeant Pepper. He's very happy in his pasture.
Where do you live now?
We have 10 acres in Westford. We have a horse, two dogs, a bunny and a whole bunch of chickens.
What is your biggest personal challenge at the airport?
The finances. We're working together to keep the costs down, and to prioritize expenditures.
What are you most looking forward to?
Continuing to see us work as a team. I've seen the difference between when I started here and now. We're pooling our resources and working together.
Recontrez Heather Kendrew, La directrice de l'entretien, de l'ingénierie et de la conformité environnementale
Si vous croisiez Heather Kendrew dans le couloir, vous ne vous douteriez pas qu'elle fait de la moto et vous lui donneriez sûrement moins de 41 ans. Et malgré la carte d'identité de l'aéroport qu'elle porte autour du cou, vous ne devineriez jamais que cette femme calme et souriante occupe un poste aussi exigeant que directrice de l'entretien, de l'ingénierie et de la conformité environnementale à l'Aéroport international de Burlington.
Originaire d'Essex, au Vermont, Heather est diplômée en génie civil de l'Université du Vermont (UVM) et elle a fait un stage à l'aéroport pendant ses études. À l'époque, elle faisait un peu de tout. C'est encore le cas aujourd'hui, mais elle a beaucoup plus de responsabilités. Voici les réflexions qu'elle nous a livrées récemment lors d'une entrevue dans son bureau fraîchement repeint mais pas encore décoré.
Quand avez-vous commencé à travailler à l'aéroport?
J'ai commencé en 1998 à titre de contractuelle, à mi-temps, au service de l'ingénierie et de l'environnement. Je travaillais à divers rapports et projets. Cette fonction est devenue un poste à temps plein de gestion de l'ingénierie.
Que faisiez-vous alors?
Je retenais les services de consultants pour des projets de conception – par exemple, les voies de circulation des avions ou les bâtiments – et je m'occupais de la gestion de projets tels que le parc de stationnement couvert. Bob [McEwing, directeur de la planification et du développement] et moi travaillions à la coordination des  k Brown. Lorsqu'il est arrivé, il a pris la responsabilité de l'horaire quotidien, ce qui me permet de me consacrer aux dossiers à long terme et au fonctionnement général. Il est absolument formidable.
Parlez-moi un peu de vos antécédents. Je sais que vous avez grandi au Vermont et que vous avez fréquenté l'UVM.
Je me suis mariée avec mon petit ami de l'école secondaire, Derrick Kendrew. Nous avons décidé de rester dans la région pour que nos enfants soient proches de leurs grands-parents. Après avoir obtenu mon diplôme universitaire, j'ai travaillé pour l'État du Vermont. Je rédigeais des permis visant le contrôle de la pollution atmosphérique pour l'Agency of Natural Resources.
Vous avez deux enfants?
Oui, une fille de 19 ans et un fils de 13 ans.
De toute évidence, vous avez repris le chemin de l'aéroport par la suite. Pouvez-vous me décrire une de vos journées types?
Impossible. Un employé peut venir me poser une question sur une couleur de peinture ou le réaménagement des salles de bain. Ou je travaille sur des demandes devant être présentées à la municipalité. Ou encore je réponds à des appels en provenance d'autres aéroports sur des sujets variés. Ce n'est jamais pareil d'une journée à l'autre.
Vous avez des relations avec d'autres aéroports?
Oui, nous avons des communications par courriel avec d'autres petits aéroports régionaux sur des sujets comme la qualité de l'eau ou les fissures de la structure de chaussée. Parfois, nous organisons des conférences téléphoniques, sur l'écoulement des eaux de ruissellement, par exemple. C'est un gros problème pour les aéroports.
Qu'est-ce qui vous enthousiasme en ce moment?
Nous avons une nouvelle liaison directe pour Atlanta avec Delta, sur un appareil de 150 passagers.
Si mes renseignements sont exacts, vous faites de la moto?
C'est le passe-temps de mon mari. Je n'étais pas une passionnée de moto au départ, mais c'est devenu une de nos activités estivales. Nous avons conclu un marché : je voulais un cheval et lui, une Harley.
Donc, vous avez un cheval?
Oui. Il s'appelle Sergeant Pepper. Il est très heureux dans son pré.
Où habitez-vous maintenant?
Nous avons une terre de 10 acres à Westford. Nous avons un cheval, deux chiens, un lapin et beaucoup de poules.
Quel est votre plus grand défi à l'aéroport?
Les finances. Nous travaillons tous ensemble à contenir les coûts et à établir des priorités dans les dépenses.
De quoi vous réjouissez-vous en songeant à l'avenir?
Je me réjouis à l'idée de continuer de bien travailler en équipe. Je constate une différence depuis mes débuts ici. Nous mettons toutes nos ressources en commun et nous nous appuyons mutuellement.
The original print version of this article was headlined "Ground Crew"