Seven Days is delighted that Fran Krause is such a neurotic fellow.
Wait, that came out wrong.
It's not Krause's neuroses per se that are delightful. It's that he's so adept at transforming them into delightfully weird works of art. Krause's comic strip "Deep Dark Fears" is the weekly, illustrated account of his anxieties: sometimes real, sometimes imagined, always bizarrely funny.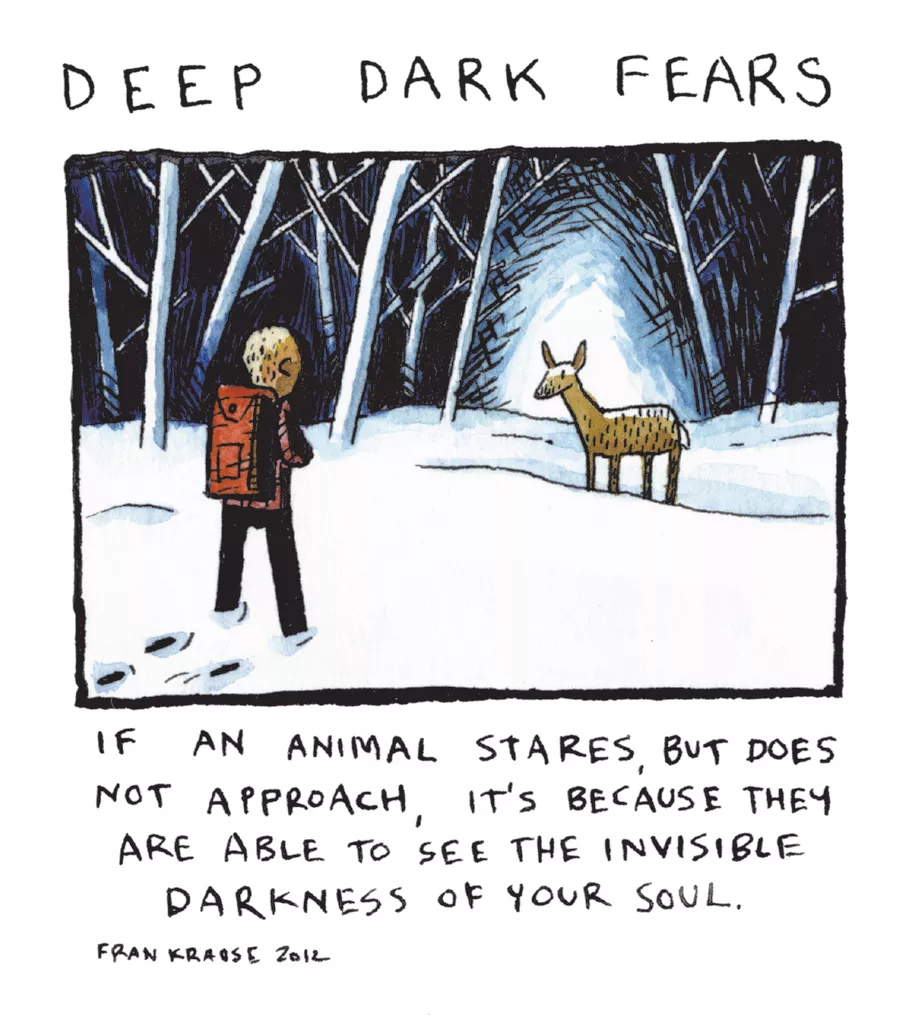 As of last week's issue, Seven Days has added "Deep Dark Fears" to our comics section, where it joins three other newcomers, added just last month: Michael DeForge's "Sticks Angelica," Kaz's "Underworld" and Dave Lapp's "Children of the Atom." "Deep Dark Fears" replaces James Kochalka's "Elf Cat." With that change, the latest overhaul of this section is complete — just in time for the Cartoon Issue on July 2.
"Deep Dark Fears" has acquired a loyal following online, where it was first published. And for good reason. Not only is Krause's watercolor-style artwork charming, but the deepness and darkness of the fears make the strip strange and familiar at once. Don't pretend you've never worried about the vicious, nose-dwelling worm that will chomp off your finger if you pick your nose. We've all been there.
Actually, the fears aren't all Krause's. Readers submit many of the dreads he illustrates. Krause has been drawing the strip since late 2012 and has amassed quite the repository of weird phobias: wrought-iron fences, mushrooms, you name it. He writes, "There's some themes that I see in a lot of submissions — social insecurities, childhood fears, fears of the unknown — but everyone brings their own details."
The cartoonist, who just completed his MFA at Goddard College (thus giving his strip, as he puts it, "Vermont cred"), is an illustrator and animator, and is currently on the faculty of the Character Animation Program at California Institute of the Arts in Valencia. A book-length compendium of "Deep Dark Fears" is in the works; Seven Days is the first alt weekly to run the strip.
The original print version of this article was headlined "Fearfully Funny"