James Buck
Dr. Stephen Leffler
Burlington Mayor Miro Weinberger's May 6 online COVID-19 public briefing got off to a rocky start. "Mayor, we're having a hard time hearing you," a disembodied voice announced, as Weinberger's words faded in and out. Static. Crackling voices. A black screen replaced the mayor's face.
Then came a calm, clear voice: "Mayor, do you want me to jump in here?" asked Dr. Stephen Leffler, stepping into the breach with the casual authority of the emergency room physician he was trained to be.
"That sounds great," the mayor's aide replied with relief.
Leffler, president and chief operating officer of the University of Vermont Medical Center, appeared on-screen from his white-walled office, dressed in a button-down shirt but no jacket or tie. On Zoom, he looked much smaller than his six-foot frame. For the next 20 minutes, Leffler laid out the COVID-19 situation at the hospital in jargon-free, conversational language.
The medical center had seen only two new cases of the virus in the previous 24 hours, he said. No patients were on ventilators, and there were no new coronavirus-related deaths. The hospital was preparing to resume elective surgeries for the first time since March 17.
For Vermont, the medical center and its new president, this was encouraging news.
Leffler's permanent appointment to lead Vermont's largest hospital — and one of the state's largest employers — occurred in January, just 10 weeks before the first reported local case of COVID-19. Since then, he has been responsible for overseeing the hospital's mobilization to confront the crisis, for maintaining the morale of thousands of sometimes stressed and exhausted employees, and for preparing the institution to recover from the financial losses inflicted by the pandemic.
The 55-year-old Vermont native was educated and trained at UVM and rose through its ranks to the medical center's top job. Thus far in his tenure, Leffler has won high marks from many staff members for his empathy, diplomacy and sound judgment. He's also won praise from the medical center's board and from government officials, including Weinberger, who has relied on him for daily advice about protecting public health through the pandemic.
At the mayor's periodic news briefings, Leffler has been the reassuring, no-nonsense voice of scientific expertise.
"Particularly because the message and information coming from the federal level is so erratic and not trusted by a large number of Burlingtonians, I think we need Steve as a respected local authority to keep the confidence of the public that we're handling this the right way," Weinberger said in a recent Seven Days interview.
As Vermont faces its most serious public health emergency in a century, it's serendipitous that a seasoned physician who specializes in managing crises and treating trauma is leading the state's largest health care facility. At its core, emergency medicine is about teamwork and pragmatism under pressure: rapidly assessing and adjusting to changing conditions, managing limited resources in a disaster, and making swift decisions, often between unpalatable options.
Medical professionals who have worked alongside Leffler in the emergency department say that his leadership style reflects his ER background. They describe him as high-energy but levelheaded in chaotic situations, a good listener, an unambiguous decision maker, and an effective team builder who delegates authority and lets people do their jobs.
"Having Steve's perspective and his background of dealing with whatever walks through the door at any given minute has contributed to his ability to lead in this crisis," said Dr. Ramsey Herrington, the medical center's division chief of emergency medicine.
Indeed, even as the hospital geared up for an expected surge of COVID-19 patients, Leffler continued to treat patients in the emergency department half a day each week, a rarity among top administrators at any hospital.
"I'm going to keep going down there and working emergency shifts for as long as I can, because I really enjoy it," Leffler said in an interview. "And it's actually great, as a leader, to see what's going on out on the front lines."
With the first wave of COVID-19 cases subsiding, Leffler is facing a fresh, daunting task — what one ER nurse called "institutional triage": a projected $100 million deficit that is unfolding in a drastically altered medical landscape. Health care will need to be delivered in creative new ways, possibly in a medical center that is smaller and leaner than it was six months ago.
And until there's a widely available vaccine, or enough of the population catches the virus to create herd immunity, "It's going to be here," Leffler said. "So our work now is to build a new future where COVID is part of our daily business."
Confronting COVID
In the end, the early spring wave of COVID-19 patients never outstripped the medical center's capacity. At its peak in April, the virus put 24 patients in the hospital's beds, well below the 100 or more cases that were initially anticipated.
But that outcome couldn't have been anticipated in early March as media outlets reported on the virus' rampage through Seattle-area nursing homes and the struggle of nearby hospitals to cope with mortally ill patients.
"We knew it was coming. It was just a matter of time," Leffler said. The UVM Medical Center began to brace for the weeks ahead. "One of the good things about being an ER person is, you try to always be prepared for whatever comes in the door," he said.
Dawn LeBaron, vice president of hospital services, served as the medical center's incident commander, handling the day-to-day operations. Leffler communicated with other hospitals in the region, spoke with the media and oversaw efforts to procure the hard-to-find supplies the hospital would need.
The command team met twice a day, seven days a week. Leffler's role was to coordinate the work of team members and make sure they reassessed "the patient" — the hospital itself — and to make course corrections.
Leffler had two primary worries. First, that the surge in Vermont would exceed the state's capacity to care for all the patients who needed to be hospitalized. Vermont has only one academic hospital and 135 intensive care beds, well below the projected need of 200 or more. He was acutely aware that Italy's hospitals had been overwhelmed and Seattle's medical resources were on the edge.
Second was the acute shortage of personal protective equipment — masks, gloves, gowns and the like — to keep hospital workers safe. Supply-chain employees had been trying to stockpile PPE supplies since mid-January but couldn't guarantee they would be delivered in time.
"The whole world was trying to do this at the same time," Leffler said. "And a lot of this stuff comes from China, and they were still in the midst of a lockdown."
Despite many uncertainties, the mood in the hospital remained upbeat as staff readied for the potential onslaught, he said.
"People were very nervous about what was to come but very focused on planning for it," Leffler said. "If you're working on something, it's easier to stay relaxed."
On March 7, the Vermont Department of Health announced the state's first case of COVID-19, in Bennington. A couple of days later, the UVM Medical Center saw its first patient.
Leffler knew from speaking to his medical counterparts in Seattle — his chief medical officer, Isabelle Desjardins, knew someone working there — that screening patients before they entered the hospital was the most effective way to reduce the spread of infection. And recognizing that a majority of Vermont's most serious COVID-19 patients likely would come through the emergency department, the medical center created two ERs — one for patients without COVID-19 symptoms and a second, temporary structure erected in the parking lot for suspected COVID-19 cases.
By mid-March — the timing is "a blur [because] we were all working 12- to 14-hour days, seven days a week," Leffler said — he and his leadership team looked at the number of cases showing up at New York City hospitals and decided they needed more beds. Within 10 days, his staff worked with the state and the Vermont National Guard to outfit Patrick Gymnasium to handle as many as 50 additional COVID-19 patients.
Another big concern was finding a sufficient supply of ventilators and having enough trained staff to operate them around the clock. In the early days of the outbreak, Leffler said, "Numbers were flying all over the place. At one point, we thought we'd need a hundred ventilators. And at that time we had 74."
With help from the State of Vermont and Leffler's procurement team, the medical center ultimately got 100 ventilators before the April peak and created tiers of medical personnel to operate them 24-7. Most were never needed.
By March 17, Leffler made the call to cancel all elective surgeries and nonessential procedures, such as mammograms and colonoscopies. The decision was necessary because physical distancing is impractical in the operating room and because the hospital's supply of PPE was running low.
"My entire medical career up until March, I would wear an N95 mask into one room, then throw it away," Leffler recalled. Suddenly, he had to ask staff to wear one mask throughout an entire shift, then save it in a bag for five days in case it needed to be reused. Looking back, Leffler described that as the hardest call he had to make.
"I really agonized over that decision to use equipment differently than it was intended, and in a way that may compromise their safety," he said.
Leffler took seriously the role of maintaining staff morale and keeping people informed. He began sending out video messages at least once a week to the medical center's 8,000 employees, providing them status updates and summarizing the latest developments.
Dr. Mark Pasanen, who oversees the team that treats COVID-19 patients, described the videos as a more personal approach than emails or newsletters to help the staff cope with the stress and uncertainties they were experiencing. "This is a trauma to society," Pasanen said. "It's not just about health. It's emotion and psyche."
And money. From the earliest days of the pandemic response, Leffler was in regular contact with the UVM Medical Center's board of trustees, according to board chair Patricia Donehower. Because board members, some of whom don't come from health care backgrounds, serve as the hospital's "ambassadors" to the wider community, Leffler set up weekly meetings with them to make sure they understood the hospital's actions and the status of the epidemic response.
Donehower praised Leffler's willingness to get out of his office, to include staff in decision making and to anticipate problems before they arose. Despite the crisis, she said, Leffler continued making grand rounds — physicians' weekly review of patients — which she said enabled him to keep his ear to the ground.
"Part of my joy and delight about working with Steve ... is how he has gathered a team, led a team [and] given recognition to his team," added Donehower, who is a retired nurse. "And if you've ever been in an emergency room, teamwork is the name of the game."
Good Training
James Buck
Stephen and Robyn Leffler with their dog, Torvie
Leffler grew up in the small Addison County town of Leicester and was the oldest of three boys whose parents owned the town's general store. He and his two brothers worked in the family business from the time they were old enough to walk, sorting bottles, restocking shelves and running the cash register.
It was "kind of a fluke" that he ended up in medicine, Leffler said, as there are no other doctors in his family. He attended UVM intending to become a wildlife biologist. But as a sophomore, he learned how few wildlife biology jobs were available, and his college adviser pointed out that his grades were solid enough to get him into medical school. "It wasn't even something on my mind," Leffler recalled.
While shadowing a doctor at Middlebury's Porter Medical Center, Leffler said, he found a shift in the emergency department exhilarating, in part because it tapped skills he felt he already possessed.
"You're in front of the public, which I was very comfortable with because of the general store," he said. "You're helping people, which I love. And I liked the science."
During medical school, Leffler proposed to his now-wife, Robyn, whom he'd known since second grade. They live in Hinesburg, where Robyn works as a veterinary technician, and have two adult children.
After completing medical school at UVM, Leffler landed a residency at the University of New Mexico Hospital in Albuquerque. There, he experienced a nightly stream of inner-city ER trauma: stabbings, shootings and, in the early '90s, heroin overdoses, which weren't yet common in Vermont.
"It was amazingly good training," Leffler recalled. "In three years, I saw pretty much everything you need to see to be a good ER doc."
In 1993, he was invited back to the UVM Medical Center as an attending physician in the emergency department. He spent the next 13 years treating patients, doing research, and teaching medical students and residents.
Leffler took his first foray into administration in 2006, becoming chief of the emergency department; he built the medical center's residency program to train ER physicians.
That recruitment has proven vital during the coronavirus response, said Herrington, the emergency department's current division chief. Had the pandemic happened a decade ago, before the residency program was in place, he suggested, "We wouldn't have had the team that could respond as quickly as we did."
In 2010, Leffler became the elected leader of the medical staff; a year later he became the hospital's chief medical officer.
"In my career, when someone asks me to do something, I typically say yes," Leffler said. "And so I said yes."
Despite his added responsibilities, Leffler carved out time to work in the ER every Friday.
Shuttle Diplomacy
In July 2018, the UVM Medical Center experienced its most bitter labor dispute in years. After months of unsuccessful union negotiations, the hospital's 1,800 nurses walked off the job, complaining of chronic staff shortages, low pay, nurse burnout and gaps in patient care.
Though the strike lasted just two days, it got ugly and personal. Nearly 1,300 strikers walked the picket lines and attacked hospital administrators, notably UVM Health Network CEO Dr. John Brumsted and then-president Eileen Whalen. One sign depicted Brumsted as an orange-faced President Donald Trump.
Nurses won an average 16 percent increase in their base salaries, but wounds inflicted by the strike were slow to heal. In January 2019, Whalen announced her plans to retire that June. Brumsted said he immediately considered Leffler as her successor.
"I think it would have been virtually impossible at that moment in time, with what we had experienced, to bring in someone who was a total unknown to the folks at the medical center," he said. "The key is to be open and transparent. And I know Dr. Leffler really shines in that arena."
"We had a lot going on at that time," added Donehower, the medical center's board chair. In addition to Whalen's departure, the chief nursing officer and chief quality officer were also leaving. When the board surveyed employees, one message was clear: The staff wanted a new president who was visible, who understood the institution and its history, and who listened to them. Leffler was appointed interim president in June 2019, a position made permanent on January 1.
Kristin Baker, nurse manager of the emergency department, believed Leffler was the right choice, someone who had held a variety of positions at the hospital and was widely seen as one of their own.
"He recognized that the more in touch you are with the front line of the people doing all the work, the easier it was for him to make leadership decisions," Baker said.
One of Leffler's first actions, she recalled, was to eschew the president's reserved parking space on campus and start riding the shuttle buses from the employees' remote parking lots. The shuttles — essentially old school buses that lacked air-conditioning and frequently ran late — were a major source of employee disgruntlement.
"First, he got to see what the problem was. And two, he got to talk to people," Baker said.
The new president quickly decided to switch to a professional coach company, with newer shuttles that are GPS-tracked so employees can see exactly where they are and when they're due to arrive and depart.
"I know that was a cost to the institution," Baker added, "but Steve thought this was the right thing to do for the employees."
Leffler's concern for his frontline workers has also been reflected in his more recent decisions during the COVID-19 crisis, Baker said. Soon after the pandemic began, the administration offered paid sick leave to any employee affected by COVID-19, without reducing their banked vacation time.
Because elective surgeries and other routine care were put on hold, the hospital furloughed 550 workers during the COVID-19 emergency but continued to cover the cost of their health insurance. The medical center also gave an extra week of pay to employees earning less than $99,000 — essentially, all the nonphysician frontline workers. Baker said some employees told her this was the first bonus they'd received in their entire careers.
"That was huge," said Matt Looft, an emergency department charge nurse. Looft said he has seen Leffler walk through the ER in a tuxedo on his way to some fancy gala or fundraiser, but he knows the hospital president more as an accomplished outdoorsman who drives a pickup truck and loves hunting birds with his dog and a traditional longbow.
"Steve's greatest strength is that he always comes across as genuine," Looft added, noting Leffler's ease in communicating with patients from across Vermont's socioeconomic spectrum. As Looft put it, "Steve knows the language, and he knows the landscape."
Stanching the Flow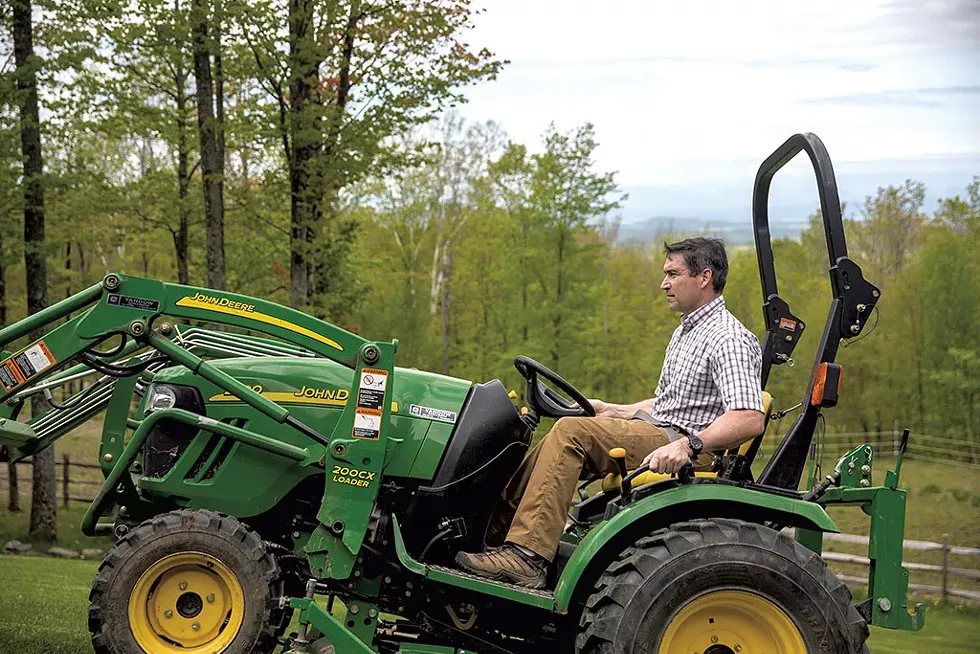 James Buck
Leffler at home in Hinesburg
One bitter irony of the pandemic, Leffler said, was that the medical center spent six weeks planning to be the busiest it had ever been, only to find itself half empty and losing $1 million a day. The lost revenue from canceled surgeries and doctors' visits forced the furloughing of those 550 employees, or 7 percent of the hospital's workforce. Dozens of upper-level employees took salary reductions. Leffler, whose own base salary is $600,000, took a 10 percent pay cut.
Despite a projected $100 million deficit on the medical center's 2020 annual budget of $1.35 billion, Leffler still intends to bring back all idled workers. He has a plan to "break even" by October 1 through a combination of federal stimulus funding, a resumption of patient services and "staff adjustments," such as continued furloughs and a hiring freeze. But Leffler doesn't foresee layoffs and fully expects they will need those employees back as patient services resume.
Kevin Mullin chairs the Green Mountain Care Board, the five-member state regulatory body that, among other things, oversees and approves hospital budgets and capital expenditures. Mullin said that he's watched Leffler for years and is confident in his ability to steer the institution through stormy financial waters. He has been impressed with Leffler's ability to communicate complex ideas in easy-to-grasp terms.
"It's a really good place for Steve to be right now," Mullin said. "Because if anyone can convey a message of calm and 'We're doing everything we can to keep you safe,' it's him ... It's good to see a Vermont boy do well."
Leffler himself offered a matter-of-fact prognosis for the long recovery ahead.
For the next two years, he said, the hospital is likely to pause its decades-long growth. In the aftermath of COVID-19, the medical center won't return to full capacity "for a long time," he said. Vermonters will need to acclimate to a health care system that works a little differently.
Pre-COVID-19, peak efficiency meant having full waiting rooms. But as the medical center ramps up its elective and routine visits, patients may need to phone in from the parking lot, then wait for a call. The additional time required to screen patients for COVID-19 symptoms as they enter the hospital will further slow the process and reduce efficiency.
Some changes are already in place. To ensure that surgeries are performed safely, Leffler said, they've built in an additional 30 minutes between procedures to clear the air in the operating room of any viral contaminants. That markedly reduces the number of surgeries that can be performed in a day.
"Our future for the next one to three years, I firmly believe, is that COVID will be with us," Leffler said. "At times it will be with us in very small amounts, and at times we may have spikes and surges. So we have to build a model for health care for our communities that can deal with that."
Necessary physical distancing requires creativity to "use more hours of the day to get more people through the system," Leffler said. For some providers, that could mean extended hours later into the evening or weekends.
"We could be getting a little smaller. We will have to adjust our expenses to meet the current demand for services," he continued, which could be "really hard" for hospital staff.
But even forced changes can bring unexpected opportunities. The new health care future inevitably will include more telemedicine, Leffler said, which "advanced four years over a couple of weeks." Currently, the medical center is providing 60 percent of its outpatient visits via telehealth, in which patients and providers meet by online video.
"We're never going back. Our patients love telehealth; our providers really like telehealth," he said. "It will absolutely improve access, both for our patients who are here in Chittenden County and for people throughout our region. We can reach out to people [at home] who were driving three hours to get here."
Another unexpected benefit is that a "significant chunk" of the hospital's staff has been working remotely for the last three months. Because the Burlington medical campus was already crunched for space, Leffler envisions that a significant number of employees will continue to telecommute, reducing the need to add new office space.
He said it's possible that for an extended period Vermonters' demand for some services will decline, as patients decide that — regardless of added safeguards — their optional procedures aren't worth the risk of a hospital stay.
On the other hand, Leffler said, services such as regular virus testing of the workforce could be in high demand. Unless a vaccine becomes available, he predicted, an estimated 70 percent of Vermonters may eventually contract the virus, resulting in an uptick in the treatment of post-COVID-19 symptoms, such as respiratory difficulties, blood clots, and the loss of taste and smell.
When asked how he plans to lead his thousands of employees through those changes, Leffler gave an answer that reflects an ER doc's pragmatism.
"I've always just tried to do the right thing, be honest, be transparent, be visible [and] talk to people," he said. "If you lead that way, when challenges come up, you just face them head-on."