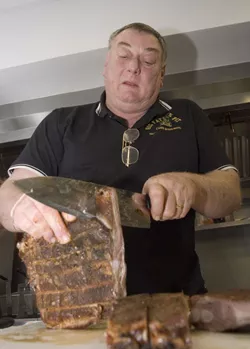 Matthew Thorsen
Clay Vagnini
At Big Fatty's BBQ on Main Street in Burlington, the servers wear black tees that read, "Be nice to me, I pull your pork." The yellow walls are plastered with saucy notices. "Sarcasm: one of the free services I offer," says one. Another reads, "There will be a $5 charge for whining."
Irreverence reigns at the restaurant that Clay Vagnini and his wife Bethany Lewis opened on March 31. The couple, who also operate Maple Street Catering and another Big Fatty's location in Hartford, have finally realized their dream of bringing "authentic barbecue" to Burlington.
Your doctor might scold you for visiting Big Fatty's - this is 'cue with no apologies or concessions to nutrition trends - but the tantalizing taste of smoke and spice Vagnini proclaims "a religion" in the South is worth a few extra trips to the gym.
Big Fatty's occupies the space that used to house Souza's Brazilian Churrascaria. In a game of "musical restaurants," Souza's moved just up the street. The city's only South American venue will reopen Friday in its new St. Paul and Main location, which was vacated by Glori Nori.
Opening the BBQ joint was no easy task - "I feel like I've just given birth," Vagnini sighs. Now that it's up and running, he can relax into his new routine. Although the business is young, word of mouth seems to be spreading. At dinnertime on Wednesday - less than a week after the opening - five parties sit around the wooden tables or on stools in front of the authentic pig trough that serves as a dining counter.
When a customer requests lids for a couple of to-go containers, a college-aged staffer with funky glasses and a ponytail waggishly offers to release them for a buck each. How did Big Fatty find employees with a sense of humor? Vagnini advertised in the paper for "ballsy bussers" and "sassy servers," he says. Then he weeded out applicants who didn't fit the Big Fatty profile. He explains that he wrote back to those who expressed interest in the job "and said something to the effect of 'If you're a frou-frou, dilettante, self-serving, tree-hugger Democrat, this isn't the place for you. I don't want nice - I want fast and sassy.'" Those who responded with enthusiasm got a job. A bunch never wrote back.
During a slow spell, a few of the feisty folks Vagnini hired lounge behind the counter chatting. One of them playfully asks the boss if he's planning to serve chai any time soon. Amused, Vagnini points to a paper near the cash register labeled "Big Fatty's FAQ." "I should add that to the list," he suggests.
A restaurant with a FAQ? Vagnini explains that it's a catalogue of "silly" questions he's been asked at least twice, such as "What's the yellow stuff in the cornbread?" His response? "Corn." Other items from the FAQ: "Can I have a turkey sub?" "No." "How come your BBQ is better than mine?" "Devine [sic] intervention."
Other questions that are no-nos, and may make the list now that Big Fatty's has come to liberal-lovin' Burlington: "What do you have for vegetarians?" "Cole slaw." "Do you use local products?" "No."
The lack of localvore dishes doesn't mean Vagnini doesn't appreciate Vermont's bounty, he says - he just can't make much use of it. "The Vermont Fresh Network is designed to support restaurants whose menus are geared towards the produce that Vermont produces and to that growing season," he explains. "No one that I'm aware of in that network is producing collards."
Local meat? Vermont farmers "put out a great product but they don't do volume," says Vagnini. He recently placed an order for ribs to "lock in a good price." He ordered more than 12 tons.
What does he do with all those ribs? He cooks them up "Memphis-style." Says Vagnini, "BBQ is so regionalized, and there's so much passion surrounding those regions, that fights break out over who's got the best BBQ." In creating the menu for Big Fatty's, he decided he had to rely on his own tastes. "It's all just opinion. Here, it's my opinion."
This means that at Big Fatty's they do the ribs with a dry rub and top the meaty mounds with a squirt of house-made "wet" BBQ sauce before serving. Those in the know can ask for their ribs "dry," too. "Dry" ribs are tender and nicely spiced. "Wet" ones are also pretty messy. "That's why God created hoses and paper towels," says Vagnini.
The homemade "wet" sauce also shows up on the pulled pork, which comes in "biblical portions," with or without bread. Those who enjoy the taste of good, fatty meat will appreciate the restrained use of tangy, spicy sauce on each portion. Not enough kick? You can add as much of the red stuff as you want from the squeeze bottle on your table.
Other proteins at Fatty's include fried catfish and Texas brisket, which is slow-cooked for more than 24 hours and served only on Wednesdays. "We put it in around 10 a.m. on Tuesday and pray that it will be done by lunch on Wednesday," Vagnini says. The brisket, which he calls the "most gristly cut you can imagine," ends up as a melt-in-your-mouth treat. If a BBQ chef really likes you, according to Vagnini, he'll offer you a piece of carrot with your brisket. Why? Carrots are used to elevate the beef from the bottom of the pan as it cooks, and end up caramelized and soaked in meaty juices.
Big Fatty probably doesn't worry about pissing off cardiologists. All the same, the menu includes a few offerings from the vegetable kingdom. Coleslaw is made in-house each morning, but it's standard stuff, nothing thrilling. Savory collard greens, cooked with bacon, are another story. In the South, says Vagnini, "folks of very little means would eat collards as a way of staying healthy." The peppery vegetable, closely related to cabbage and kale, is delicious when coated in pork fat. But it's also full of vitamins A and C, plus iron and calcium.
Why doesn't Vagnini prepare the greens so vegetarians can try them? He nixes that: "The flavor's in the fat and the fat's in the flavor."
Aside from collards, hush puppies are the boss' favorite side dish. "They remind me of hot dusty roads, big yellow dogs and kudzu vines throughout the center of Georgia," he explains. For those who have never tried hush puppies, Vagnini describes them as "pieces of cornbread that we've deep-fat fried, only different." The puppies are crisp on the outside and dense with cornmeal. There's cornbread as well, for those who like a lighter touch.
For all its daring dishes, Big Fatty's scores its most startling success with wings and drumsticks. Chicken, often the blandest meat on the menu, is a triumph here. Brined first in a bath of water, salt, sugar and spices, the bird is then slow-smoked for four hours over hickory. It emerges with leathery skin but juicy, flavor-infused meat - no sauce required. Because of the cooking technique, the meat often remains pink - sometimes even red - near the bone.
Vagnini chuckles as he relates the story of a Burlingtonian who tried to return the chicken because he thought it was raw. "He comes to the counter and asks for another chicken. I tried to explain that the next chicken would be just like the one he already had." When the customer refused to take his money back, insisting on a "properly cooked" chicken, Vagnini finally had to tell him, "There are hundreds of restaurants in this town, and I'm sure one of them will cook chicken the way you like it, but this is not that restaurant."
While good food is on the menu at Big Fatty's, compromise isn't. If you can't accept that "I'm not going to change the way I cook to satisfy you as an individual, you shouldn't come in here," Vagnini opines.
Is he just being snarky? Vagnini is eloquent in defense of his own vision of a cuisine with regional roots. "One of the hardest things in the world to do is cook something that has no history, predicated only on today's vision of what's healthy and what isn't," he says. "All the stuff that we cook has history, has soul."
And if that means the collards come from Georgia and the hogs from Iowa - not Vermont - that's OK with Clay Vagnini. If it means that vegetarians and the politically correct avoid his restaurant, he can live with that, too. If it means that a bunch of folks with thick skins and quick wits gather in Burlington to enjoy authentic BBQ? It'll be a dream come true.