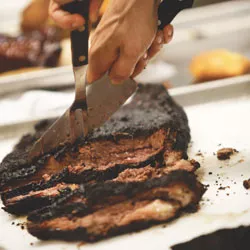 The rustic Riverside Avenue restaurant building that opened as Bluebird Tavern in 2009 didn't take much revision to become Bluebird Barbecue. But now, just past the host stand, a new slogan painted on the rough-hewn wood wall greets visitors with tall, bold letters: "Meat Here!"
That declaration of allegiance says a lot about the barbecue roadhouse that opened on July 10. Though the menu offers a barbecue tempeh sandwich for vegetarian friends, the restaurant's raison d'être is flesh and lots of it, prepared brilliantly.
To some local diners, the Bluebird name may connote esoteric ingredients and fine-dining formality. However, when owner Sue Bette opened Bluebird Tavern on Riverside as Burlington's first gastropub, she told Seven Days her goal was to create a community meeting place. Neighborhood pubs were once "part of what our towns were built around," she said at the time. "I wanted to bring that back and make [my restaurant] a place you could come every night."
Bluebird Tavern's move downtown to St. Paul Street brought a more grown-up vibe and higher prices, but its replacement on Riverside, Bluebird Barbecue, achieves exactly the casual feel Bette was shooting for. The front room's pub space has a TV and shuffleboards. Near the bar, the foosball table is rarely idle. And, best of all, the prices often match the laid-back ambiance.
For budget diners, the "Go Big" section of the menu, devoted to family-size items for sharing, is a godsend to the Burlington dining landscape. Take the $14.95 Betty's Salad, named for the 1.5-ton Southern Pride smoker that lives in Bluebird's parking lot. Despite the name, there's no smoked meat in the huge bowl, only leaves, cucumbers and tomatoes drowned in creamy white (somewhat bland) dressing and piled with homemade croutons and shredded American cheese. Then there's the fried chicken.
Even without the pile of poultry, Betty's Salad could feed a family of four, but the Herculean portion of chicken is something to behold. The thick breast is brined for optimum moistness, with breading on either side close to a half-inch thick. Overkill? It's not. The crisp, boozy beer batter avoids breadiness and tastes so irresistible, you'll be wondering if you can order it on its own.
The name of another colossal dish, Barbecue for Two, is misleading. The choice of three meats and four sides fed me and my boyfriend — both of us dedicated trenchermen — two big dinners and a lunch. At $38.95, that comes to $7.79 per meal.
The bargain wouldn't matter if the meats and sides weren't roundly excellent. Fortunately, they are. Baby back ribs are prepared with a spice rub and mopped with homemade Vermont maple barbecue sauce so dark that the ribs turn almost black as caramelized sugars fuse to meat.
Readers may remember that I'm a stickler about rib texture. Meat should not fall off the bone, but lightly adhere so it can be ripped away cleanly with each bite. At Bluebird Barbecue, pit master Paul Link achieves this precarious feat ably. The ribs I tried were moist and tender but firm enough so that eating them involved little muss or fuss beyond sticky fingers. A telltale pink ring surrounding each rib betrayed the kiss of smoke on the meat.
All too often in Vermont, pulled pork means a wet pile of braised muscle strands, more ropa vieja than smoked chunks. The Carolina-style pork butt at Bluebird Barbecue is just the opposite. Many of the chunky pieces display a dark, smoky bark. All the meat is tender but not flaccid, and relatively free of excess fat. It comes dressed in a light shower of mustard-colored cider-vinegar sauce. The tangy, slightly sweet drizzle is so delicious, it's lucky that all three homemade sauces (cider vinegar, maple and tomato-based "red") also sit in bottles at each table, along with a bowl of wet-naps. I couldn't help but add more sauce to mine.
The combination was even better when piled on one of the two slices of homemade, Wonder-style white bread that came with the meal. I felt transported to deepest Cackalacky.
But brisket means a trip to Texas. And the one at Bluebird has more subtlety than any other version I've tried. Instead of a spice rub similar to the one on the ribs, the beef is flavored with a lighter-tasting, more herbaceous mix that sings with rosemary. It develops a somewhat unlikely but enchanting partnership with the red, tomato-based barbecue sauce. In the end, the melt-in-your-mouth meat tastes not unlike a smoky, more sophisticated version of my Jewish grandmother's braised brisket. On one of my two experiences of the dish, I even found a crisp crust on top of the fat cap. I was in heaven.
And that's just the meats. Over two visits, I tried all but one of the eight side dishes. Though I was hoping for a bit more acid in the finely chopped coleslaw, the rest were winners. When I first sampled the macaroni and cheese, the yellow American that composed its sauce was smoked. On another visit, it was not, but the creamy mound of elbow noodles was still hard to pass up. Ultra-thick, homemade applesauce is a pleasantly sweet addition to the list, and hand-cut fries are crisp, salty and showered in an appealing layer of black pepper.
However, the two standout sides are resolutely not for the vegetarians in the party. Collard greens, so often braised into grayish oblivion, retain their integrity at Bluebird. They get much of their flavor from the smoky pork mixed in with the leaves.
Though I'm not a fan of the syrupy, molasses-drenched beans available at most barbecue spots, I can't get enough of the cumin-scented pit beans at Bluebird Barbecue. The thick stew of pintos falls somewhere between baked and refried beans. What pushes it toward the latter is the presence of crispy little cubes of house tasso ham. I particularly enjoyed the meaty beans as part of the Bluebird Ultimate ($17.95), a giant sandwich that also contains fried chicken, brisket, pulled pork and coleslaw. It's so thick, a toothpick won't do. Instead, a steak knife holds the whole thing together on its way to the table.
Big, shared dinners aren't the only way to eat at Bluebird Barbecue — which offers sit-down, bar and take-out dining options. The "Don't Miss" section of the menu offers plenty of material for small-plates meals, with the wings ($9.95) being particularly not-missable. Executive chef Michael Clauss' ingenious recipe combines Frank's RedHot sauce with a sweet, cooling dose of carrot juice and melted butter. The result doesn't taste particularly spicy, but it leaves behind a sensuous lip burn. As if that weren't enough, the big, crispy wings and drumettes are also covered in a scatter of blue cheese and toasted pecans. The side of mild ranch sauce is far from necessary, but it adds a third note of cream to the butter and cheese.
Also on the "Don't Miss" menu are tamales ($7.95), which can be hard to come by in Vermont. While I generally travel to Waitsfield to get my fix at the Mad Taco, it's nice to know there's an option in Burlington. At Bluebird, the tender masa is wrapped in banana leaves instead of cornhusks. This method leaves an aromatic, tea-like flavor in the corn, creating a highly satisfying pairing with the smoked pork therein. Sides of mild but smoky tomato salsa and spicy mayonnaise only make the dish more appealing.
Only at one meal did I muster the will to stuff dessert down my already-packed gullet. Sugar pie and banana pudding sounded appealing, but if I was going to digestive hell, I was doing it with fried dough. This is not the deep-fried pancake served at county fairs. Instead, the five doughnut balls, served in a silver bowl, reminded me of Indian gulab jamun. In the place of rosewater syrup, a shallow pool of maple syrup sweetens the fried balls. Each is also coated with cinnamon sugar, which leaves a hint of spice on the palate along with sweetness that walks a very fine line between satisfaction and excess.
Guiding diners along that line is the major selling point of Bluebird Barbecue. The place exists as a paean to gluttony. However, I never felt logy or bogged down after eating there. An orgy of meat with no immediate ill consequences? That's dangerous. Dangerously delicious.
Bluebird Barbecue, 317 Riverside Avenue, Burlington, 448-3070. bluebirdbbq.com