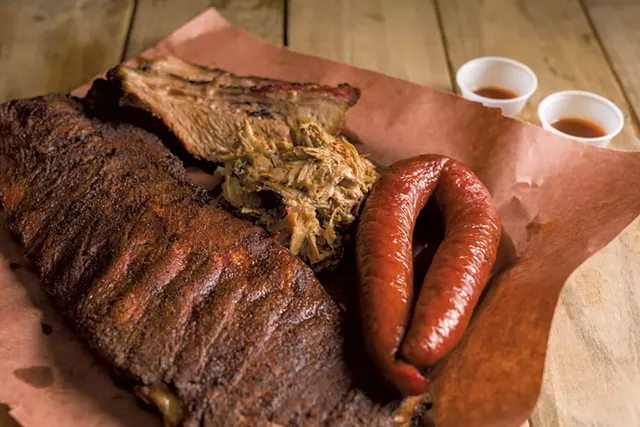 Oliver Parini
Smorgasbord of smoked meats: ribs, brisket, pulled pork and sausage
There are several reasons to go to Mark BBQ, a Texas-style barbecue restaurant in Essex Junction. The most obvious is meat. The ribs are thick and juicy, the brisket edged in fat. The sauce, if you want it, comes on the side. This is meat-forward meat.
Another draw, no pun intended, is the chalkboard wall at the back of the restaurant. BYOI (bring your own idea), help yourself to a piece of chalk, take your place at the wall, and draw or doodle the evening away.
For ball players, fidgety diners and the younger set, Mark BBQ's dining room offers a cornhole toss that invites throwing, oohing and aahing, and spectating. Between bites of pulled pork and baked beans, you and your buddies can fling a beanbag at a target.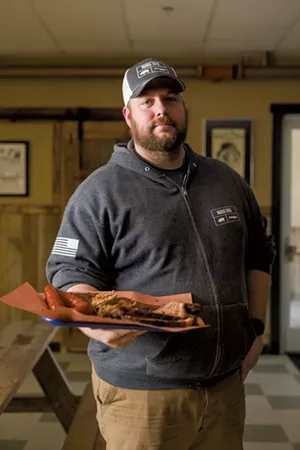 Oliver Parini
Darrell Langworthy
Finally, if you're a country music fan or an admirer of music art, you'll eat up the wall décor. The framed concert posters announce decades-past shows from the likes of Willie Nelson, as well as Doug Sahm and the Last Real Texas Blues Band. One poster, advertising Nelson's third annual Fourth of July picnic in 1975, shows a picnic basket propped on the back of an armadillo. The basket holds an acoustic guitar, an electric bass, and the U.S. and Texas flags. Admission was $5, and the lineup included Kris Kristofferson, Rita Coolidge, the Charlie Daniels Band and Delbert McClinton.
Oh, to have gnawed on a pork bone, slugged beer in the Texas sunshine and listened to McClinton sing "Two More Bottles of Wine" at that long-ago picnic.
But I settled for an indoor picnic at Mark BBQ, which opened last fall at 34 Park Street. If you're not sure where the restaurant is, follow your nose: Three smokers are smokin' out in front, giving a down-home, backyard whiff to the suburban thoroughfare.
"The smells are free," chef-owner Darrell Langworthy said. "They bring you in the door."
The spacious dining room is furnished with nine big picnic tables, each equipped with a barbecue joint's greatest need: a roll of paper towels. But bring your own six-pack: Mark BBQ is BYOB. (There's a liquor store across the street in case you arrive empty-handed.)
Oliver Parini
Mark BBQ
My friend and I shared the chef's sampler platter, a $28 tray that presents a smorgasbord of smoked meats: ribs, brisket, pulled pork and sausage. The platter comes with two sides, and we threw in a third for a spread that included baked beans (flavored with meat scraps), tangy coleslaw (red and green cabbage, shredded carrots), and collard greens.
The meat is dry-rubbed and smoked, sauce-free, in Langworthy's smokers. He rubs the brisket and pork shoulder with a simple spice blend, then smokes it over hickory and pecan wood for 12 to 14 hours at 245 degrees. It's a Texas method that Langworthy sums up with two words, repeated: smoke and time, smoke and time.
Langworthy, 39, of Essex Junction, fell in love with barbecue when he was stationed in Texas for military training. His late father-in-law, Mark Ivey, for whom the restaurant is named, introduced Langworthy to Texas barbecue and inspired his love of cooking and eating it.
Langworthy has been making barbecue for about a dozen years, his passion growing with his experience. One meal that stands out in his memory took place nine years ago in Saudi Arabia, where Langworthy was stationed with the Vermont Army National Guard. About 125 servicemen and -women pooled their pork ration cards to make a pulled-pork-and-ribs barbecue.
Oliver Parini
Meat on a smoker
"Texas barbecue is so simple and straightforward compared to other barbecue that's slathered in sauce," Langworthy said. "You have to appreciate it and love it for its simplicity and elegance. Beef should taste like beef. Pork should taste like pork. Sauce should complement the meat; it shouldn't cover it up."
His decision to start his own barbecue business was a sudden one, spurred by a friend. When David Burbo decided to close Smokin' Butts, the barbecue place he co-owned in St. Albans, he called Langworthy and asked if he wanted to buy his smokers and other equipment. At the time, Langworthy was sous chef in food services at GlobalFoundries.
"I took about a week to think about it, and then I made the leap," Langworthy said. "When something like that comes your way, I look at it as divine intervention."
He launched Mark BBQ as a mobile business at Essex Junction's Five Corners in May 2018. Demand for his food grew fast, Langworthy said, and within six months he moved into the building on Park Street.
That public appetite reached a peak this St. Patrick's Day, according to Langworthy, when diners at Mark BBQ consumed 1,000 pounds of meat, including 200 pounds of coffee-rubbed and smoked corned beef brisket.
Oliver Parini
Darrell Langworthy using a smoker
"We had a huge turnout," Langworthy said. "We just pushed it, and people came out from everywhere. Our customer base is loyal and growing fast."
Langworthy plans to build a new catering and prep kitchen behind the chalkboard wall. He is increasing the hours of operation from three to five days per week; by mid-May, Mark BBQ will be open Tuesday through Saturday.
The night my friend and I ate there, a local family of five was dining at a nearby table. The three boys — ages 11, 9 and 5 — played cornhole on and off during the meal, mostly on. The oldest, a lanky lefty named Sam, rated the food above the games. His younger brothers voted for the cornhole.
Their father, Steve Bent, is a big fan of Mark BBQ and has a special fondness for the St. Louis-style ribs. Their mother, Laura Bent, said her family likes to eat where there's something for the kids to do. The casual style of Mark BBQ suits them well.
"It's a little bit of summer fun," she said, as her boys tossed beanbags. "It's like we're taking a little trip to Texas."