Jeb Wallace-brodeur
Jules Guillemette
"Beau" is a borrowed French word. It's the term for a partner in new, shiny love or in long-term companionship. Or, as a contributor to the crowdsourced Urban Dictionary wrote, it's "[a] person you want to spend the rest of your life with and [who] is more than likely the greatest thing that has ever happened to you."
In Montpelier, Beau Butchery + Bar is a tiny butcher shop with a Prohibition-reminiscent bar and a European-influenced delicatessen. The 6-week-old spot is a partnership between Crystal Maderia, the chef-owner of Montpelier's noted farm-to-table restaurant Kismet, and Jules Guillemette, the seasoned chef and butcher behind the charcuterie, sausages and blushing cuts of meat in Beau's display case.
"Crystal and I liked 'beau' because it's an intentional bond with a long list of positive qualities and attributes," says Guillemette, 37. "Plus, it's French, and I'm French. This whole place is very French."
Mounted in the corner near the wood-topped bar is a photograph of the Guillemette Dairy Farm, settled by Guillemette's Québécois grandparents when they immigrated to northern Vermont. The 1953 photo shows a dirt road cutting through 200 acres of checkerboard grasslands with a dead-on view of Mount Mansfield in the background.
"I grew up there," says Guillemette, pointing to a silo and a farmhouse in the upper right corner. "Growing up, everyone in Vermont around me spoke French. My grandparents never learned English."
Guillemette, who uses the pronoun they, indicates a pearly block of cretons on display behind the counter. It's a Québécois pork spread bulked up with onions, cinnamon, cloves and a swath of pork fat. "This cretons, here? I grew up on that — my grandma would put it on the table with butter. Butter!"
After a youth on the family dairy farm, Guillemette left Vermont to explore the wider farming and culinary world. They spent time on an agritourismo near Perugia, Italy, making cheese, shearing sheep and cooking in the onsite restaurant. "[People] were all about the charcuterie there," notes Guillemette. "There would be cinghiale [wild boar] hanging everywhere."
Next, Guillemette spent eight years in Seattle, where they worked for James Beard Foundation Award-winning culinary powerhouses Maria Hines and Tamara Murphy. Guillemette eventually returned to Vermont, in their words, "for love, for family."
Guillemette's culinary interests have always hinged on butchery and charcuterie. Back in Vermont, they launched themselves into the meat scene, working as a retail meat cutter for notables such as Pat Quinn at Richmond Market & Beverage and Frank Pace at Guild Fine Meats. Guillemette also served as the assistant plant manager at Vermont Smoke & Cure's enormous operation.
Around 2010, Guillemette met Maderia. "For eight years in Seattle, I was a part of this really close community of chefs," Guillemette recalls. "I missed that here, when I moved back [to Vermont]. Then I met Crystal; we became friends just geeking out over food."
Six years later, in December 2016, Beau was born. It's a bright, 560-square-foot space that seats eight to ten and showcases a European influence in both food and ethos: namely, the idea that eating is about conviviality and conversation, not just convenience and satiation.
Outside the shop, a string of lights leads to a door marked with its insignia: the outline of a cow's head. Inside, two wide windows coat the room with the watery light of a five-degree January afternoon. There's a smooth buzz of alternating jazz and R&B. The place smells like browning onions, smoke and the toasty scent of roasted meat.
Jeb Wallace-brodeur
Beau Butchery
Behind a wooden bar barely four feet long, Maderia, 39, creates a house-made soda for a customer. She squeezes fresh grapefruit juice over ice and tops it with Boylan Bottling club soda and a spritz of Autumn Bonfire, an aromatic mist from Alice & the Magician Cocktail Apothecary.
Seated at the center table, a local patron leans over a broth bowl of Thai tofu, sticky rice, coconut milk, butcher broth, sweet chili and ginger. Beau offers a different bowl daily, as well as regularly changing broths made of meat, chicken or just vegetables.
They also offer a daily to-go broth made of butcher broth steeped with aromatics and ginger root; Maderia pours a steaming cup for a regular customer. The broth is full-bodied like rich coffee, soothing in the instinctual way of something hot, fragrant and full of minerals.
Up front, the display case brims with chickens from Maple Wind Farm; pork belly, loin and chops from von Trapp Farmstead's whey-fed pigs; LaPlatte River Angus Farm sirloin and New York strip; local lamb loin and stew meat.
Guillemette's handmade sausages sit on their papers like plump royalty: smoked-pumpkin-curry pork sausage, breakfast sausage and spiced, ruby-colored merguez. There are roast turkey and pastrami, and a smoked ham with the most gorgeous lip of fat one could hope to find on a deli meat.
At a narrow corner table, a father and son are tucking into steak sandwiches on toasted focaccia from Elmore Mountain Bread.
Another case holds smoked chicken thighs, bacon jam, pimento cheese, blocks of lard and local cheeses. Fodder for a decked butcher board includes cretons, fromage de tête, a block of chestnut-colored chicken liver pâté spiked with vanilla and cognac, and pork rillettes the texture of whipped mousse.
Behind that display case, in Beau's open kitchen, Guillemette checks the sliced pumpkins and hams bathing in the heat of the smoker. Suddenly the tiny place smells like Thanksgiving.
Beside Guillemette, cook Frank Ingle pours chicken liver pâté into a loaf pan. "Perfect pâté," the butcher confirms over Ingle's shoulder. An enthusiasm for teaching is apparent in Guillemette's demeanor; they teach an annual weeklong butchery and charcuterie course at Sterling College's School of the New American Farmstead.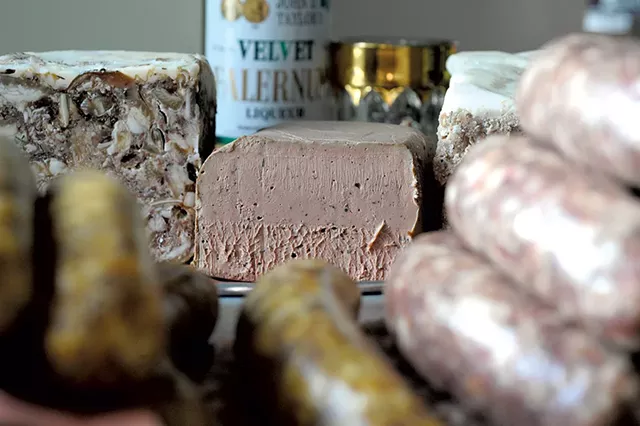 Jeb Wallace-brodeur
Charcuterie and sausages
Passing along those skills is one way to connect a Vermont culinary community that, according to Guillemette, often seems spread out and isolated. "I think there's a deeper bond in Vermont's meat community than there is in the cooking one," Guillemette says. "But I do think parts of Vermont are changing. I think food types and chef types want to work together more and more: befriend each other, hang out, trade info, nerd out about cooking."
To an outside eye, the cooking community appears to be tightening its bonds in Montpelier, with Beau as a focal point. Early one afternoon, Jeff Egan stops in. A veteran local chef who has held executive positions at the Cliff House Restaurant in Stowe and the late Bee's Knees in Morrisville, he hangs around to chat with Maderia and Guillemette.
Soon, the conversation turns to sausage making: Would you rather craft your own or have the pros do it for you? Talk about casings and spices ensues. There's laughing and high-fives. The room is full of chefs nerding out about cooking.
Beau is becoming a gathering place for a range of locals: seasoned chefs seeking a slice of head cheese, novice cooks inquiring how to cook a sirloin, friends meeting after work for a glass of wine while browsing for dinner. "It feels good to get to meet people, to begin having regulars," says Guillemette. "It's so different than working back-of-house; humans walk through that door, and I get to talk to them!"
After the chef crowd departs, a customer arrives and giddily asks for a quarter-pound of pâté; he leaves with a $4 slab as smooth as butter. A woman takes a thin curl of ham from Maderia to taste. Another customer gazes at the meat case, looking flummoxed, and asks which cuts are easiest to prepare; Maderia offers guidance. Yet another patron comes in for sirloin and pastrami — "Have you tried this pastrami?" she asks the person next to her. Once again, the room is full of people engaging over food.
Though Beau has watering-hole potential, a restaurant it is not. "Some people want this to be a restaurant, but that's the last thing I want," says Guillemette, laughing. "I want to get beautiful meat and make things out of that beautiful meat. I want people to come in, browse, talk to me if they want. They can have a cocktail or a beer or a glass of wine if they'd like. But I don't want a restaurant."
Instead, Beau is a meeting point with meat at its heart. But vegetables get ample stage time as well, especially in the form of a smoked-veggie muffaletta sandwich fused by a molten layer of pimento cheese.
Two portraits of long-lashed cows hang on Beau's wall, one in the kitchen and one in the entryway. The cows are a gentle but clear reminder: taking an animal's life confers a responsibility.
Guillemette, who believes in finding a humanely-raised animal and wasting none of it, sees respect as integral to the craft of butchery. "Teachers are often older guys who have dedicated their lives to this. It's about respect to the animal and to the people who taught me."
Now, at the bustling shop, Guillemette is teaching others and passing on that respect. "I really want to work in the community I live in," the butcher says. "This is what I do. This is what I love. What else is there?"