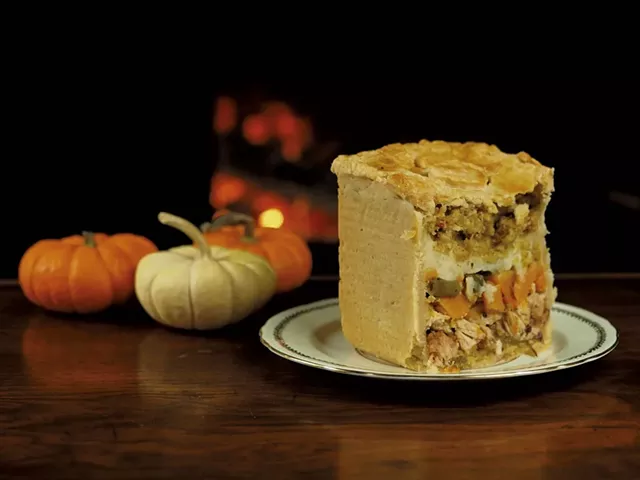 Andy Brumbaugh
Thanksgiving Leftover Pie
In my family, we love Thanksgiving food — juicy turkey, tender stuffing, tangy cranberry sauce, creamy mashed potatoes, crunchy green beans, and subtly sweet roasted squash. Every year, I look for interesting ways to use the abundant leftovers once the main event is over.
After watching The Great British Baking Show, I became enamored with the idea of making a turkey pot pie with hot-water crust pastry, which traditionally calls for a mixture of butter and lard. (I substituted solid vegetable shortening for the lard because I was unable to find the lard locally.) A mixture of bread flour, which has extra gluten, and all-purpose flour helps give the pastry its sturdy texture.
This crust breaks so many "known" pastry rules. Keep everything as cold as possible? Instead, this recipe relies upon working with it hot, before it becomes too crumbly. While most pastry gets tough when you work it too much, hot-water crust pastry is very forgiving and can be kneaded and pressed into a pan (as long as you work quickly, so it doesn't get too cool). You can even patch broken bits without much trouble. Finally, the crust comes out sturdy, so you can use heavier and wetter fillings without it falling apart. As a bonus, it keeps its shape when you take it out of the pan, which is great for presentation.
Use whatever leftovers you like in this pie, or go a nontraditional route and serve up this fun, layered dish as a Thanksgiving day main course. For this version, I made the fillings just for the pie — simple, oven-roasted turkey breast with a delectable combination of parsley, sage, rosemary and thyme; butternut squash; and creamy mashed potatoes. If you have homemade stuffing, gravy and cranberry sauce on hand, by all means, use them. I took the easy route and used store-bought versions of those components.
The pie would also be excellent with Brussels sprouts, mashed root vegetables in place of mashed potatoes, or maybe even leftover green bean casserole with crunchy fried onions.
I made a couple of versions of this pie, one in a 4-inch deep, 9-inch round tart pan, and one in a loaf pan. We all preferred the loaf pan; its depth made for great layers and it was easier to slice. Definitely don't skip the parchment paper sling, which creates "handles" to lift the finished product out of the pan.
Top this dish with extra cranberry sauce and warm gravy, or enjoy it cold in place of a routine turkey sandwich, and you'll be the envy of your coworkers.
Ingredients
Hot-Water Crust Pastry:
⅓ cup water
½ cup unsalted butter
½ cup solid vegetable shortening
¾ teaspoon salt
2½ cups all-purpose flour
½ cup bread flour
1 egg, plus 1 teaspoon water (for egg wash)
Filling:
2 cups prepared stuffing
1 cup cranberry sauce
1½ cups finely chopped roasted turkey
1½ cups roasted butternut squash
1 cup steamed or roasted green beans
2 cups mashed potatoes
Directions
Preheat oven to 400 degrees. Prepare a loaf pan by lining it with parchment paper with edges overhanging to make a sling that you can later use to pull out the pie. Lightly coat with cooking spray.
To make the crust, melt the butter and shortening in a pan along with 1/3 cup water, and put the dry ingredients into a large bowl. When the butter mixture is very hot, pour it into the dry ingredients and use either your hands or a dough hook on a stand mixer to make a smooth dough. (This should only take a minute or two.)
While it is still hot, press two-thirds of the dough evenly into the loaf pan, forming a smooth surface about 1/4-inch thick. (Put the remaining crust under a small bowl to keep it warm — this will be your top crust.)
Layer the fillings evenly to the top of the pan — stuffing, cranberry sauce, turkey, butternut squash, green beans and mashed potatoes. (You may have leftover filling.)
Roll the remaining crust out between two sheets of parchment paper to about the size of the top of the loaf pan. Carefully transfer the crust to the top of the pie, and seal by using a fork to crimp around the edges. If desired, use the extra crust to make decorations for the top (like small pumpkin or leaf cut-outs). Beat egg with 1 teaspoon water. Cut two to three vent holes in the top crust and brush with the egg wash.
Bake for 30 minutes at 400 degrees, then lower the temperature to 350 and bake for another 45 minutes. Remove the pan from the oven and place on a cooling rack for at least 10 minutes before carefully lifting the loaf out of the pan and transferring to a serving tray. Cut into thick slices and serve with more cranberry sauce and gravy, if desired.