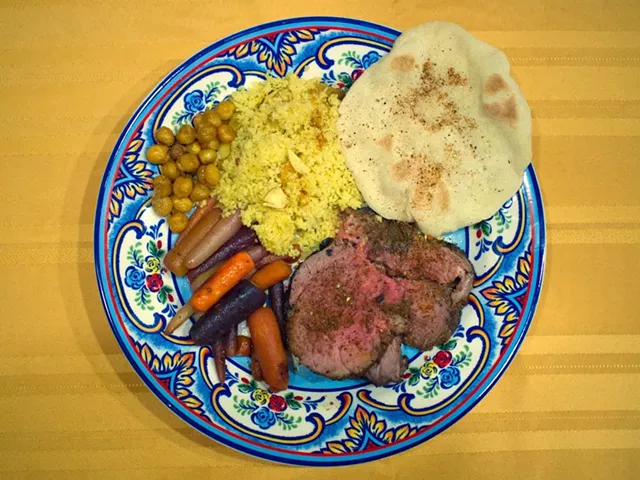 Andy Brumbaugh
Moroccan Leg of Lamb
The chill of winter has us in its grasp here in Vermont. But comfort food, infused with spices from a warmer climate, can transport us to faraway lands, at least in our minds.
Leg of lamb is an impressive dish, fit for a celebration or a feast to share with friends. When I think of the luscious and aromatic meat, my mind immediately goes to Morocco. Though I haven't traveled there myself, my parents once did. My mom remembers sipping traditional Moroccan mint tea while wandering through a rug market and visiting the nearby food stalls and spice shops. The aroma of exotic sweets and tantalizing spices hung in the air of the narrow, twisting streets. She and my father made sure to sample the local cuisine, and this lamb dish is reminiscent of something they had there. My mother and I cooked this meal together, and she said the smell of the lamb and spices transported her back to that Moroccan market.
In researching different lamb preparations, I found many recipes for pure street food. One was for a pulled leg of lamb, called mechoui. Others called for skewering chunks of lamb to make kebabs. I decided to go a fancier route, roasting the lamb to a beautiful and tender medium rare. I created a meat rub with a blend of spices typical in the Middle East and North Africa and infused it with lemon and honey to round out the flavor.
The lamb itself was relatively easy to cook. The process takes a while, but most of that time is spent waiting for the meat to marinate. Scoring the lamb along the fat with a knife helps allow the spices to really permeate the meat.
When marination is complete, the lamb is seared on all sides, then roasted at a low temperature until medium rare. A meat thermometer is really critical here; the lamb is done when it is 130 degrees in the center. For a finishing touch, pass spices at the table — the same combination used in the rub — to sprinkle on the sliced lamb.
I served this dish with flatbread; couscous with golden raisins, almonds and spices; roasted chickpeas; and honey-roasted, spiced rainbow carrots sprinkled with a North African spice blend called ras el hanout. For a local option, look for a ras el hanout blend from Teeny Tiny Spice Company, founded by a Vermont family. You can also find it at ethnic markets, such as Nadia International Market in Winooski, or online. We sprinkled it on the flatbread and couscous in addition to the carrots.
All of our dinner guests — from my sometimes-picky 11-year-old son to my 71-year-old mother — adored this meal. The leftovers made for a delicious lunch the next day, and the meat was even wonderful right out of the fridge. I hope this dish brings warmth and a celebratory spirit to your family's table this winter!
Moroccan Leg of Lamb
Ingredients:
1 boneless leg of lamb (mine was around 4 lbs)

2 tablespoons olive oil

2 tablespoons honey (Use a floral one that's not too heavy in flavor, such as eucalyptus or mesquite. I prefer Turkish honey.)

4 tablespoons lemon juice

You will also need cooking twine and a meat thermometer.

For the spice blend:
4 cloves garlic

2 teaspoons dried coriander

2 teaspoons cumin

2 teaspoons chili powder

1 teaspoon paprika

1/4 teaspoon turmeric

2 tablespoons salt

1 tablespoon black pepper

1/2 teaspoon cinnamon

1/4 teaspoon ground cloves

1/4 teaspoon allspice

1/4 teaspoon ground cardamom

Directions
Remove the netting from the lamb (if it has one) and spread the leg out flat. Dry the surface of the meat with a paper towel so that the spice blend can really stick. With a sharp knife, lightly score the fatty areas of the lamb in a crisscross pattern, but do not trim off the fat. For the most part, it will cook off, and it adds tremendous flavor.

Combine three-quarters of the spice mixture with the olive oil, lemon and honey, so that it forms a paste. Rub this mixture liberally on all sides of the lamb. Roll the leg into a round and secure with cooking twine. Allow to marinate for several hours, or overnight, in the refrigerator.

Before it is time to cook, allow the meat to come to room temperature by letting it sit outside of the refrigerator for about 45 minutes. This will help ensure even cooking. Turn the oven to broil and sear the outside of the lamb by broiling for five minutes on each side.

Lower the oven temperature to 325 degrees and roast for about 20 minutes per pound, or until the internal temperature of the meat is 130 degrees. It is very important to check the temperature with a meat thermometer, as cooking times may vary, and you do not want the lamb under- or overcooked.

Allow the roast to rest for five to 10 minutes before slicing against the grain and serving. Pass the reserved spice blend around the table for sprinkling. Enjoy!