Andy Brumbaugh
Mango Kulfi Popsicles
I have often said that being a Vermonter has made me appreciate the seasons more. Months of cold and snow, followed by mud season, make the lilac blooms of late spring and the glory of summer all the sweeter. So why not celebrate the beautiful weather with some delicious frozen treats?
Sure, we have maple creemees and Ben & Jerry's in Vermont. But sometimes it's fun to spice it up with more global flavors.
Kulfi is an Indian treat, traditionally made by cooking milk and sugar down slowly to caramelize it, then adding spices and sometimes fruit purées. I have taken a no-cook shortcut for this recipe, which makes it easy to whip up on a hot day. Instead of heating up the kitchen by cooking down milk on the stove, I used sweetened condensed milk.
Kulfi is denser and creamier than ice cream, and you can add a myriad of things to customize it. I made a mango variety with saffron and cardamom, studded with pistachios. Try it with vanilla extract, rose water or another fruit. Play with spices and have fun.
Freeze in popsicle molds if you have them, or in small paper cups if you don't. I dusted the outside of my pops with extra pistachios and mango powder (made by pulverizing freeze-dried mangoes from Trader Joe's in a blender) for a little extra kick.
These popsicles are the perfect refreshing dessert after a dinner of grilled tandoori chicken. Chances are you're not traveling much this summer, so take your taste buds on a trip to India instead.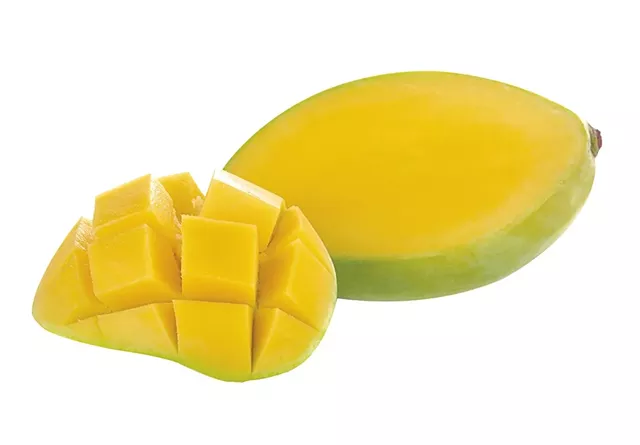 Dreamstime
Mango
Ingredients:
¼ teaspoon saffron threads
2 cups heavy whipping cream
3 cups mango chunks (frozen or fresh)
1 14-ounce can sweetened condensed milk
1 teaspoon ground cardamom
½ cup finely chopped pistachios
Optional toppings
¼ cup chopped pistachios
¼ cup powdered freeze-dried mango
Directions:
Soak the saffron in cream for a few minutes so that it blooms — making the cream a vibrant yellow color and releasing the flavor of the saffron. Purée mango, saffron-infused cream, sweetened condensed milk and cardamom in a blender until smooth. Stir in pistachios.
Pour mixture into molds and freeze until set (at least 6 hours, but preferably overnight).
Take pops out of mold by running under cool water until loose. Sprinkle pops with extra pistachios and freeze-dried mango powder if desired.
(Makes about 16 popsicles)