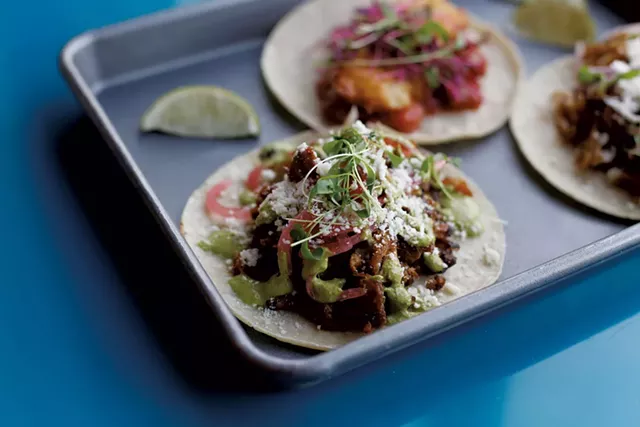 Sarah Priestap
A three-taco plate with carne asada, pork and ahi tuna at Trail Break Taps + Tacos
In White River Junction, the stoke is real. Or it is, at least, for Trail Break Taps + Tacos owner Topher Lyons.
For those unfamiliar with "the stoke," it's the feeling one catches when riding a big wave on a surfboard, or shredding a sweet arc on skis, or hitting the line just right on a mountain bike. It is, in short, the life-affirming ebullience that outdoor enthusiasts find in the mountains and on the water.
Lyons aspires to offer it in the form of tacos and beers at Trail Break, which opened in a bright, clean new building at 129 South Main Street in November.
On the menu are Gnargaritas and Mo-bettah-jitos, along with "vertical eats" (burritos) and "horizontal eats" (tacos). Everything at the restaurant, from the quirky menu language to the bold color scheme to the surf and ski movies projected on a screen near the bar, politely insists that visitors hop on board for the ride.
Sarah Priestap
Topher Lyons pouring a pint of River Roost Mas Verde IPA
"I came at this [to provide] a more all-encompassing experience," said Lyons. "The brand, the atmosphere — those things can accentuate the food. I think a lot of restaurants leave quite a bit on the table by not factoring in how the general aesthetics play into the brand."
For $20, you can get a "big-ass bowl" (portioned for two) of a drink called the Hot Box Time Machine, which blends SILO Distillery's maple whiskey with Halyard Brewing's Volcano Juice ginger-beer shandy, Triple Sec, tropical juices, cinnamon and bitters.
Sound good? You gotta sit in the gondola — one of Killington Ski Resort's original four-seater skier cars, painted orange, parked on cinder blocks on the patio — to order it. Consider the drink a reward for crowding into hot, cramped quarters on a breezy afternoon.
On the bright side, it's clutch seating for a rainy day...
But raining it was not last Thursday evening. My husband and I felt lucky to snag the last non-gondola patio table for our 6:30 supper. Most days, I'm told by friends who are regulars, prime-time dinner seats here come with at least a 30-minute wait.
We settled into plastic lawn chairs spray-painted shades of turquoise, orange and lime green. Overhead, a string of Edison bulbs bobbed in the breeze, rigged on cables that convened on a post atop the gondola.
Décor on the Trail Break patio gives the DIY impression of one's own backyard, if one were to spend a decent amount of time and cash ensuring that everything adhered to health and safety codes. If it's all rather boot-strappy, the idea seems to be to pack in as much fun and good cheer as possible on a shoestring budget.
Lyons, who has worked in restaurants since graduating with a degree in hospitality management from the University of New Hampshire's Whittemore School of Business and Economics in 2008, spent years working on his business plan. He originally sought to do business in his native California, but life — a lady love, more specifically — kept him in New England as planning gave way to action.
A lack of startup capital kept the project on ice for years. "I had no money, and I had never owned a business," Lyons said, recalling approaching banks for business loans. "And the hospitality business is kind of a red flag for most banks." He started hitting up small community banks, having heard they were sometimes more friendly to local startups.
Sarah Priestap
Nachos with chorizo chili
Eventually, Mascoma Bank, based in Lebanon, N.H., just across the Connecticut River, agreed to fund the project. "There's a lot of money being put into [White River right now], which was once very vibrant and which is becoming a cool scene again," Lyons said. "I think I came at the right time, when everyone, including the banks, can see the growth potential there and are maybe willing to take a little more risk."
The plan was simple enough: to offer affordable, "crave-worthy" food in a lively, casual setting. Lyons doesn't mince words about sourcing locally. He and chef Dennis Marcoux buy local when they can, he said. But the goal is to offer dinner, a drink or two, and a good time for about $20 per person — a price point most WRJ locals can stomach with some frequency — and that's not realistic by any reasonable farm-to-table standard.
Still, the food is fresh, thoughtful and tasty enough.
At our table, a pan of nachos ($9.75 for a half order) brought crisp corn tortillas laced together with melted cheddar and strewn with dark and smoky chorizo chili. Serrano peppers, grilled and smashed, gave extra character to dollops of guac, while cilantro and lime enlivened an ample squirt of sour cream.
A quesadilla ($13, called "Tacky Tortillas" on the menu) stuffed with shredded pork and apple brought just what it promised: browned and crunchy tortilla, fully melted cheese, tender and savory pork, still-crisp apples. If it came across as somewhat pedestrian, I blame the form, not the kitchen; I've yet to meet a restaurant quesadilla that was truly worth remembering.
Grilled Anaheim peppers imparted mild heat to my husband's B.A.D. Burrito ($11), a fat wrap loaded with scrambled eggs, chorizo chili and crunchy potato shreds.
Those über-brittle spuds also lined the bottom of my ahi tuna taco ($5). With its cool, fork-tender hunks of fish, tossed with avocado and splashed with red-peppered cream, it evoked tuna tartare in taco form. And the tender, smoke-kissed steak was a pleasant foil to the pickled onions and cilantro in a carne asada taco ($4.75).
But the star of my taco plate ($11.50 to $15.50 for two or three tacos, plus a side) was a petite bowl of chickpea hash, in which an ample dusting of chili powder married the sweetness of yams and the cool beaniness of the garbanzos in a way that was brilliant but so, so simple. I found myself wondering how I might duplicate it at home so I could eat it every day.
Sarah Priestap
Chef Dennis Marcoux in the kitchen
The side reminded me that sometimes the supporting cast offers enough moments of greatness to elevate a picture from "good enough" to "really good."
Likewise, a glass of orange agua fresca ($4) spiked with grilled green poblano was perfect: delicately flavored, sugary but not cloying, and refreshing and cool, as any good agua fresca aspires to be.
As the sun set, the restaurant did its work at a relaxed but efficient pace. At a table near us, a pair of boomers chatted about work; beside them, a young family talked about summer camp and weekend plans.
In the gondola, a man in his twenties discussed work and roommates. Across from him, a young woman emptied a can of Fancy Feast into Tupperware for her kitten, who sniffed at the food, then climbed into the cool shade beneath the gondola.
The feline lay down and splayed out her back legs, taking in the scene from the end of a red leash. From a booster seat nearby, a baby looked on, idly gnawing at the corner of a quesadilla, foot bouncing to the soft rhythm of the indie-pop tunes floating over the airwaves.