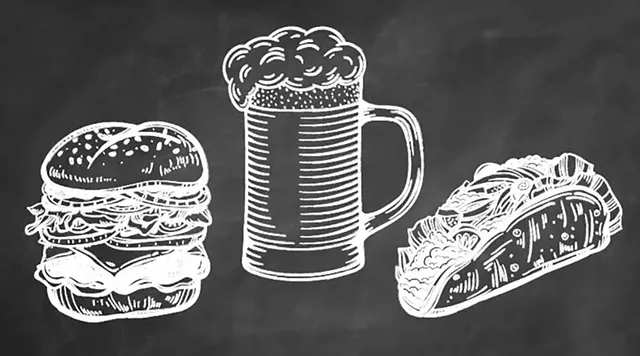 Note: This guide is out of date, but you can check out the 2017 version for current food and drink deals.

Burlington is many things. Sadly, cheap ain't one of them. Eating out, especially, can bust your wallet as easily as your gut.
That's why we've rounded up some tried-and-true specials offered at local bars and restaurants. Whether you're looking to get rowdy — with, say, $1 pints — or class it up for date night with $1 oysters, read on for our recs for eating on the cheap, any day of the week.
Note: This story is more than a year old, and the deals listed may no longer be in effect.
Daily Specials
Bistro Dinner, Leunig's Bistro & Café: Every day from 3 to 5:30 p.m. and the last hour before closing, Church Street's Frenchiest spot offers a two-course dinner for $17.50. Start with a bowl of soup au pistou, then move on to salade Niçoise, steak frites or a hearty boeuf Bourguignon. Can't pronounce any of that? The delicious food, classy atmosphere and small(er) bill are worth the embarrassment of trying.
Happy Hour, Hen of the Wood: Enjoy $1 oysters daily from 4 to 5 p.m. and 10 to 11 p.m. at this farm-to-table Burlington institution.
Early-Bird Special, Bluebird Barbecue: This barbecue joint serves up early-bird specials from 4:30 to 5:30 p.m. If you're in the mood to share, $30 will get you three half-portions of meat and four sides. Or $10 scores you a sturdy burger topped with bacon jam, cheddar, secret sauce and pickles — plus a side.
Dinner and a Movie, the Daily Planet: Dine at this hip downtown restaurant — loved by locals since 1982 — and get half off a same-night movie ticket at Merrill's Roxy Cinemas, just a block away.
Happy Hour, the Scuffer Tap & Table: Appetizers — think poutine, alehouse chili and lamb "cigars" — are half-price between 4 and 6 p.m. every Monday through Friday.
Monday
Citizen Cider pours $3 drafts of Unified Press, a year-round off-dry cider.
Head to the Daily Planet for $6 burgers and a $4 craft beer.
Margaritas are $5 and sweet-potato nachos are $8 at the Gryphon.
Hop on over to Church Street Tavern for half-price wings.
Taco Monday — why not? El Gato Cantina charges just $2 for chicken or beef tacos.
Tuesday
Sip on a bottle of wine at Vin Bar & Shop at one-third the usual price.
The Daily Planet deals in $2 tacos, $2 tequila shots and $2 Tecate bottles.
Nearly all wine pours at Oak45 in Winooski are just $5.
Get $2 off any mac and cheese at Our House Bistro in Winooski.
Order the beer on special at the Archives and get four free tokens to use on arcade games.
Wednesday
Nectar's serves up half-price burgers from 5 to 10 p.m.
$1 will get you a beer and $2 a taco at ¡Duino! (Duende) from 4 to 5:30 p.m.
Students get half off their second pie at Pizza Barrio.
Hit up the Spot for 50-cent wings.
Thursday
For just $5, grab a can of cider and a hot dog at Citizen Cider.
Get fancy with a glass of sparkling wine for $6 at Vin Bar & Shop.
Like nachos? El Gato Cantina offers 'em half off.
Coveted Heady Toppers are $5 at Pizza Barrio.
At Bluebird Barbecue, suck down $6.50 Coyote Margaritas, a blend of tequila, lime, simple syrup, salt and egg white.
Friday
Savor $4 cosmos at Drink.
Check out Philly Friday at Manhattan Pizza & Pub for the cheesesteak deal and a $5 Heady Topper.
Saturday
At Drink, $5 gets you a Long Island Iced Tea. Just make sure to drink a lot of water, OK?
Score an $8 burger at the Spot.
Sunday
Got kids? Take 'em to Bluebird Barbecue, where they eat free on Sunday nights.
A pound of wings and a pint go for $8 at Mr. Mikes Pizza.