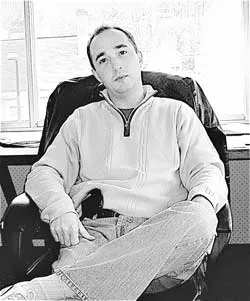 Six years ago in 2002, when they first popped up on the Vermont political stage, yours truly dubbed them "The Nasty Boys." They were two twentysomethings, born and raised in Vermont, who got the Washington political bug and went off to college in the nation's capital.
Neale Lunderville, "The Boy Wonder," was GOP gubernatorial candidate Jim Douglas' bright and savvy campaign manager.
"Mad Dog" Jim Barnett was his deputy and — as Democrat Doug Racine learned the hard way — an extremely talented opposition researcher. Mad Dog went for the jugular, and his almost daily bites regarding Racine's "flip-flopping" record cost the Democrat dearly.
Bottom line: Gov. Howard Dean, who went on to national stardom as a leftist, antiwar presidential candidate and who now chairs the Democratic National Committee, was unable to pass his gubernatorial torch to a fellow Democrat in one of America's most progressive states.
Republican Jim Douglas is still governor of Vermont and looking like a heavy favorite to win a fourth term in November.
Today, Mr. Lunderville is Vermont's secretary of transportation. That's right, he runs the Vermont Agency of Transporta-tion, with a budget measured in the hundreds of millions of dollars. Other than obtaining a Vermont driver's license, the Boy Wonder's key qualification for the post apparently was getting Gov. Scissorhands elected.
So far, so good.
And whatever became of Mr. Barnett?
Resumé-wise, Mad Dog is a former captain of the Spaulding High School football team in Barre. Played defensive back. Smart, too — won a scholarship to American University. Majored in political science.
Jim Barnett's political gurus were the late Lee Atwater and Karl Rove. Atwater was the nasty-tricks master who got Ronald Reagan elected in 1980 over President Jimmy Carter.
Rove did likewise for the current occupant of the White House, George "WMD" Bush. In fact, Barnett worked in the Bush White House in 2001 before coming home to Vermont to get GOP State Treasurer Jim Douglas elected governor.
Barnett subsequently became the first paid chairman of the Vermont Republican Party. Then, in November 2006, Mad Dog snagged a key position on the presidential campaign staff of Arizona Sen. John McCain. He became McCain's New England director.
As regular readers know, yours truly has pretty much ducked the 2008 presidential campaign — the iconic media "horse race" — so far. The mainstream media has turned it into the most important story of our time. Who said what about whom? The latest poll numbers? Forget the real world!
But now it looks like we're down to just three horses. Two Democrats: Sen. Hillary Clinton, the former First Lady, and Sen. Barack Obama, the biracial Hawaiian who graduated Harvard Law and built a successful political career in Chicago.
And there's just one Republican horse: Sen. John McCain of Arizona, the seventysomething Annapolis grad who was shot down over North Vietnam and spent years in a North Vietnamese prison. Unfortunately, Sen. McCain still defends the U.S. policy in Vietnam — the one based on lies and our fear of Red China, a nation that now puts the clothes on our backs.
Also, unfortunately, McCain supports the current misguided policy in Iraq, opposing any sort of withdrawal whatsoever.
On Tuesday morning, we gave up. Cannot ignore the presidential horse race any longer, especially with the Vermont connections. Had the pleasure of a little one-on-one interview with Jim Barnett, who is stationed at McCain headquarters in Manchester, New Hampshire. Talk of a McCain visit to Vermont is in the air.
Had to ask: When's the last time anyone called him "Mad Dog"?
"Boy, it's been a while," replied Barnett. "I think when they first did my background check, they came across some of your articles, and I took some razzing for it."
Asked what his current job title is with the McCain campaign, Barnett said that was "a good question, because nobody has titles anymore. Everything's moving so fast. Nobody's really sat down and talked about it."
The Vermonter was McCain's campaign manager in New Hampshire, and many argue that's where McCain turned it all around, right?
The Granite State was "a must-win state," conceded Barnett, "and kept us alive and gave us the opportunity to go on." And go on they did, focusing on the 21 February 5 primary states from their Manchester HQ, he said.
Many suggest that, whoever the Democrats end up with, John McCain will have an uphill fight in November. Some polls show the senator from Arizona doing better against Hillary than against Barack, but Mad Dog declined to express an "on-the-record" preference.
Asked what turned it around for McCain, Barnett gave an expected response. "It was honesty and fortitude," he said.
Asked for something more specific, he pointed to McCain's early call for a "surge" in Iraq (since 2003), and his position on immigration.
"Many people wrote him off," said Mad Dog, "but as it's turned out, the security situation has dramatically improved [post-surge]. We haven't defeated the enemy there yet," he acknowledged, but it's getting better, he insisted.
We noted that conservative mainstream icon and syndicated talk-radio star Rush Limbaugh says that if McCain is the GOP nominee, he "will destroy the Republican Party."
"Well, I hope Rush Limbaugh will come around," said Barnett. "I don't think he's being fair about it. [Limbaugh's] obviously a very respected voice in the conservative movement, but if anyone takes a fair assessment of Sen. McCain's record, they're going to find he's very much a conservative."
Yours truly also noted another conservative media icon, Ann Coulter, has said that if McCain is the GOP nominee, she'll vote for Hillary Clinton!
"I think she'll probably come around when faced with that prospect," Mad Dog replied with a chuckle.
He tried to be polite about it, acknowledging Gov. Mike Huckabee is still waging a campaign, but the former Vermont GOP activist/insider conceded he is confident McCain will win the Republican presidential nomination.
Asked who he likes for a vice-presidential running mate, Barnett scoffed, saying, "I'm not even going anywhere near that."
But, at 71, isn't John McCain too old?
"No, I really don't think so," said Barnett, who's 40 years younger. "These are times that, I think, demand the experience and judgment." Mad Dog told us he's been on the campaign trail with the candidate, "and I can attest to his vigor."
But the mood in America is turning. The 2006 elections showed that. We told Mad Dog we simply could not imagine his horse hitting the finish line first in November.
"I think you should not count him out," insisted Barnett. "The American people are not prepared to surrender in the face of al-Qaeda. What they want is to have a hopeful prospect for victory. John McCain has already demonstrated that, even when the chips are down, and the politics don't fit the moment, he's willing to do what's right for America."
But he's already proven himself wrong in Vietnam, we noted. He was shot down in a war that America was misled into — just like Iraq.
"He wasn't calling the shots in Vietnam, either, you know," said Mad Dog. "So you can't say he was proven wrong."
But he still defends that policy, we said.
Before his time, said the thirtysomething from Barre.
What's that line — he who doesn't learn from history is condemned to repeat it?
**************
Health-Care Setback? — Yours truly didn't make last Thursday's Montpeculiar "Lobby Day" for the grassroots health-care reform activists who are pushing Repub-lican State Rep. Topper McFaun's H.304. The bill aims to put all Vermonters in the same universal pool when it comes to hospital coverage, improve efficiency and cut costs.
The only media coverage was by Statehouse Reporter Dan Barlow in the Rutland Herald/Times Argus. Barlow reported that the activists "clashed with lawmakers" during a packed meeting with the Democratic chairs of the House and Senate healthcare committees: State Sen. Doug Racine and Rep. Steve Maier.
Barlow reported the crowd grew "more raucous," with some "interrupting lawmakers and insulting legislative staff."
That sparked the Pulitzer Prize-winning editorial page of the Rutland Herald to weigh in on Saturday with "Time to Chill." It warned reformers they may be on the verge of engaging in "a grand act of self-immolation." The editorial accused the H.304 supporters of engaging in "the bullying manner displayed too often on the extreme right wing."
Dr. Deb Richter, the Cambridge family practioner who has been a tireless advocate for reform, told "Inside Track" this week, "There were some isolated, inappropriate comments made by some people in the audience. I considered that inappropriate." But, added the good doctor, "to characterize the entire event as a heated exchange that sounded like some high school lunch room is not an accurate depiction of what happened."
Richter said she fears lawmakers "will highlight a couple rude people and use it as an excuse to kill the bill." She noted the fact that "100 people showed up in the middle of a snowstorm." And, based on the email she's received, another 150 would have made it had the weather been good.
Dr. Ellen Oxfeld, a veteran anthropology professor at Middlebury College, also saw the Statehouse meeting differently than descibed in the press. She thought the editorial demonstrated a poor choice of words.
"There's a difference," she told "Inside Track," "between insulting and criticizing."
The folks at the head table, however, saw it differently.
Chairman Racine told "Inside Track," "The reaction of a few of the people in the room, which dominated the conversation, was very negative and hostile to the idea that we would ask questions and [that] we didn't have all the answers. It was a few of them, but it was pretty hostile."
Chairman Maier agreed that a couple of health-care activists behaved poorly. "Of those who spoke," he said, "two especially were quite angry and rude."
H.304 looks dead for now. Dr. Deb and her cohorts are trying to line up "expert" witnesses who can answer the questions lawmakers say they don't have answers for.
We asked both health-committee chairs if we will live long enough to see a single-payer health-care system in Vermont, like those in the rest of the civilized "modern" world.
"I don't know," answered Chairman Maier, 51.
Honest answer, eh?
"I hope so," answered Chairman Racine with a sigh. "I believe it has to be done at the federal level," he said.
And will that be done in our lifetimes?
"God willing," replied Racine, 55. "If we live what the actuaries say we're going to live, I think we are going to see it, because I think this health-care system we have — or lack of system — is crushing us financially."
Yes, indeed.
At the moment, the quickest way to change our broken-down health-care system will be to change our broken-down White House. A Democrat spending nights at 1600 Pennsylvania Avenue, said Racine, "will make a huge difference."
**************
Speaker Gaye Update — The juices are flowing in Vermont with regard to the Democratic presidential primary. Sen. Pat Leahy and Congressman Peter Welch are backing Obama. Independent Bernie Sanders is staying neutral in the primary, but will happily support whichever Democrat wins the nomination.
But Democratic House Speaker Gaye Symington is firmly behind Hillary Clinton. Why?
"The reason why for me is," said Symington, "she has the right balance of experience, of commitment to change, of heart, to bring about the change of priorities and focus that we are looking for as soon as possible."
Is gender a factor?
"Gender is certainly a factor," conceded our female House Speaker, "but it isn't my overriding factor."
As for the governor's race, Speaker Gaye said she has met with Peter Galbraith, who is "seriously considering" a run. He's the only Democrat at the moment who is.
Thus far, it's Gov. Scissorhands being challenged by Progressive Anthony Pollina.
We asked Symington if she would have any problem supporting Tony the Prog, whose hat is already in the ring.
Speaker Gaye gave a rather cryptic response, saying, "I'm not sure I'm going to comment on scenarios that I don't actually think will come to pass."
Oh, really?
What does she know that we don't?