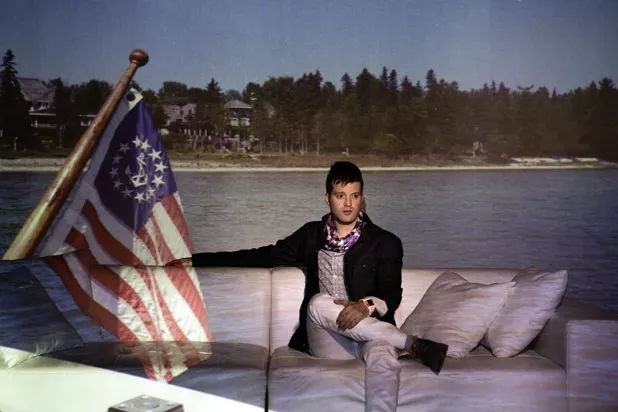 On his new record, Where Does This Door Go, Mayer Hawthorne sheds the fitting but confining "retro soul" label affixed to his previous studio albums, A Strange Arrangement (2009) and How Do You Do (2011). Helmed by famed producers such as Jack Splash, Da Internz, Kid Harpoon and Pharrell Williams, Hawthorne's latest presents a hodgepodge of influences, from hip-hop and dubstep to the breezy, well-coiffed yacht rock of Hall and Oates. As such, it's been alternately hailed as provocative — and fun — and criticized for alienating longtime fans expecting more of the smooth R&B stylings from his earlier career.
In advance of his show at the Higher Ground Ballroom on Wednesday, September 4, Seven Days spoke with Hawthorne by phone about his new record, as well as his unabashed love of Steely Dan and Al's French Frys.
SEVEN DAYS: So, are you excited to come back to Vermont?
MAYER HAWTHORNE: Yeah, man! I can't wait for some Al's French Frys. I just talked to my homie in Vermont, and I'm so hyped for Al's fries.
SD: You have a homie in Vermont?
MH: Yeah. His name is Hank DeMaio. He shoots a lot of my music videos. He's born and raised.
SD: Small world, huh? Switching gears, what was the thinking behind the title of the new record?
MH: Where Does This Door Go is about not knowing where you're gonna end up or if you're ever gonna come back alive. I didn't know what this album would sound like or if anybody would be feeling it. I really didn't know what the direction was going to be when I started recording. So it was about that fear and that sense of adventure.
SD: Was that a new experience for you then, going into the studio without a game plan?
MH: Everything about this album was a completely new experience for me. There were so many firsts on this album. It was the first time I ever worked with outside producers and writers. It was the first time I've ever had a rapper on a song, Kendrick Lamar.
SD: Wait. What about Snoop?
MH: Well, it was the first time I've ever had somebody rap. I did have Snoop Dogg on the last record, but I didn't let him rap. I told him he had to sing.
SD: This was also the first time you recorded in a major studio.
MH: Yeah. My first few records were recorded in my bedroom, or in small, independent studios.
SD: Was it difficult to give up so much control of the recording to producers?
MH: It was weird. I'm used to doing everything myself. Initially, it was difficult for me, and there was definitely some tension in the studio. There were moments when I was like, "Fuck this. I'm gonna do it myself." But it was exactly what I needed. The whole experience made me a better producer myself. And I learned so much. It pushed me outside of my comfort zone, which was the whole reason I wanted to work with those producers in the first place.
SD: You still do a lot of DJing. Is the satisfaction of performing as a DJ different from singing?
MH: DJing is where I come from. I think it is offers me a unique perspective on music. I started as a DJ and I've only been singing for a few years now. So DJing is kind of my fallback. I can DJ blindfolded, but singing is something that I'm getting the hang of. I'm learning every time I hit the stage.
SD: How does having that background help you as Mayer Hawthorne?
MH: I think the DJ background is what makes me different from other artists. As a DJ, I'm all about getting people to move. Whenever I DJ, I'm trying to make people dance. And I took that knowledge and put it to use on this album.
SD: Does the influence work the other way around? Does doing Mayer Hawthorne influence how you DJ?
MH: That's a great question. I think it's a symbiotic relationship. Being a front man has made me appreciate certain records more. When I was working on this record, I was listening to a lot of rock and roll, the Clash and Steely Dan, and Black Sabbath. So consequently, I started adding more rock and roll to my DJ sets. So they do influence each other.
SD: The Steely Dan influence is pretty obvious, and it's made some folks raise an eyebrow. Why do you think they are so polarizing?
MH: [Laughs] Because it's very nerdy music. It's music for music nerds like myself. And for Pharrell Williams, who is another music nerd. That was something we bonded over, our mutual love of Steely Dan. My motto has always been, "If you don't like Steely Dan, I don't like you." It's sort of a joke. But it's sort of serious. They are divisive. And I think my new album is divisive as well.
SD: It's gotten a lot of mixed reviews.
MH: The feedback has been divided. Some people really like it, and other people don't like it at all. I think that is a great thing. I don't make music for everyone to love it. I make music that I think is dope. And if you love it, then that's incredible. And if you don't love it, there's a million other bands that you can listen to. It's all good.