James Buck
Pork choila
Our mango lassis were the color of yellow spring crocus and so thick with yogurt and fruit that their straws stood up unassisted. The cool liquid swaddled our tongues in tropical sweetness. But it did little to ease the burn of chiles during a long lunch at Maya's Kitchen & Bar in Burlington's New North End last week.
In late January, married partners Maya Gurung-Subba and Suk Subba opened the restaurant at 1130 North Avenue — previously home to Nepali Kitchen and, before that, Pho Nguyen. The couple were born in Bhutan but left their homeland as young children in the early 1990s. Both grew up, along with 100,000 other Bhutanese in forced exile, in bamboo huts at a refugee camp in eastern Nepal.
There, Maya knew Suk as her brother's friend. They were only acquaintances, but they reconnected after they immigrated — separately — to New England in 2008. Maya arrived in Burlington with help from the Vermont Refugee Resettlement Program; Suk landed in Worcester, Mass., through similar means. Two years later, they were married.
Suk found work as a cook at A Single Pebble and other Burlington-area restaurants; Maya took a job as a licensed nursing assistant. After welcoming their second baby in 2017, Maya and Suk wanted to start their own business and be their own bosses.
In 2018, Maya enrolled in the Vermont Foodbank's Community Kitchen Academy, a three-month culinary crash course aimed at giving would-be restaurant workers professional cooking skills and food-safety knowledge.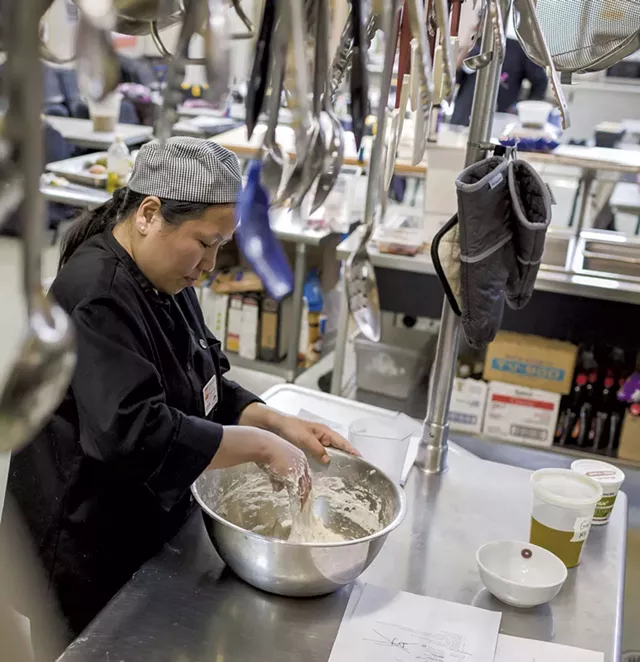 Oliver Parini
Maya Gurung-Subba mixing batter at theChittenden Emergency Food Shelf in Burlington
She finished the program just as Nepali Kitchen owner Jeetan Khadka — another Bhutanese immigrant — was preparing to open a second restaurant in the New North End. Maya signed on as the opening chef. When Khadka decided to close the place after just seven months, Maya and Suk took over the lease.
At first glance, the menu may look familiar to diners who frequent any of the half dozen or so Himalayan restaurants scattered around Chittenden County. But in addition to crisp veggie pakoras, steamed momos, Indian curries and Nepali chow mein, Maya's offers specialized plates that one might encounter in a remote village in central Nepal or a Southeast Asian enclave near the India-Bangladesh border.
"We are bringing in different foods from different countries," Suk said. "It's fusion cuisine."
Indeed, many of Maya's dishes feature flavors as complex and layered as the waves of migration, colonial rule and occupation that have long defined the region where India, China and Southeast Asia meet.
As a student in the Indian state of West Bengal, just outside Kolkata, Suk spent time traveling the region and exploring its varied cuisines. "In Nepal, you can just go somewhere and, if you know someone, you can go in their kitchen and learn to cook," he said. "Now we're making some of [those dishes] right here."
A $10 plate of marinated chicken choila comes from the Newar people of central Nepal. The meat is dusted with cumin and coriander powder, then dry-fried with fresh chickpeas and mixed with shredded cabbage, carrots and red onion. It comes with a pile of "beaten rice" — toasty cereal crunchies that my friend and I sprinkled over the top.
A saucy tumble of Nepali pork-chile momos ($11) were unlike any other Himalayan dumplings I've seen in Burlington. Fried to a gummy crisp, these were bathed in bright tomato-chile sauce and tossed with hearty cuts of bell pepper and onion.
Maya's flat noodles with beef ($9.99) hail from the temperate hills between Bangladesh and Myanmar. Wide noodles — similar to those in Thailand's spicy pad kee mao — are sautéed with marinated beef, bell peppers, onion and a splash of barely there tomato-based sauce.
A plate of Indo-Chinese Hakka noodles ($8.99) — a popular street food throughout India — originated in a Chinese enclave in colonial Kolkata. "The Chinese brought their food [to India] with them," Suk said. "And when they ran out of their own spices, they started incorporating the Indian flavors."
Hannah Palmer Egan
Veggie momos with chile sauce
The plate was a kinky tangle of wiry noodles tossed with bitter Chinese broccoli and scallions and smoky Indian spices. It tasted of China and India at once. And, ordered spicy, the burn from the chiles was as addictive as it was searing.
Maya's will prepare dishes on a spectrum of mild to hot, but regardless of your preferred heat level, most of the noodles, momos and curries pair well with a brisk, melon-y white wine or rosé. The restaurant is BYOB, so plan ahead if you want to drink. And if you're a capsaicin junkie like me, bring a wine with a touch of sweetness (perhaps a vinho verde or an off-dry rosé). The sugar helps cut the heat, which has a tendency to build if you order many things.
And at Maya's, I wholeheartedly recommend ordering many things. Something about sitting for a long meal in the restaurant, with its mostly nonexistent décor, vinyl tile floor and bar barren of alcohol, just feels good.
Much of that experience owes to the food, which, during my visit, was invariably excellent. But there's also a gentle confidence in the way Suk and Maya go about their business: The way they attend to requests with friendly efficiency and explain each dish with patience and enthusiasm is not common, even at much fancier restaurants.
Then again, most of the people running fancier restaurants didn't spend their youth in a refugee camp with no hope of ever going home.
"We are so happy for all the folks who helped us get into this country," Suk told me during a phone call late last week, "and for the help we got when we came here, and now the encouragement and support from the community in starting this business.
"We had a dream while we were coming to the U.S.," he added. "Now it's becoming true."