(Self-released, digital download)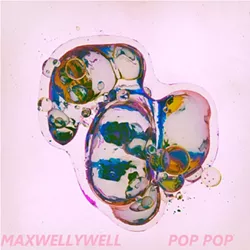 Burlington resident Maxwell Johnson, aka Maxwellywell, is a soon-to-be Champlain College student who is quietly entering the Queen City's electronic music scene. He debuted with a DJ set at Radio Bean in March before recently dropping a five-track debut EP, POP POP.
Built on gradual crescendos and generally smooth drops, POP POP is accessible for electronic neophytes. It also evades easy classification. So, for the die-hard electronic fans out there: Resist the urge to spar over subgenres, and enjoy the ride.
The EP starts off with the slow-burning "2." Laggard drum kicks, lush female echoes and ascending xylophonic keys make for a relaxed journey. While not entirely downtempo, it's certainly the most restrained cut.
Up next is the buoyant title track. Opening with reverb-drenched organ and hand clapping, it quickly progresses to synth-y vocal manipulations. Maxwellywell also layers start-and-stop metallic elements to give it some movement. If it had a chorus, the track would make for a fine anthemic sing-along.
"Crush" picks up the tempo. Juicy, pulsating pops render this one Red Square-friendly — in other words, it's a club banger. The snare buildup is intense, setting the stage for deliberate, heavy drops. The post-drop frenzy is sexy and danceable, if a little standard.
"Doggo Dreams" is a heady number that falls in and out of the chill end of the electro spectrum. Whizzing, high-pitched pops contrast a low, heavy drumbeat. The forceful drops, unfortunately, feel a bit too aggressive for the otherwise mellow moments. The shimmering transitional fade at the end is quite nice and could have been used effectively throughout.
Maxwellywell breaks his instrumental streak with the closer, a glitchy hip-hop track called "Medium Rare." The icy sound of breaking glass is paired with hollow, ringing echoes. Shavar Dawkins — Maxwellywell's former Burlington High School classmate — supplies the rap. Though Dawkins rhymes with easy, laissez-faire style, the track feels out of step with the rest of the EP.
Clearly, Maxwellywell wants to experiment and expand his sound. He should find a home in the ambient, textural corners of Burlington's electronic scene, where he can develop interesting instrumental elements. Tentative and exploratory, POP POP reveals a young artist cutting his teeth.
Maxwellywell's POP POP is available at maxwellywell.bandcamp.com.