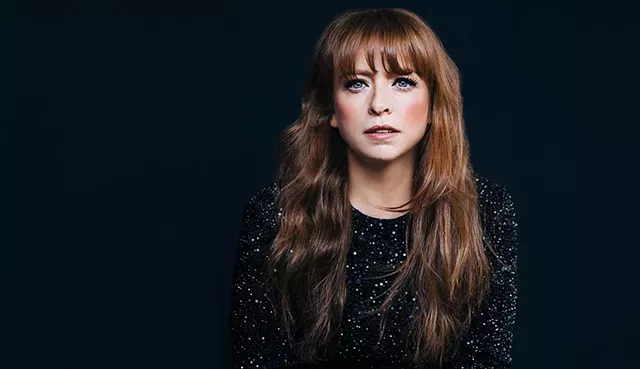 Courtesy Of Celia Kelly
Maxine Linehan
Maxine Linehan knows the holidays can be hard. On her new holiday album, This Time of Year, the Irish-born, Vermont-based performer seeks to acknowledge the emotional struggles that often coincide with the arrival of twinkle lights and Advent calendars. The record simultaneously longs for the past and strives for contentment in the now. That nostalgic state of being is perfectly encapsulated in the title track, a sparkling piano ballad laced with evocative strings and a mild country vibe.
In an effort to circumvent the confining traditions typical of seasonal records, Linehan selected a diverse mix of contemporary, classic, religious and secular songs. She also included some explicitly non-holiday material that dwells on related themes, among them covers of pop heavy hitters Maroon 5 and Kelly Clarkson and a new version of the perennial classic (and geographically appropriate) "Moonlight in Vermont."
A successful musical theater performer, Linehan has drawn international acclaim for her dramatic interpretations of the songbooks of artists such as U2, Petula Clark and Barbra Streisand. In 2016, she and her producer/husband Andrew Koss left New York City and settled in Manchester, Vt., where they write and record at their state-of-the-art Studio at Strawberry Fields Lane. Seven Days recently caught up with Linehan there by phone.
SEVEN DAYS: Since there are so many holiday albums out there, I imagine there's quite a bit of nuance to putting one together. How did you strike a good balance in your selection?
MAXINE LINEHAN: People have asked me to do a holiday record for many years. I never wanted to do one, because a lot of them are very tired. People churn out a holiday album as an effort to fill a record deal with their label or just to throw something out quickly. And it's full of covers and never feels cohesive to me. They're not telling you something that hasn't been said a million times. If you want to hear Mariah Carey's "All I Want for Christmas Is You," listen to Mariah Carey singing it.
But this year was just different to me. I'm a very emotive performer. I don't do a lot of fluff in my work. This year I realized we could make a serious Christmas record that was not about sleigh bells and Santa Claus, that could actually be about something very deep and emotional around this time of year. It's not happy for a lot of people, and more people than ever are feeling that this year. It's a much more universal feeling. It's not all Champagne and joy for everyone at this time of year.
SD: You wrote the title track independently of that context, correct?
ML: Yes. We wrote the title track last year, thinking we would just record it as a single. And then it was gaining a lot of attention in Nashville for other artists. So it was on hold for a long time for some pretty huge country stars but never got picked up.
This year, I said, "That song can't sit here gathering dust." This was the year we were going to release it, and I would sing it myself. And then we started thinking about what that song meant and started expanding on the themes of nostalgia and loss and hope, but still cloaked in this melancholy feeling. That song gave me the hook for the album.
SD: Why did you rework your tune "I Think of You" into a holiday song? How does the original's sentiment lend itself to the concepts you're describing?
ML: My husband wrote "I Think of You" as a surprise for me for my birthday. We still were living in New York at the time, and it was just the whole idea of the hustle and bustle of the city. We had both lived there for many years. Finding your sanity in New York is often linked to a person.
And then, four or five years ago, he wrote the holiday version of it. It takes on a whole new meaning in the holidays with what New York City becomes at Christmastime. We thought it was a perfect opportunity, given the world we live in today and all of the things we all relate to — and the album needed some levity, too. There's a lot of weight in a lot of the tracks, and we really needed a moment or two for people to take a break from the Kleenex box and have a little fun.
SD: How do the non-holiday songs fit into the album's vibe?
ML: Again, I didn't want an album where you looked at the track list and went, "Ugh." They're not all necessarily Christmas songs — but they are if you treat them right. They really lend themselves to what we feel around, I keep saying it, this time of year.
You look at Maroon 5's "Memories." It's based on Pachelbel's "Canon in D," and it's a song where you're toasting, you're celebrating, but you're also remembering the people who are not with you. It's a sentiment we're all feeling right now.
And "Moonlight in Vermont" — I really wanted a Vermont track on the album because Vermont is quintessential Christmas. I mean, they make movies about it. This is the place, the winter wonderland. Someone wrote to me the other day and said, "I'll listen to this all year round. There are tracks on it that I won't stop listening to just because Christmas is over." And that was part of the plan.
SD: Which track was the most challenging to complete?
ML: It would be interesting to hear what my husband — or my music director, or the mix engineer — says about this. As a vocalist, there are two that were equally challenging for me. One was "Underneath the Tree," because it's a famous Kelly Clarkson song, and I don't sound anything like her. And I have such deep admiration for her. So I really struggled with finding my version of that song. I kept listening to it and going, "No, hers is better. I don't bring anything to this song." Right up until the last second, I wanted to cut it. But I was convinced otherwise and gave in to democracy, because everybody else wanted to keep it.
The other was "This Perfect Year." It's a big Broadway tune, and it's the 11 o'clock number in Sunset Boulevard. I wanted it to be its own identity so that Broadway people weren't thinking about the show when they listened to it. So we ended up restructuring the song and putting the chorus at the beginning to let people hear the hook and making it sound more like a pop tune.
SD: What holiday albums do you associate with your childhood?
ML: Growing up, it was always really traditional. Bing Crosby and Judy Garland, that was the soundtrack. And I really do gravitate to that still, as a grown-up. I do want to hear those classic voices on a lot of the Christmas records.
But there's some good contemporary Christmas music — I won't say there's a lot. I feel like a lot of contemporary Christmas music is not that groundbreaking. So I definitely tend to lean toward the old-school Christmas music.
This interview has been edited and condensed for clarity and length.