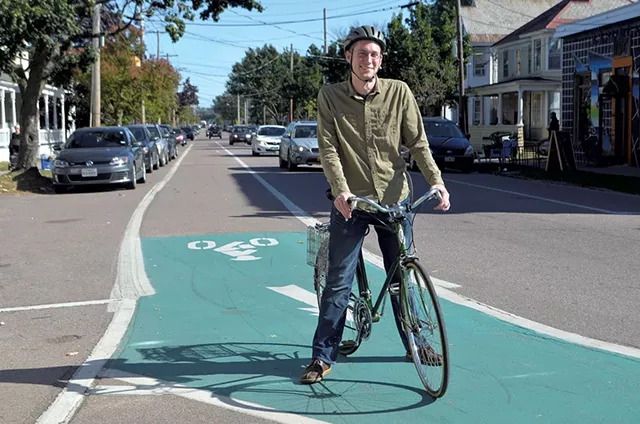 Katie Jickling
Max Tracy
If it wasn't a scandal that Burlington Mayor Miro Weinberger prompted a Burlington Telecom bidder to withdraw on September 20, City Councilor Max Tracy certainly treated it like one.
As soon as the Ward 2 Progressive found out that Weinberger had sent a message to the bidder without city council approval, he unleashed a tirade on Facebook, calling Weinberger "a hypocrite" and comparing him to former Burlington mayor Bob Kiss, who was accused of secrecy and financial mismanagement that damaged the city's credit rating.
When Weinberger called Tracy minutes later, the 30-year-old councilor was unapologetic.
"I'm not retracting anything," Tracy later recalled saying to the mayor. "I would appreciate an acknowledgement of the screwup."
Tracy's remarks, at once unabashedly defiant and politically calculated, featured prominently in news coverage. The moment epitomized the Tracy touch: confrontation laced with moral indignation, offering a biting critique with a melodramatic flair.
The outburst from the council's most combative Progressive didn't change the outcome; the fourth bidder remained on the sideline. But for Tracy, that wasn't the point.
"We need to ask more questions and ... be more vigilant," he said. The council "needs to hold the administration accountable."
For Tracy, it's just the most recent time he's opposed Democrat Weinberger.
In 2013, Tracy led the unsuccessful effort to get the council to oppose U.S. Air Force plans to base F-35 fighter jets at Burlington International Airport, and, last year, he fought the redevelopment plans for the Burlington Town Center. More recently, he spoke out against the proposed redesign of City Hall Park and the Weinberger-backed efforts to increase penalties for those accused multiple times of quality-of-life violations.
Even though his activist efforts have been largely unsuccessful, Tracy sees himself as more than a gadfly. He's looking long-term to win policy changes that benefit working-class Burlingtonians and to shift the conversation in the direction of Progressive values.
The Old North End councilor serves as a foil to Weinberger in a number of ways. The mayor, with his coiffed hair and neat suit coat, looks the part of a former developer; Tracy is lanky and baby-faced and wears small, wire-frame glasses that give him an academic air. He dresses in casual earth-tone, button-down shirts and doesn't own a car, instead scooting around on a 1973 Schwinn bicycle.
But if Weinberger has learned to adopt the refined detachment of a public official, Tracy has not. At council meetings, Tracy is quick to launch into a passionate spiel, gesticulating with his hands for emphasis. As his enthusiasm grows, his face grows redder.
He's one of three Progressive city councilors; council President Jane Knodell (Central District) and Sara Moore (Ward 3) also represent the Old North End. Ward 7 councilor Ali Dieng was elected with the support of both Democrats and Progressives.
Tracy's demeanor and politics have earned him widespread backing from what councilors refer to as Burlington's most progressive ward. He's faced no strong opponent since he was first elected in 2012.
"Vermont politics are incredibly special," Tracy said. "I love being a part of that."
Tracy grew up in the Chicago suburb of Northbrook, Ill., in a family that was neither politically active nor progressive. His father, an architect, is a "James Dobson-listening, born-again Christian," Tracy said, referring to the evangelical Christian speaker. His mother, also conservative, ran a not-for-profit resale shop.
Tracy had a self-described "coming-of-age moment" in 2003, when he and his best friend took the train to downtown Chicago to protest the Iraq War. He was enthralled by the power of dissent, of "people resisting something that everyone else was saying was a foregone conclusion." It was Tracy's first taste of politics. "I was like, Whoa, this is what I want to do," he said.
The budding pol arrived in Burlington to attend the University of Vermont in 2005. The home of then-congressman Bernie Sanders (I-Vt.) offered a hospitable climate for political outsiders — a welcome contrast to Chicago, where every city councilor at the time was a Democrat.
Besides, Tracy added, he's a Phish-head.
He majored in anthropology and history and was an "academically gifted and hardworking student," according to Knodell, who was then an administrator at UVM.
Tracy became a grassroots organizer by joining the Vermont Livable Wage Campaign and the university's Student Labor Action Project. He participated in protests and once marched naked across campus advocating for "the bare necessities" for workers.
Tracy also cultivated connections with local Progs: He campaigned for then-state representatives David Zuckerman and Chris Pearson. In 2009, he helped Emma Mulvaney-Stanak, future chair of the Vermont Progressive Party, win a Ward 2 city council seat — the same one Tracy now holds.
As a senior, Tracy used his connections as president of an honor society to get into the president's wing of the Waterman Building and organize a sit-in to protest faculty layoffs.
As Tracy led the occupation, he found himself face-to-face with a furious Knodell. "You know, Max, I just don't understand you," he recalled her saying, as students flooded into the building.
Her thoughts? "You little stinker," she recalled.
Tracy graduated in 2009 and took a job as an international admissions officer for UVM, where he still works recruiting students from Latin America and India. He describes himself as a "Latinophile" and speaks fluent Spanish.
Tracy made his first political bid the following year, running for the Ward 2 council seat against Democrat Bram Kranichfeld. "I had no business being in that race," Tracy said, referring to his political inexperience. But he "worked [his] ass off," knocking on every door, sometimes two or three times. He lost by 14 votes.
Tracy was appointed to the Burlington Public Works Commission in 2010. Two years later, at age 25, he ran for the same Old North End seat and bested Democrat Phil Hammerslough by 200 votes. Tracy campaigned on the need for affordable housing, alternative transportation and climate change solutions — the same issues he speaks about today.
He calls himself a "Democratic socialist" and cites socialist historian and author Howard Zinn as one of his influences.
On the council, he's focused his efforts on transportation and environmental policy. Knodell noted that Tracy has a combination of both technical expertise and passion. "I can call Max [for advice] about these areas ... I'll know I can take it to the bank, because he knows his stuff," said Knodell.
Weinberger has occasionally found Tracy to be an ally, though that collaboration has taken time, the mayor admitted. When the two were first elected in 2012, "I may have taken [his criticisms] a little more personally," Weinberger said.
"Figuring out how to serve with Max has been part of my maturing as an official over the last five and half years," Weinberger said.
When he spoke with Seven Days last week, Weinberger called Tracy's comparison between him and Kiss "wrong" but noted that both the council and the administration had moved past the spat surrounding the BT bidder.
Whether Tracy's forthrightness is more pageantry than pragmatism depends on whom you ask.
"I see Max as being courageous to challenge the mayor," said Pearson. But Tracy shouldn't be "pigeonholed" merely as a naysayer, added Pearson, who is now a state senator. "He's a dissenting voice, but he's not so strident that he can't work with people," he said.
But Chip Mason (D-Ward 5) said councilors can more effectively make change by working quietly to incorporate their ideas into resolutions that come before the council. Public complaints, by Tracy or any other councilor, Mason said, "can veer into the realm of political theater."
For his part, Tracy has embraced the role of maverick.
On the council, "dissent is absolutely important to that conversation," he said. "I think it's really important to really give voice to those who are opposing the prevailing ideology or the prevailing policy winds to really show that they're being heard."
In the case of the Burlington Town Center, Tracy said, his break with the mayor reflected the views of his constituents in a densely populated ward that runs north from Pearl Street between Elmwood Avenue and North Willard Street. With a large number of students and immigrants, the ward has the most renters and the fewest car owners of any part of the city.
"The Old North End often votes differently than the rest of the city," Tracy said. "When I'm opposing the mall, the reality is, I'm voting in support of my neighborhood."
Other Progs, including Knodell and former mayor Peter Clavelle, backed the redevelopment. While they touted the project as an economic opportunity that would provide housing for all Burlingtonians, Tracy chalked it up to Weinberger's "neoliberal, trickle-down" philosophy.
"I wasn't doing it to be oppositional," Tracy said, noting that he had pushed for concrete changes, such as more parking and an increased number of affordable units. "The development should be affordable and accessible to a wide range of Burlingtonians. It shouldn't just be a playground for the rich."
Some of his suggestions were later incorporated into the development plan. And he gave "a sense of inspiration" to the Coalition for a Livable City opposition group, said Tony Redington, a Ward 2 resident.
Last winter, Pearson encouraged Tracy to run for the state legislative seat vacated by Democrat Kesha Ram, who ran for lieutenant governor. "There are a lot of wishy-washy people who hold positions in politics" who aren't "grounded in principles around equality, criminal justice and social justice, the way Max is," Pearson said.
Tracy considered the offer but declined when two other Progs — Selene Colburn and Brian Cina — stepped up to run.
It's unclear if Tracy's worldview would resonate beyond the young, liberal demographics of his ward, said Kurt Wright (R-Ward 4). That may limit Tracy's chances of seeking higher office, Wright hypothesized.
"I think that when you get outside of the Old North End area, the broader electoral vote would be looking for someone a little more centered," he said.
Tracy said he's not yet looking beyond his ward's borders, citing ongoing council efforts to improve Burlington's walking and biking infrastructure. Much of his current work, he said, is a long-term investment.
"I may lose battles along the way, but I may shift the consciousness," Tracy said. "I may convince the administration to think differently in the next battle."