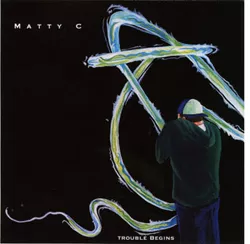 (Self-released, CD)
Phish. Snowboarding. Civil unions. Maple syrup. Heady weed. These are the things most people think about when they conjure up visions of Vermont — and, to some degree, rightly so. But there's a new sound on the wind rustling leaves in the Green Mountains. And it's got one hell of a beat. The last few months have seen a slew of stellar releases from local hip-hop artists. In particular, new albums from Burlington's VT Union and GTD have set the gold-toothed standard for rap and hip-hop in Vermont. It appears we can add another name to the list of artists bringing those genres to prominence here. To that end, may I introduce Matty C. And, no, he doesn't actually have gold teeth.
Matty C hails from South Central Essex, where he began rhyming at age 15, perfecting his West Coast (of Vermont) flow. All joking aside, the rapper's formative years were well spent; the dude's got skillz.
After dropping out of college post-freshman year to pursue music, Matty C hooked up with local producer MDE. Their partnership culminated in the former's terrific debut LP, Trouble Begins.
A product of his influences, Matty C has a style and rhyming patterns that frequently evoke Jay-Z and Big L, while his witty lyricism compares favorably with Eminem. But to dismiss the guy as merely a copycat would do a great disservice to the man's considerable talents.
Especially on tracks such as "Sick Like This" and "Montreal" — the latter piquantly recounting the harrowing tale of a night gone violently awry in the "tittie city" — Matty C displays the ability to turn clever phrases with the best of them. From the aforementioned "Montreal": "Shit wasted, I stumbled up the steps / I couldn't find my balance, as if we had never met." Oh, Canada!
Dexterous and quick-witted as he is, Matty C is almost upstaged by the ingenious production work of partner-in-crime MDE. That's by no means a condemnation of Matty C's work. Rather, it's a reflection of the producer's immense talents and unique approach. Combining solid beats and original arrangements with eclectic samples from jazz standards and even — gasp! —string symphonies, MDE provides a dynamically intricate and engaging backdrop for Matty C's skillful wordsmithing. The result is an album that serves as a worthy companion to the wealth of hip-hop releases dropping in the Green Mountains of late.
Hip-hop may never be synonymous with Vermont. But those who think good rap and hip-hop only come from urban areas such as New York, Los Angeles, Detroit and Atlanta should put down the new 50 Cent disc and go pick up Trouble Begins at Pure Pop, 802 Skate Shop, The Bern Gallery, Good Times or Full Tank — absolutely free.