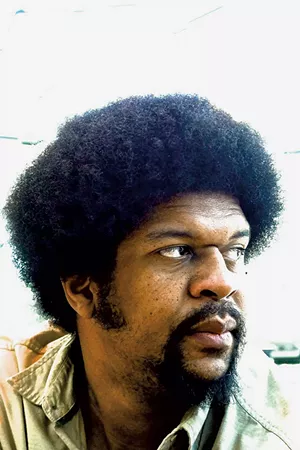 The classical world's new-music scene is fast filling with women composers and composers of color — at least in chamber music, if not yet in orchestral programming. Now Vermont is about to get a significant window into the national scene. Middlebury College assistant professor of music Matthew Evan Taylor, a 38-year-old African American composer, is launching a chamber concert series highlighting music by the very people who were long excluded from the centuries-old tradition.
Taylor's series New Century / New Voices will unfold in six concert programs and a master class, from January through May, featuring more than 20 living composers. Four of the concerts are curated by composers whose programs include their own works: Taylor, Carlos Simon, Marcos Balter and Gabriela Lena Frank. Anne Decker's Waterbury-based chamber group TURNmusic will serve as those concerts' ensemble-in-residence.
Musicians from elsewhere will perform the other concerts. This month, Albanian pianist Redi Llupa will play all six piano sonatas by George Walker, the first African American composer to win a Pulitzer Prize. Llupa worked closely with the composer before he died last August.
In February, the Russian pianist-composer Asiya Korepanova will perform two pieces she wrote for the occasion, including one with Taylor on alto sax; Gary Levinson on violin; and the latter's Russian émigré father, Eugene Levinson, on double bass. The remaining event is a master class for young string players from the Vermont Youth Orchestra Association and the Middlebury Community Music Center, taught by Gary Levinson, who is the senior principal associate concertmaster of the Dallas Symphony Orchestra.
All concerts will occur at Middlebury, and two of the TURN concerts will be repeated at the FlynnSpace in Burlington.
"It's a lot of work," declares Peter Hamlin, Taylor's composer colleague at the college, who will retire at the end of the semester. But Taylor, he adds, is a collaborator at heart.
"One of Matthew's interesting talents is he just finds incredible people and collaborates with them," says Hamlin. As part of the search committee that chose the young composer, Hamlin was particularly intrigued by Taylor's work with visual artists. These include Danielle Tegeder, who animated a series of her drawings to music composed by Taylor in 2016.
Taylor, who is laid-back and personable with an impressive Afro, grew up mainly around Birmingham, Ala. He sang works by Johann Sebastian Bach in his Catholic school choir. He also sang and played saxophone, which he studied from age 9, at a United Church of Christ whose congregation included "as many whites as blacks," he says. There, he and his fellow musicians did "R&B takes on some really staid Lutheran hymns," Taylor recalls.
After graduating from Birmingham-Southern College, he played sax and keyboard in a rock band called Moses Mayfield for five years. Sony issued the band's first album before cutting them loose. It was a fraught time for the music industry, "after the Napster trial but before iTunes," Taylor explains.
But the musician had already developed an interest in composing — sparked in part by listening to film scores. Encouraged by his college music mentor, Dorothy Hindman, who had introduced him to 20th-century composers such as Igor Stravinsky and Arnold Schoenberg, Taylor earned a master's in music theory and composition at University of Miami's Frost School of Music.
That kind of richly varied musical background is not unusual among today's composers, Taylor comments. "I'd say most composers have all these influences swirling around. I'm unique only in the pathway I took."
Hamlin similarly notes that Taylor's music is "not really categorizable. He's not in a movement, like minimalism. He has an incredible range," which combines improvisation and structured composition. Hamlin cites Taylor's performances with Arthur Brooks Ensemble V, a group led by the African American trumpeter and former Bennington College music professor.
Taylor acknowledges that women composers have deeply influenced him. His curated concert, "The Mentors Among Us," which opens New Century / New Voices this week, includes Hindman's "Setting Century," for flute, clarinet, violin, cello and piano. The piece, he says, shares an "optimistic flair" with Taylor's own "Pursuit," also on the program.
Taylor's concert also includes works by his mentors Valerie Coleman-Page, an African American composer and flutist (Taylor also plays flute); and Frank, a Latina composer whose music explores her Peruvian-Chinese-Jewish-Lithuanian heritage. Both were named among the Washington Post's top 35 women composers in classical music in 2017.
Frank workshopped an early piece by Taylor at a festival in Italy. "It was a real turning point," Taylor recalls. "Gabby said, 'You're really good, but this isn't good enough.' She was exactly the person I needed to hear that from."
Frank next saw the piece as a juror for the Detroit Symphony Orchestra's Earshot Classical Roots Readings — a competition for African American composers to win an orchestral reading of a new work.
"It was so much more sophisticated. It was a huge leap forward. His growth was really fast," Frank says by phone from Boonville, Calif., where she runs an academy for emerging composers. Taylor was one of four composers to win the 2014 competition. Frank was the first mentor with whom he brainstormed his idea for the concert series; she suggested the other composer-curators to him.
One of them is Simon, a 32-year-old who earned his doctorate at the University of Michigan and attended Frank's academy. His concert, titled "Young Lions," includes works by Brazilian jazz composer Clarice Assad and African American violinist-composer Jessie Montgomery.
"Right now is such a great time," says Simon by phone from his home in Washington, D.C. "There are more and more opportunities for persons of color. There are a lot of great stories being told [in music] about who we are as a people."
As for women composers, notes Levinson, he can "rattle off 10 who are at least as popular as their male counterpoints."
And therein lies the problem, Taylor opines.
"What has happened is a proliferation of opportunities for women, for blacks — but it's all siloed off from each other," he notes. "That's not to call into question the motivation behind, for example, commissioning prizes that are only meant for one group." But the ultimate goal, he says, is for classical groups to "organically" program, say, an all-women concert in the same way all-male programs emerge today.
Taylor intends New Century / New Voices to "model concert programming in the future," he says. The series is slated to repeat every two years.
Frank, who runs her academy in a similar vein to ensure that "diversity means diversity — white, brown, blacks, whatever" — also hopes to move beyond "progress by dissection."
"I feel like Matthew and the other composers he's bringing in have a real shot at changing this ecosystem of art and community we live in," says Frank. "Matthew is part of the solution — not just his own work as a composer but his work in curating this series."