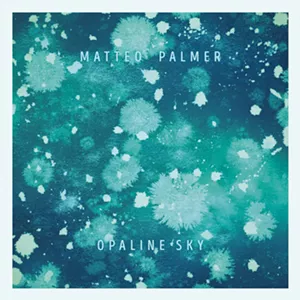 Matteo Palmer, Opaline Sky
(Self-released, digital download)
The line between good and great is often fine — and, just as often, indefinable. Since the release of his stunning 2013 debut album, Out of Nothing, fingerstyle guitarist Matteo Palmer has existed somewhere on the foggy outskirts of greatness. On that album, the Vergennes native displayed a depth of skill that would be the envy of players and composers two and three times his age — he was 17 at the time. A 2016 follow-up, Embers, similarly showcased Palmer's almost preternatural technical gifts, while also highlighting a maturing composer. Greatness is a term applied far too frequently. But if any young Vermont artist can be said to be heading in that direction, Palmer is a likely candidate.
On his latest release, Opaline Sky, the guitar prodigy delivers yet another suite of material that places him among the most promising contemporary acoustic musicians of his generation — and not just in Vermont. A protégé of Windham Hill Records founder Will Ackerman, Palmer continues to exhibit many of the traits that have made his mentor certifiably great. He's also growing into a unique, forward-thinking artist whose formative influences are increasingly obscured by his own creative forces.
Palmer has long had a fine ear for melody. But on Opaline Sky, he seems to have made it a particular focus. His melodies throughout sing with a simple, folklike beauty that belies the complexity of his arrangements. On opener "Nova," for example, his lines meander and eddy like a lazy river. Later, "Sunrise" evokes breaking dawn through a collection of pretty, pastoral passages that have the feel of birdsong. On "57," Palmer injects a bit of bluesy funk into the proceedings with a deep groove topped by lines that would sound equally great voiced by horns. New-age purists — if they exist — might bristle at the strange fusion. But the song is nonetheless an ambitious and energetic romp.
However, the album's most intriguing cut might be its title track, which Palmer performs on — get this — piano. As it turns out, he's not merely an uncommonly brilliant guitarist, he's a fine pianist as well. Palmer might never compare to pianist George Winston quite as neatly as he does to Ackerman, but the skill and ingenuity displayed throughout Opaline Sky suggest it might not be long before he approaches both artists' altitude.
Opaline Sky is available at matteopalmermusic.com.