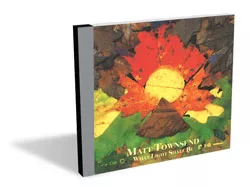 (Self-released, CD, digital download)
On his debut album, What Light Shall Be, Burlington-based songwriter Matt Townsend delivers a mature and smartly conceived collection of songs that enriches the local singer-songwriter treasury. This is a robust yet humble offering, an introduction that is satisfying in its own right yet hints at a wealth of potential.
Townsend generally sings in a plaintive style, especially when using his lower register. With a light, nasally rasp, his delivery is clean and unadorned. But his straightforward croon is efficient and puts the focus on Townsend's nimble wordplay. This subdued approach also serves to heighten the contrast when he does let loose, as on the second half of album opener "The Garden Where the Grass Forever Grows." Here the singer reveals a soaring tenor that grips with emotive power but doesn't feel forced.
As an arranger, Townsend generally favors spare acoustic backing. Much like his vocal work, as a guitarist he is solid but not flashy. On "Gratitude in Being," he backs himself with a pretty, fingerpicked sequence that lists and lilts under searching, melancholy prose. The playing is tasteful and understated, which is a hallmark and strength of the album's six songs.
Likewise, Townsend's lyrical turns, while occasionally precious, tend to be artful without being overbearing. With a confessional bent and sophisticated observational metaphors, he often connects universally while remaining personally vulnerable — a rare feat for a young songwriter. Like many newbie tunesmiths, Townsend can dig too frequently into his cache of influences — hello, Messrs. Dylan and Mangum. But that's hardly a capital crime. And Townsend generally transcends rote hero worship by injecting enough personal style and wit to keep his musings fresh.
Matt Townsend is not a finished product. But his debut is roundly impressive and marks this local songwriter as one who bears watching.
Townsend celebrates the release of What Light Shall Be with a show at the Monkey House this Thursday, November 8.